20 More Travelers EDGE® Graduates Ready for a Financial Services Career
In May 2019, 20 scholars graduated from Travelers' signature educational program, Travelers EDGE® (Empowering Dreams for Graduation and Employment).
The scholars were from the program's three regional hubs, and several landed jobs at Travelers. Seven graduates in Hartford, four of the eight graduates in St. Paul and one of the five graduates in Baltimore have started their careers at Travelers as of Summer 2019.
Since Travelers EDGE began in 2007, 486 scholars have participated in the program, helping local, diverse students gain access to higher education, graduate with a bachelor's degree, and launch their careers at Travelers or within the insurance and financial services industries. To date, 80 graduated Travelers EDGE scholars have joined the company.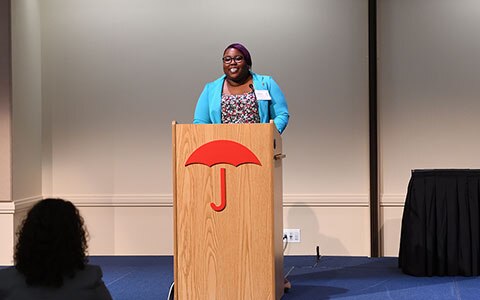 "Travelers EDGE gave me the spark to envision a different life, the tools to create a plan to achieve it, and the people and resources to support me on my journey," said Shawntoll Buchanan-Boothe, addressing the graduates in Hartford. "We are the drivers for our destiny, and the EDGE is the vehicle. Through the program we are given opportunities to overcome obstacles and empower our dreams, but in the end it comes down to us and the effort we put in." Shawntoll, one of the 2019 scholars graduated from Central Connecticut State University in May with a bachelor's degree in mathematics and is now working in Business Insurance.
Barbara Ramirez-Kerecz, Office of Diversity & Inclusion and Travelers EDGE Talent Management, said, "The Travelers EDGE program provides college access, ensures college success, and serves as a talent pipeline for Travelers and the insurance and financial services industries. These students and their families live in our local communities and serve as Travelers interns, employees and future customers. The majority of our graduates interned at Travelers for years leading up to their graduation. As a company, we will continue to feel the business impact of their work, innovations and perspectives for years to come."