Cyber Events Happen Everyday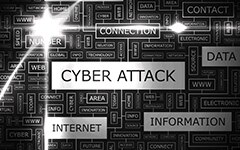 When faced with a cyber event will your business be able to recover?
Businesses of all sizes are at risk. In fact according to the Travelers Business Risk Index cyber risk is a top concern for businesses no matter the size or industry. And the costs associated with cyber events can reach millions of dollars to cover legal defense, settlements, lost business, notification costs and more.
The potential for cyber event is real regardless of the size of your organization and the worst thing your organization can do is ignore the risk.
It is the business or organization's responsibility to protect its assets—which includes its data. Including the security of sensitive records and information as a category of managed risk is smart business and cyber liability insurance is a critical part of your plan that can help mitigate the associated expenses of a cyber attack or data breach.
Travelers cyber insurance solutions are robust, scalable and designed to address the broad array of exposures in today's digital world.
Cyber in the News