Travelers and Amazon team up to bring you the new Travelers Smart Home Insurance Solution.
Free Amazon Echo Dot and Discounted Smart Home Device Kits
Buy Travelers home insurance and get an all new Echo Dot for free*
Eligible Travelers home insurance customers in select states can receive a free all new Amazon Echo Dot with voice controlled skills available to help them manage their policy and their home.
Travelers and Amazon curated three smart home kits to help you protect your home from fire, water and security threats
Eligible Travelers property insurance customers in select states can receive a discount on their choice of one of three smart home device kits. Optional professional installation by Amazon Home Services is available in some areas. Once purchased, eligible Travelers customers can get a protective device discount on their home insurance policy.*
*See Terms & Eligibility
Visit Us On Amazon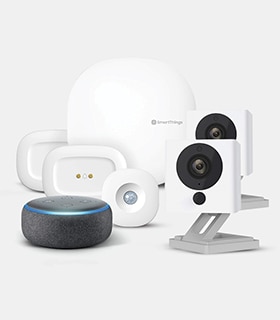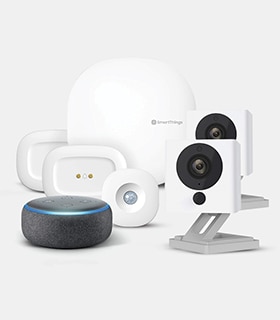 Travelers Smart Home Kits
Get the All-New Amazon Echo Dot Free
Travelers Skills for Alexa

Now you can get help managing your Travelers policies and get home safety and maintenance tips by simply asking Alexa on any Alexa enabled device. Travelers is proud to offer two new skills for Amazon Alexa:
Created specifically for Travelers policyholders, the Travelers skill can help you manage your policy. Just log in using your MyTravelers® account.

Request a tip from Home Central to help better maintain your home. The Home Central skill is available on any Alexa enabled device – no additional sign ons or policy required!
Travelers Skills for Alexa
Frequently Asked Questions
Anyone can purchase the new Smart Home Kits, but discounts on the kits are currently available to new and existing property customers in select states. To check your eligibility for additional benefits like the discounted Smart Home Kit, have your policy number handy and visit travelers.com/additionalbenefits

Anyone can enable and use the Travelers Home Central skill for Alexa. You must be a Travelers policyholder to enable and use the Travelers skill. An Amazon account is required to enable and use Alexa skills.

We're working to make these additional benefits available to more Travelers customers, check back to travelers.com/additionalbenefits for the most up to date information.

Visit our Amazon storefront to learn more about the Travelers smart home kits. All purchases will be fulfilled by Amazon.
To claim your discount code(s), visit travelers.com/additionalbenefits and enter your policy number and ZIP code. Follow the instructions to claim your code(s). Then, enter your code(s) at checkout on Amazon. 

Once you've installed the Smart Home Kit, call your independent agent or Travelers at 800.842.5075 and we'll be happy to help.
Yes. Discounts will vary by state, policy type and individual risk characteristics. You can contact your independent insurance agent or Travelers customer service at 800.842.5075 to understand your potential savings.
No. The free Dot is separate from the Smart Home Kit.