How to Prevent Leaks and Water Damage in the Kitchen [Video]
This video was produced by This Old House and sponsored by Travelers.
(DESCRIPTION)
This Old House, Helping Prevent Leaks and Losses, sponsored by Travelers

(SPEECH)
RICHARD TRETHEWEY: Hello, all. I'm Richard Trethewy. I've had the honor and privilege of being the This Old House plumbing, heating, and cooling expert since really the beginning of time, it seems like. But today we are with Kevin Arpin. Now, Kevin has a very interesting career. He is a forensic engineer at Travelers Insurance. He just watches how stuff breaks. Today, we want to talk about kitchens. What are you going to see as places to look or check in the kitchen that could cause a loss?

KEVIN ARPIN: Yeah, kitchens are interesting. I think a lot of people, with the stove and the microwave think about fire, right? Everyone has a fire extinguisher in their kitchen or near their kitchen. But a lot of water damage can occur in the kitchen as well.

RICHARD TRETHEWEY: So where would they look in water? There's the regular water lines. But where else?

KEVIN ARPIN: I think the first place to look maybe is your dishwasher. A lot of things can go wrong with the dishwasher. A good tip when you're loading and unloading, take a look at that filter. It's usually down at the bottom. Make sure that's nice and clean. If you see any garbage down there or a lot of build up, maybe clean that and keep that clear, because a lot of times the dishwasher is connected to the garbage disposal, which can cause problems as well.

RICHARD TRETHEWEY: So a disposer, this is the part-- I have this cutaway here that we've used for years. Most people, this is the part of the disposer they see, the part you throw the food down. So now, if you fill that disposer with food or it was all clogged up and everything else, and then all of a sudden that dishwasher came on, it's not going to go down through the clog. It's going to go up and fill the kitchen sink. Now, it shouldn't overflow it. If it did, and you weren't watching, it could.

So you want to make sure that this stays clear and the dishwasher filter stays clear. So that's dishwasher, disposer. Where else would people pay attention?

KEVIN ARPIN: We see a lot of problems caused by people storing chemicals under their sink. We all do it. I've got some chemicals under my sink. But you really want to be careful, especially with bleach and other harsh chemicals. You don't want to keep them under there. A lot of your plumbing components are sensitive to those types of cleaners. And so if you take a look under your sink and you see signs of excessive corrosion, maybe on the hinges for the cabinet doors or on some of your plumbing components, you'll know you have a problem.

RICHARD TRETHEWEY: So you have a sample there?

KEVIN ARPIN: Yeah, so this is brass. And many of the plumbing components are going to be made of brass. And the corrosion's not going to look like steel. It's going to be green and blue. It could also be white and black. So there's a lot of different things that it could look like. But basically if your brass doesn't look like brass anymore, you might have a problem, and you probably want to consult with a plumber.

RICHARD TRETHEWEY: Yeah, I think most people wouldn't think that airborne contaminants would actually eat the pipes from the outside in. Anything else to pay attention to for homeowners?

KEVIN ARPIN: Yes. Some people may not realize that their refrigerator is connected to water if they have an ice maker in there or a water dispenser. Yep, so they're going to have a line that looks like that. You could have problems there. So you want to look out around your refrigerator for any signs of small leaks that might get worse as time goes on.

RICHARD TRETHEWEY: What we've done a lot on the show is to show this some of this new generation of water sensors. I don't know. They might be shaped like this like a puck. They could be individual sensors. They could be wired or wireless.

KEVIN ARPIN: We're excited about those as well. I think the kitchen is a great place for the water sensors, maybe one under your sink, one next year a dishwasher, and one near your refrigerator.

RICHARD TRETHEWEY: So check the dishwasher, check the disposer. Watch out for chemicals underneath. Any other final tips for people to think about when they're in their kitchen?

KEVIN ARPIN: Don't run the dishwasher when you go to sleep or when you leave the house. A lot of things can happen during that dishwasher cycle. You want to be home to catch it quickly to avoid any major damage to your home.

RICHARD TRETHEWEY: Murphy's law never sleeps. Thanks, Kevin.

KEVIN ARPIN: Thanks, Richard.

(DESCRIPTION)
Travelers. Learn more at Travelers.com slash water
Appliances, sinks and your plumbing system can be potential sources of water damage in your kitchen. Watch Travelers Forensic Engineer Kevin Arpin with This Old House plumbing and HVAC expert Richard Trethewey to learn how you can be proactive in helping prevent kitchen water damage.


The views and opinions expressed in this video regarding products featured or other information are not necessarily Travelers' views. Third-party names and trademarks referenced in this video are the property of their respective owners. Neither Travelers' sponsorship of the video nor reference to third-party names, trademarks or products is intended as, and does not imply, sponsorship, approval or endorsement of the products, statements or other information contained in the video.
More Prepare & Prevent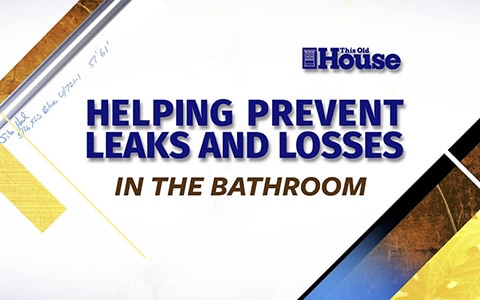 From toilets and tubs to faucets and your plumbing system, bathrooms can be a big source of potential water damage in your home. Get tips on how you can be proactive in helping prevent bathroom water damage.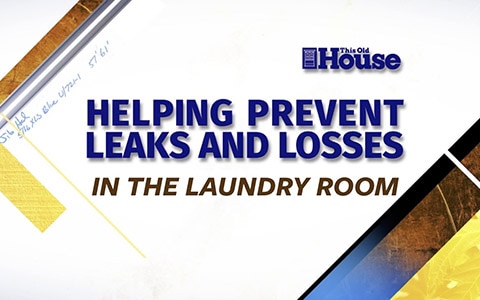 Your washing machine and water lines are also potential sources of water damage at home. Travelers forensic engineer Kevin Arpin helps explain how to help prevent such incidents.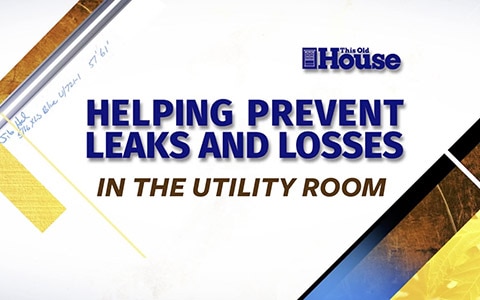 Learn how to turn off your main water valve and other proactive steps that can help prevent water damage in your utility room.