How to Prevent Leaks and Water Damage in the Utility Room [Video]
This video was produced by This Old House and sponsored by Travelers.
(DESCRIPTION)
Logo, This Old House, Text, Helping Prevent Leaks and Losses, Sponsored by Travelers
(SPEECH)
RICHARD TRETHEWEY: Hello Richard Trethewey from This Old House and Ask This Old House and today we are back with Kevin Arpin. Kevin is a forensic engineer with the Travelers Insurance Company. And Kevin, you chase down all the reasons that things fail around the house.

KEVIN ARPIN: That's right. Something new every day. It's a lot of fun.

RICHARD TRETHEWEY: All right. So we've talked about different rooms in the house before. We talked to the bathroom, the kitchen, the laundry room. Well, there's another room that's got a lot of things that can go wrong and that's the utility room or the mechanical room. Why don't you take us through some of the places that you might find some issues.

KEVIN ARPIN: I think the big thing with the utility room is it could be a little bit intimidating for a lot of people. They walk in, they see all these pipes, all these components, fittings, tanks. They don't know what to look for. I think what I want to explain today is look for obvious things.

Here's an expansion tank and look at all the corrosion on this thing. This didn't happen overnight, Richard. This happened over the course of months and if someone was walking through that utility room, they could have caught this before it caused a lot of damage to their home.

RICHARD TRETHEWEY: Most people have some sort of furnace with an air conditioner. Anything to look for there?

KEVIN ARPIN: Yeah, those are forced their systems and there's a condensate pump that collects water from the air conditioning process. You've got to make sure that drain is clear and plumbed correctly. Or in the heating season, a lot of people like to add humidity to their system. And so they use a humidifier that's going to be connected to water.

RICHARD TRETHEWEY: Copper and that could be a leak point too.

KEVIN ARPIN: Right. So with your forced air systems, you want to check those out periodically. Look for any signs of small leaks that might get worse or any corrosion or anything that doesn't look right to you.

RICHARD TRETHEWEY: All right, so everybody has a water heater. What about a water heater?

KEVIN ARPIN: We see a lot of water heaters.

RICHARD TRETHEWEY: So this is a water heater we've used here in the studio. And it looks so beautiful on the outside. Look at this. But inside you get to see backstage. So this is a tank type water heater, burner at the bottom right here. And this is the anode rod that sits right here and that is what it looks like now.

KEVIN ARPIN: Yeah, well, you know, that anode is what's supposed to protect that tank from corrosion. This is what the rod is supposed to look like. You can see how thin yours is. These are sacrificial anodes and again, they protect the tank from corrosion. So once this is gone, your tank corrosion happens very quickly.

RICHARD TRETHEWEY: Yes, it makes this go south.

KEVIN ARPIN: Right. So you want to pay attention to your manufacturer recommendations for that anode. If it needs to be replaced periodically, you want to make sure you do that to protect against corrosion.

RICHARD TRETHEWEY: So if you know the water heater is going to leak someday or could leak someday, what would you do to protect against that?

KEVIN ARPIN: One thing you could do is have a drain pan. We always suggest a drain pan underneath the water heater. And you can see a hole here for a fitting where you can connect this to a drain. So this will collect small leaks.

RICHARD TRETHEWEY: I see that pan but I also think about one thing to add to it might be one of these sort of water sensors that might sit in that pan because a lot of times the water heater's in an obscure place. And at least it would know in advance of it becoming a catastrophic thing, to shut it off.

KEVIN ARPIN: Yeah, if you could fit it in the pan, that'd be great. If not, right next to the water heater. But your utility room and areas near your water heater are great spots for those water sensors so you can catch a leak and react very quickly before it causes catastrophic damage to your home.

RICHARD TRETHEWEY: Well, Kevin, corrosion never sleeps but I'm so glad that you're on duty full time. Thanks.

KEVIN ARPIN: That's right. Thank you.

(DESCRIPTION)
Logo, Travelers. Learn more at Travelers dot com slash water
There are many pipes, fittings and tanks in home utility rooms, which means many potential sources of water leaks. Travelers Forensic Engineer Kevin Arpin helps explain what to look for to help prevent corrosion caused by leaks, in a conversation with This Old House Plumbing and HVAC Expert Richard Trethewey.


The views and opinions expressed in this video regarding products featured or other information are not necessarily Travelers' views. Third-party names and trademarks referenced in this video are the property of their respective owners. Neither Travelers' sponsorship of the video nor reference to third-party names, trademarks or products is intended as, and does not imply, sponsorship, approval or endorsement of the products, statements or other information contained in the video.
More Prepare & Prevent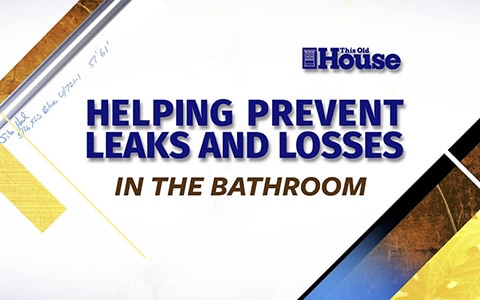 From toilets and tubs to faucets and your plumbing system, bathrooms can be a big source of potential water damage in your home. Get tips on how you can be proactive in helping prevent bathroom water damage.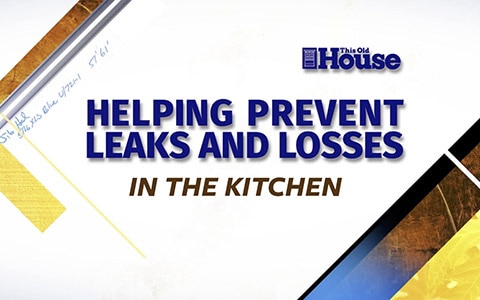 Appliances, sinks & plumbing systems can be potential sources of water damage in your kitchen. Learn how to be proactive in preventing kitchen water damage.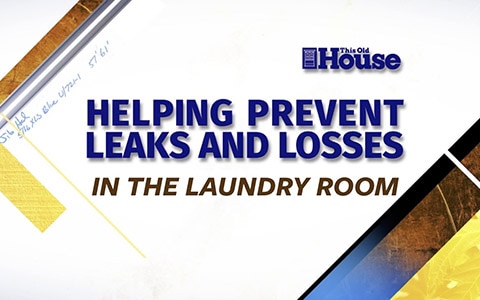 Your washing machine and water lines are also potential sources of water damage at home. Travelers forensic engineer Kevin Arpin helps explain how to help prevent such incidents.