Preventing Leaks and Water Damage: What Not to Do [Video]
This video was produced by This Old House and sponsored by Travelers.
(SPEECH)
[MUSIC PLAYING]
 
(DESCRIPTION)
Helping Prevent Leaks and Losses. Logo, This Old House. Sponsored by Travelers.
 
(SPEECH)
RICHARD TRETHEWY: Hello, I'm Richard Trethewey from This Old House and Ask This Old House. And today, I am joined by Kevin Arpin. Nice to see you again, my friend.
 
KEVIN ARPIN: Nice to see you, Richard.
 
RICHARD TRETHEWY: So I think I've got a pretty cool job. But you get to be in a laboratory to sort of analyze how some of the water damage and failures happen in American houses and businesses.
 
KEVIN ARPIN: That's right, and there's a lot of different ways you can have leaks in your homes and businesses. But some can be avoided. And so at Travelers, we try to educate our customers to avoid some of those leaks and minimize damage to their homes.
 
RICHARD TRETHEWY: So last time we were together, we were talking about how to prevent some failures. But today we're going to teach what not to do, right?
 
KEVIN ARPIN: That's right. There's a lot of well-meaning homeowners doing DIY projects and even professionals who sometimes make mistakes and cause leaks.
 
RICHARD TRETHEWY: Well, I will start it off. You know, any apprentice I've ever had or if I'm trying to teach somebody, it would be the first rule is not to cross the threads. Now, in the old days, we always used steel pipe, and steel pipe is pretty straightforward. The thread is very strong on both sides. So it seems pretty straightforward when you're trying to thread it together.
 
But nowadays, more and more we'll see dissimilar materials. So we've seen this sometimes on a hose connection. Here's a plastic going into brass. And you go in and you think you're doing fine and it goes in. But what happens is the thread is not true and all of a sudden, you start to damage, or ding up the threads.
 
So one little tip I would offer to get this thing started is to actually go counter-intuitively backwards. You sort of spin it backwards till you find your sweet starting spot. You'll feel the click. There it is.
 
(DESCRIPTION)
Twists together.
 
(SPEECH)
There. And now just slowly, steadily go in, and all of a sudden you'll make that nice connection. And there should be some pipe compound on that thread. All right? So don't cross the threads. What else you got?
 
KEVIN ARPIN: You know, Richard, you mentioned dissimilar materials. But if you just think about metals, dissimilar metals can be a problem. So for example, in plumbing systems, a lot of times you might see copper and steel joined together.
 
RICHARD TRETHEWY: One perfect culprit is on the top of every tank type water heater, if you look at the top, there's two connections, right? It looks like this one is brand new, and this is a threaded steel nipple with a little coating on it. This is what it looks like after a while. And you can see you're often going to see the steel nipple with a brass or copper fitting on top. So what can you do?
 
KEVIN ARPIN: Yeah, and actually what happens over time is the steel will start to corrode. Because the steel and the copper have different potentials, and those different potentials will drive an electric current and cause the steel to corrode very quickly. So if possible, you want to avoid that situation when you're working with oxygenated water in your typical plumbing systems.
 
If you can't avoid it, you could use something like this called a dielectric union. And you can see on one side, we've got the copper, on the other side, we have steel. And if you take this apart, on the inside you'll find this electrically insulating orange plastic ring. And that's going to break that electrical current that I was telling you about and prevent that galvanic corrosion reaction.
 
RICHARD TRETHEWY: So that's a good tip. You can't always find those dielectric unions, though, can you?
 
KEVIN ARPIN: They're tough to find sometimes.
 
RICHARD TRETHEWY: So what else should we be thinking about to avoid?
 
KEVIN ARPIN: Overtightening is a big issue that we see often. You know, any material can be overtightened, but more and more these days, we see plastic materials being overtightened. Here's an example. This is a toilet supply line. This will connect to the fill valve on your toilet. And the nuts are always, or very often, plastic.
 
And if you look underneath them, they actually warn you and they say, don't use tool, hand tighten only. But unfortunately, I don't know. I always come across the world's strongest plumbers and these things are overtightened.
 
RICHARD TRETHEWY: We're very proud of our strength, Kevin. We think we should overtighten.
 
KEVIN ARPIN: Especially you, Richard.
 
RICHARD TRETHEWY: That's right, and those-- that rule doesn't apply to me. It says don't overtighten. So be careful. Just hand tighten up. And people don't realize that you're not really making a threaded connection there. You're trying to just compress a gasket to the bottom side of the water connection. That gasket right there.
 
KEVIN ARPIN: That gasket.
 
RICHARD TRETHEWY: What else you got on plastic connections?
 
KEVIN ARPIN: Yeah, I think we should spend a few minutes talking about PEX. It's really becoming the most popular plumbing system in homes and businesses today. And there's a lot of different ways that PEX tubing can be connected. The PEX tubing, maybe it's red, maybe it's clear, maybe it's blue. But again, there's a lot of different ways you can connect these two tubes.
 
This is one example. These are expansion rings that you expand, and then they have kind of a memory and they compress back on the tube, and they hold it onto this connector. But these can be installed backwards. This system is only compatible with certain kinds of tubing, so there are ways that this can be done incorrectly. .
 
RICHARD TRETHEWY: Right, and that outer ring on the fitting is actually the same material. It's just PEX that wants to go back to its beginning state, right?
 
KEVIN ARPIN: That's right. So this is probably the most common type of connector that you'll find in PEX systems.
 
RICHARD TRETHEWY: And that would be among the pros, because you need a special expanding tool and proprietary tools, right?
 
KEVIN ARPIN: That's right. But there's other types of connections. Here's another example. This is called a press connection. The way this works is you would insert your PEX tube. But you have to make sure that that PEX tube goes in all the way. And I don't know if you can see, Richard, but there's three holes.
 
RICHARD TRETHEWY: A little window there. Yeah, it's perfect.
 
KEVIN ARPIN: So before you use this tool to really clamp down on the PEX tube, you want to make sure that tube is completely inserted.
 
RICHARD TRETHEWY: Right. So those two examples are both going to be mostly the purview of the pro, because they're going to have the relatively expensive tools. We see more and more at the home centers different alternatives that-- here's one that you'd have an insert fitting like this and a little stainless steel clamp.
 
Let me try to hold it to your right there. And that goes over there, and then the tool like this would sort of squeeze those ears together and make a nice, tight connection. So that's using some tools. There's also connections that have no tools, and that's really the push connections. We've seen these before. We've always known that they can work for copper, but they also can work for PEX.
 
So this is one of the connections right here. A couple of important rules that I'll throw in. One is you want to make sure that the pipe is inserted, the tube is inserted to the proper depth. So you tend to think that it should go right to this point, but it actually has to go much deeper right here. And so once you get it to the place you want it to be, that you then mark it.
 
KEVIN ARPIN: Yeah, and there are tools that you can use for that, Richard. It might look something like this.
 
RICHARD TRETHEWY: Yeah.
 
KEVIN ARPIN: Where you would take the tube that you're working with, insert it into this tool--
 
RICHARD TRETHEWY: And insert into the different-- the right size hole right there, yeah?
 
KEVIN ARPIN: And you would draw the mark right here.
 
RICHARD TRETHEWY: Perfect. OK. And the other important tip is that unlike copper, copper's got a really strong sidewall. PEX is a little more forgiving. So every manufacturer comes with this part called a stiffener that would go in here and to act as a little bit of resistor against that stainless steel ring that's so important to hold this together.
 
All right, well, there are plenty of ways to make these PEX connections. And I think we've talked about some of the ways to avoid damages in the future. If people pay attention even a little bit, maybe you'll see fewer claims in your laboratory.
 
KEVIN ARPIN: I think so, Richard. You know, a lot of these modern plumbing components that we talked about today, they can be very reliable if they're installed correctly. So an important takeaway-- follow the manufacturer instructions. If you have any questions, consult with a licensed plumber. But when you're doing your home projects, make sure you're following instructions.
 
RICHARD TRETHEWY: Really? You're no fun. Really, follow the instructions?
 
KEVIN ARPIN: That's right, even you, Richard. Follow those instructions.
 
RICHARD TRETHEWY: Thank you, Kevin. You're awesome, as always.
 
KEVIN ARPIN: Thanks, Richard.
 
(DESCRIPTION)
Logo, Travelers. Learn more at Travelers.com/water
 
(SPEECH)
[MUSIC PLAYING]
Taking the DIY approach to plumbing projects? Before you dive in, watch Travelers Forensic Engineer Kevin Arpin with This Old House plumbing and HVAC expert Richard Tretheway explain some common mistakes to help you avoid leaks and minimize water damage in your home or business.


The views and opinions expressed in this video regarding products featured or other information are not necessarily Travelers' views. Third-party names and trademarks referenced in this video are the property of their respective owners. Neither Travelers' sponsorship of the video nor reference to third-party names, trademarks or products is intended as, and does not imply, sponsorship, approval or endorsement of the products, statements or other information contained in the video.
More Prepare & Prevent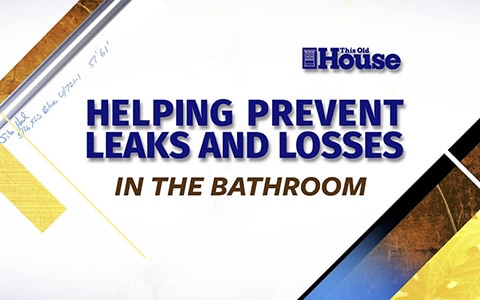 From toilets and tubs to faucets and your plumbing system, bathrooms can be a big source of potential water damage in your home. Get tips on how you can be proactive in helping prevent bathroom water damage.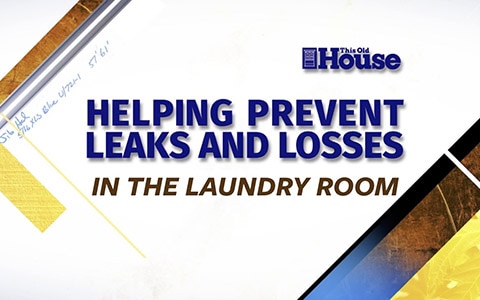 Your washing machine and water lines are also potential sources of water damage at home. Travelers forensic engineer Kevin Arpin helps explain how to help prevent such incidents.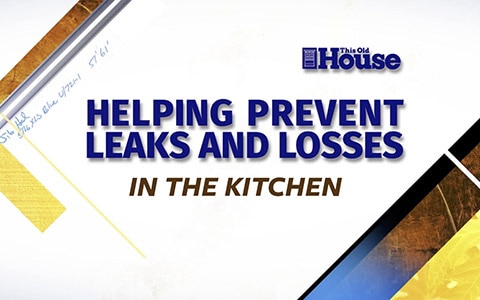 Appliances, sinks & plumbing systems can be potential sources of water damage in your kitchen. Learn how to be proactive in preventing kitchen water damage.