Kicking Off Hurricane Preparedness Season Symposium 2019
Greenville, North Carolina
Friday, June 7, 2019


Community members and business leaders joined together for an interactive look at the 2019 hurricane season, the latest research on preparedness, lessons learned from past storms and ideas for building back stronger.
Travelers Excellence in Community Resilience Award
Through its charitable giving arm, the Travelers Foundation, and its public policy division, the Travelers Institute, Travelers has created an annual Excellence in Community Resilience Award of $100,000 to recognize an organization that demonstrates leadership in addressing community resiliency. The 2019 award was presented during the symposium to Rebuilding Together, Inc.. 
Learn more about the award.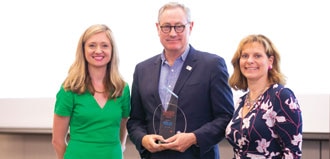 Presented by the Travelers Institute, East Carolina University College of Business, Risk Management and Insurance Program, the Insurance Institute for Business & Home Safety, Independent Insurance Agents of North Carolina, and the Small Business and Technology Development Center.
Program:
Opening Remarks: 
Paul Schwager, Ph.D., Dean; Associate Professor, Department of Management Information Systems College of Business, East Carolina University
Michelle Osborne, Ph.D., Chief Deputy Commissioner of Insurance, North Carolina Department of Insurance

Excellence in Community Resilience Award Presented by:
Marlene Ibsen, Chief Executive Officer & President, Travelers Foundation Vice President, Community Relations
Keynote Address: Building a Culture of Preparedness 
Natalie F. Enclade, Ph.D., Director of Individual and Community Preparedness, Federal Emergency Management Agency (FEMA)

Panel Discussion: 
Moderator: Jessica Kearney, Second Vice President, Travelers Institute
Gina Schwitzgebel, General Manager, CEO, North Carolina Joint Underwriting Association and North Carolina Insurance Underwriting Association
Alister Watt, Chief Product Officer, Insurance Institute for Business & Home Safety
Perry Bird, Director, Eastern Region, Rebuilding Together
Elise Montanari, Vice President, Personal Insurance Analytics, Travelers
WHEN:
Friday, June 7, 2019
11:30 a.m. Registration & Networking
12:00 - 1:30 p.m. Luncheon Program
 
WHERE:
East Carolina University
Main Campus Student Center
Ballroom A
501 East 10th Street
Greenville, NC 27858