Small Business - Big Opportunity®
December 16, 2014 | Charlotte, NC
When the Travelers Institute held its 16th Small Business - Big Opportunity® symposium at the Federal Reserve Bank of Richmond's Charlotte Branch on December 16, 2014, panelists and 200 small business owners in attendance shared a renewed optimism for local and national economic growth and beyond.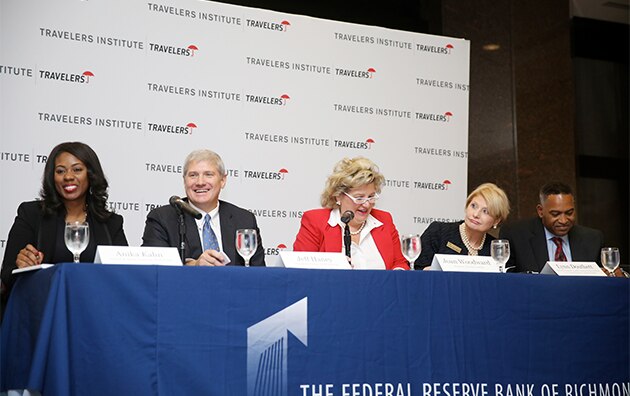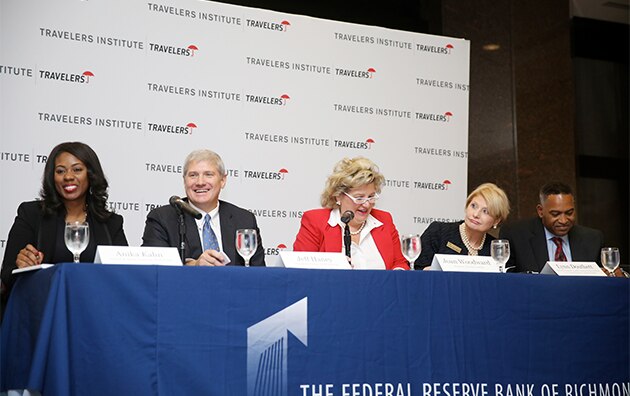 Watch Highlights from This Event
The Travelers Institute visited Charlotte, North Carolina as a part of a national series of symposia to identify solutions and challenges facing small business today. This video highlights the event's top three ideas for small business.
Speakers
Keynote Address
Matthew Martin, Regional Executive, Charlotte Branch, Federal Reserve Bank of Richmond
Panelists
Moderator: Joan Woodward, President, Travelers Institute; Executive Vice President, Public Policy; The Travelers Companies, Inc.
Lynn Douthett, District Director, North Carolina District Office, U.S. Small Business Administration
Michael Echols, Director, Joint Program Management Office, National Protection and Program Directorate, U.S. Department of Homeland Security
Jeff Haney, President & Partner, ECM Solutions
Anika Khan, Director & Senior Economist, Wells Fargo

Working together to promote small business success
Our small business advocacy initiative, Small Business—Big Opportunity®, helps promote small business success by convening entrepreneurs, policymakers and thought leaders to explore solutions to everyday small business challenges.
LEARN MORE