Small Business - Big Opportunity®
November 30, 2011 | Dallas, TX
On November 30, 2011, the Travelers InstituteSM held its fifth in a national series of small business symposia, Small Business – Big Opportunity®. Co-hosted with and held at the Federal Reserve Bank of Dallas, the event convened regional small businesses, bankers and governmental officials to discuss the business environment in Texas (which is ranked third in the nation for business-friendliness by the Small Business and Entrepreneurship Council) and to better understand the most pressing issues for small businesses. Panelists identified barriers to access to capital, while offering tips for obtaining small business loans, risk management techniques and business continuity planning advice.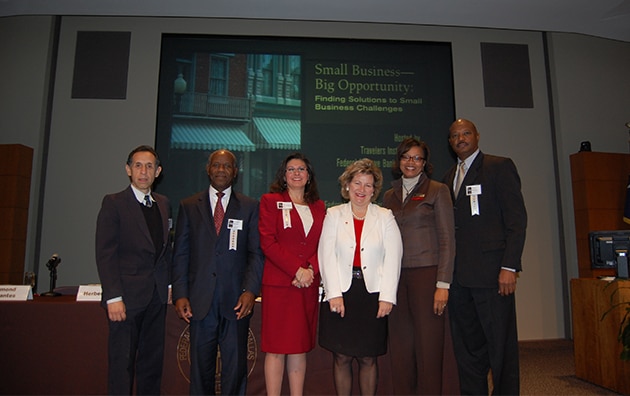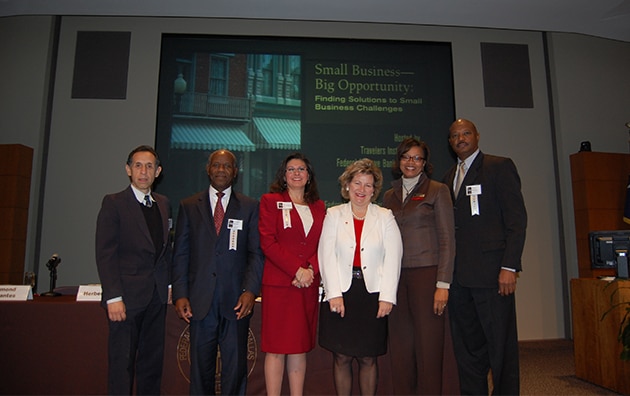 Watch Highlights from This Event
November 30, 2011: Small Business - Big Opportunity® Symposium (Dallas, TX)
Speakers
Opening Remarks
Elizabeth Sobel Blum, Community Development Research Associate, Federal Reserve Bank of Dallas
D'Ann Petersen, Business Economist, Federal Reserve Bank of Dallas
Panelists
Moderator: Joan Woodward, President, Travelers Institute; Executive Vice President, Public Policy; The Travelers Companies, Inc.
Herbert Austin, District Director for Dallas–Fort Worth, U.S. Small Business Administration
Raymond Cervantes, Acting Regional Director, U.S. Department of Commerce/Minority Business Development Agency
Victor Elmore, CEO and President, Texas Mezzanine Fund Inc.
Ana Hernandez, Vice President, Commercial Banking, BB&T and President, Hispanic Bankers Association, Dallas –Fort Worth Chapter
Closing Remarks
Alfreda B. Norman, Vice President and Community Development Officer, Federal Reserve Bank of Dallas

Working together to promote small business success
Our small business advocacy initiative, Small Business—Big Opportunity®, helps promote small business success by convening entrepreneurs, policymakers and thought leaders to explore solutions to everyday small business challenges.
LEARN MORE