Small Business - Big Opportunity®
March 20, 2015 | Irvine, CA
Data theft is among the cyber risks that worry small businesses the most, according to more than 60 percent of Irvine, California–based entrepreneurs who attended Small Business – Big Opportunity®, a symposium hosted by the Travelers Institute.

Michael Echols, Director, Joint Program Management Office, Office of Cybersecurity and Communications, U.S. Department of Homeland Security, told the audience that small businesses often cannot recover from a data breach because they do not have the same robust computer security systems as larger companies and are considered "easy targets" by hackers.

"It happens all the time, every day," he said, adding, "If this happens to you, it changes your whole world." He advised small business owners to look at their cyber risk profile to determine their exposures and to create a culture of cybersecurity across the business.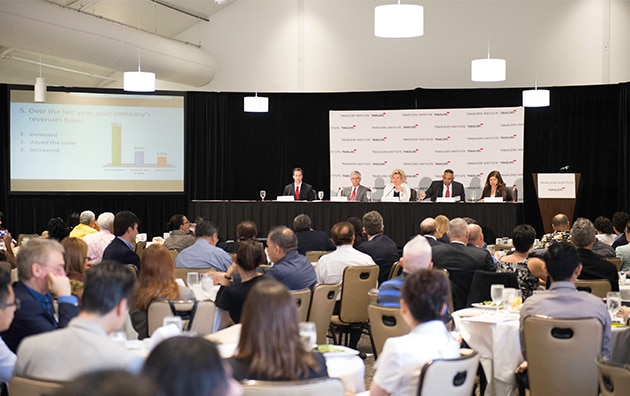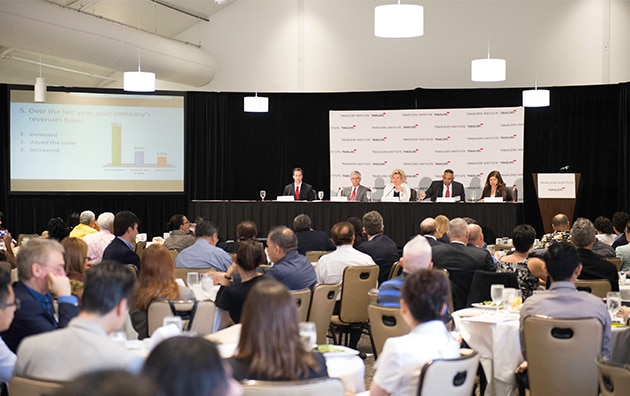 Watch Highlights from This Event
The Travelers Institute visited Irvine, California as a part of a national series of symposia to identify solutions to challenges facing small businesses today. This video highlights the event's top three ideas for small business:
Speakers
Keynote Introduction
J. Adalberto Quijada, District Director, Santa Ana District Office, U.S. Small Business Administration
Keynote Address
Hector V. Barreto, Chairman, The Latino Coalition; Former Administrator, U.S. Small Business Administration
Panel Discussion: "Finding Solutions to Small Business Challenges"
Moderator: Joan Woodward, President, Travelers Institute; Executive Vice President, Public Policy; The Travelers Companies, Inc.
Michael Echols, Director, Joint Program Management Office, National Protection and Program Directorate, U.S. Department of Homeland Security
Leila Mozaffari, Director, Orange County Small Business Development Center
Matt Petteruto, Vice President of Economic Development, Orange County Business Council
Jim Waterhouse, President, Spectrum Risk Management & Insurance

Working together to promote small business success
Our small business advocacy initiative, Small Business—Big Opportunity®, helps promote small business success by convening entrepreneurs, policymakers and thought leaders to explore solutions to everyday small business challenges.
LEARN MORE