Small Business - Big Opportunity®
July 17, 2012 | New York, NY
The Travelers Institute partnered with NYSE Euronext for its eighth symposium advocating for small business owners' success. The event culminated the national, multi-year, Small Business - Big Opportunity® series, gathering nationally recognized economic and small business leaders before an audience of entrepreneurs in the NYSE Board Room. Participants engaged in thoughtful discussion about entrepreneurship, growth, and the overall economic outlook at the national, state and local levels. Travelers commemorated the series by ringing The Opening Bell on the NYSE trading floor.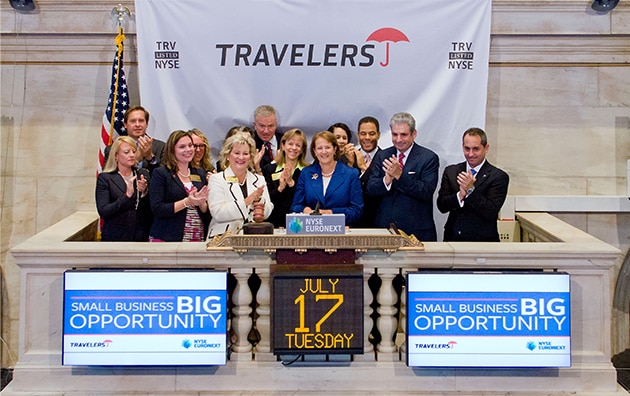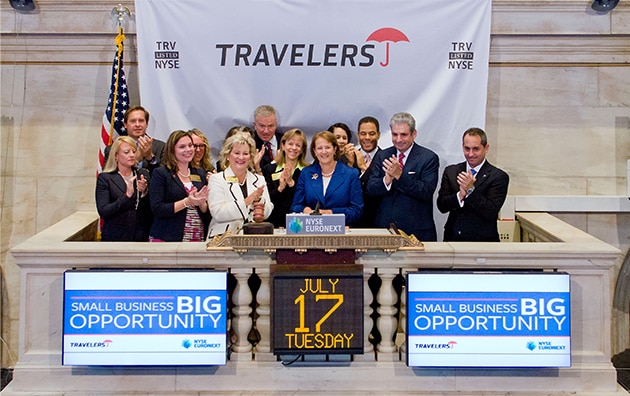 Watch Highlights from This Event
July 17, 2012: Small Business - Big Opportunity® (New York, NY).
Speakers
Opening Remarks
Duncan Niederauer, CEO, NYSE Euronext
Jay Fishman, Chairman and CEO, The Travelers Companies, Inc.
Panelists
Moderator: Joan Woodward, President, Travelers Institute; Executive Vice President, Public Policy; The Travelers Companies, Inc.
Karen Mills, Administrator, U.S. Small Business Administration
Elizabeth MacKay, Senior Policy Advisor to the Lieutenant Governor, New Jersey Department of State
Kate Mitchell, Co-Founder and Managing Director, Scale Venture Partners
Deirdre Quinn, Founder and President, Lafayette 148
Tokumbo Shobowale, Chief Business Operations Officer, City of New York

Working together to promote small business success
Our small business advocacy initiative, Small Business—Big Opportunity®, helps promote small business success by convening entrepreneurs, policymakers and thought leaders to explore solutions to everyday small business challenges.
LEARN MORE