Small Business - Big Opportunity®
March 21, 2014 | Pittsburgh, PA
In partnership with Henderson Brothers and the Pittsburgh Regional Alliance, the Travelers Institute held its 11th Small Business - Big Opportunity® symposium in the Pittsburgh, Pennsylvania region. Joan Woodward, President of the Travelers Institute and Executive Vice President of Public Policy at Travelers, kicked off the symposium explaining how Travelers, as one of the largest insurers of small business in the country, utilizes this series to advocate for solutions to everyday challenges faced by small businesses. She emphasized that the Institute chose Pittsburgh to highlight the Commonwealth's one million small businesses, which employ more than half of the state's workforce.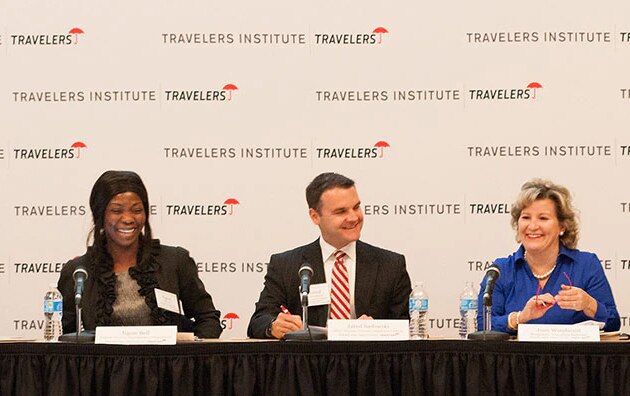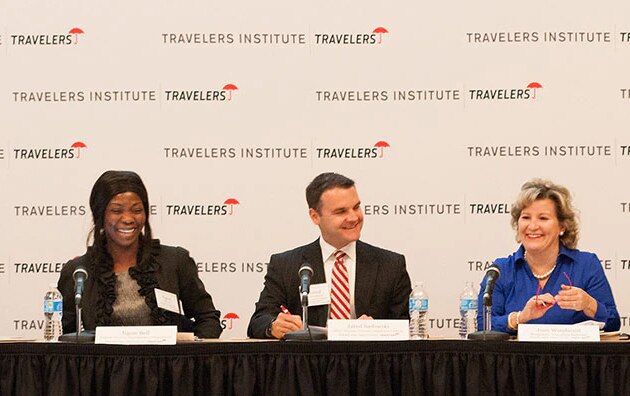 Watch Highlights from This Event
The Travelers Institute visited Pittsburgh, Pennsylvania as a part of a national series of symposia, called Small Business - Big Opportunity®, to help identify solutions to challenges facing small businesses today. This video highlights the event's top four ideas for small business.
Speakers
Keynote Address
Guhan Venkatu, Vice President & Senior Regional Officer, Federal Reserve Bank of Cleveland
Panelists
Moderator: Joan Woodward, President, Travelers Institute; Executive Vice President, Public Policy; The Travelers Companies, Inc.
Neil D. Bassi, President & CEO, Charleroi Federal Savings Bank
Ngozi Bell, Region III Advocate, U.S. Small Business Administration
John "Buddy" Hobart, Founder & CEO, Solutions 21
Jared Sadowski, Senior Account Executive, Henderson Brothers

Working together to promote small business success
Our small business advocacy initiative, Small Business—Big Opportunity®, helps promote small business success by convening entrepreneurs, policymakers and thought leaders to explore solutions to everyday small business challenges.
LEARN MORE