Experience How Emerging Trends are Impacting Risk Management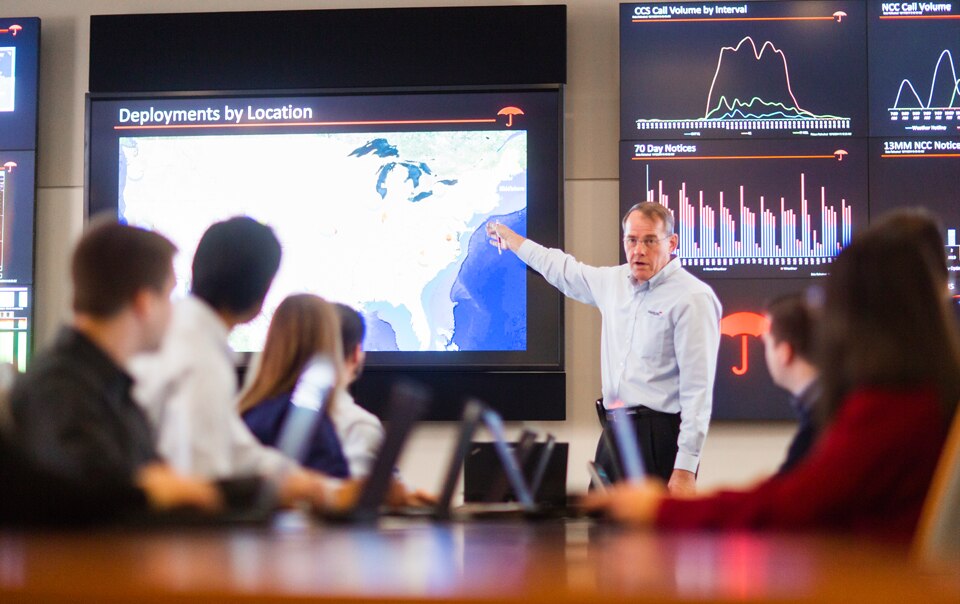 Geospatial Intelligence
Travelers National Catastrophe Command Center is the hub of our catastrophe response planning efforts. Witness our geospatial capabilities utilizing our proprietary approach to assembling data. See how we assess severe storms to understand the likely footprint of an event, how many customers will be impacted and the probable severity of the losses.
Human/Machine Collaboration & Wearable Technology
Find out how sensors can enable a safer and healthier workplace. Strap on a wearable sensor device and learn how your own movements increase or decrease the ergonomic risk from lifting and carrying objects. Your technique will be put to the test. You will get a safety score based on your movements and you can compare your score to others on our leaderboard.
Smart Fleet Telematics
Try our crash simulation experience where you can drive while distracted, experience a crash event and see the types of data and analytics generated by smart fleet telematics. This telematics data can initiate and influence the claim process. Early notification, such as through telematics, gains early ability to leverage best practices and processes in claim management.
Learn More about These Trends
RIMS 2019 Trends Reports
Stay ahead of new and expanding exposures - explore three Risk at Work trends worth watching in 2019.
Geospatial Intelligence – using data from satellite imagery, aerial photographs, weather and traffic data to provide business insight and understanding. Learn More
Human/Machine Collaboration – humans partnering and co-working with artificial intelligence systems and machines, so that each party complements the other's strengths. Learn More
Smart Fleet Telematics – Using data as part of an ongoing safe driving feedback and coaching program can help reduce the potential for accidents. Learn More
Download the Report
Featured at the RIMS Innovation Hub:
Virtual Reality and Wearables: Alternatives to Pain Medications
Innovation Hub-Booth 1099
Tuesday, April 30
2:10 - 2:30 PM

Familiarize yourself with the potential future of pain management—a digital pain-reduction kit. Consider the future use and benefits of virtual reality in workers' compensation. Examine the technologies that could reduce medical costs and prevent injured worker exposure to addictive narcotics.
More in the booth:
Leading Workers Compensation Claim Outcomes
Our integrated approach connects rich data and analytics with our people, processes and technology to create a dynamic ecosystem that delivers unmatched experiences and outcomes. Extensive data and analytics capabilities support the development of claim management tools that ensure our Claim professionals are armed with just-in-time information at key points during the life of a claim.
My Travelers® for Injured Employees is our new secure, web-based portal that puts the injured employee at the center of the claim process by proactively engaging and empowering them to take charge of their return-to-work journey.
Travelers Early Severity Predictor® identifies injured employees that are at risk for developing chronic pain, which is a leading cause of opioid dependency.
Travelers e-CARMA® 
The Next Generation Risk Management Tool
Travelers has reinvented e-CARMA – our popular risk management tool – to provide a contemporary approach to the analysis and interpretation of information. Our simple, flexible, and comprehensive design based on customer input connects you with data and assists with interpreting information to make effective, informed decisions simply and efficiently.
e-CARMA Appointments
Schedule a tour to see how the next generation of e-CARMA can simplify your risk management analysis.
Schedule a Tour
Travelers Risk ToolworksTM App
100+ years of risk expertise in the palm of your hand. Use the new Risk Toolworks app to access our collection of industry leading risk management tools and resources. Empower your employees and safety managers to monitor workplace hazards and take action to manage them with data that's easily accessible to risk managers. Available from the App Store and Google Play.