Navigating the Auto Estimate and Repair Process
Travelers has a variety of ways to help you obtain an estimate in order to determine the value of your vehicle's damage. You always have the right to choose where your vehicle will be repaired. You may also ask your Claim professional for help with an option that best fits your needs. For more information, see below.
Auto estimate and repair options for customers
ConciergeCLAIM®
ConciergeCLAIM is Travelers one-stop option for estimates and auto repairs. After you receive an estimate, you can choose to stay for repairs that are guaranteed for as long as you own your vehicle.
Estimate Review
In order for us to confirm the estimated repair cost and process your property damage claim we will need photographs of the damage to your vehicle.
You may take your vehicle to the repair facility of your choice and email your estimate and photos to your Claim professional. The photos can be provided by either you or your shop. In order to guarantee we receive your photos regardless of size and format, please limit the number of photos shared to 5 or less per e-mail. We will review your information and contact you to discuss the next steps.
Based on the initial description of the damages to your vehicle, we may be able to make a payment upon receipt of your estimate and photos. However, if there is more damage than anticipated, we may need to schedule an inspection of your vehicle and will coordinate this with the repair facility, if needed.
To assist you with the required photos, please see the examples below.
| | |
| --- | --- |
| Preferred (photo taken straight-on; focused on damage) | Unusable photo (taken from bad angle; unable to see damage) |
| Preferred photo (taken at a distance; focused on damage) | Unusable photo (taken from bad angle and too close to see any damage) |
| Preferred photo (in focus and clearly showing damage to vehicle) | Unusable photo (blurry; out of focus) |
Scheduled inspection
Typically, a Travelers staff appraiser or Heavy Equipment Technical Specialist can come to your location of choice, inspect the vehicle and provide an estimate on the spot that outlines the necessary repairs.
Once your vehicle is at a shop being repaired, it is possible that additional damages may be found. Your repair facility will contact Travelers directly to discuss any supplement to your original estimate. Travelers will work with you and your chosen repair facility to make sure quality repairs are performed on your vehicle. If you have any questions about your estimate or the repair process, contact your Travelers Claim professional.
Let us help to answer your questions and guide you through next steps.
During a tornado or hailstorm, drivers should get off the road as soon as possible. If caught on the road, use these tips to help stay safe.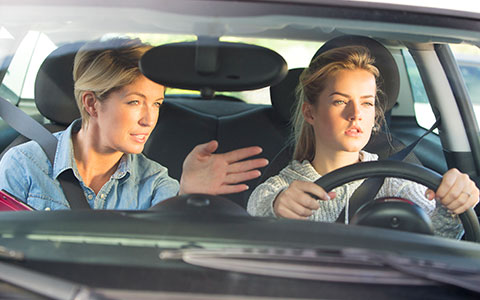 Worried your teen won't wait to text while behind the wheel? Here are five things parents to help prevent your teen from texting while driving.