Agribusiness
To succeed in today's evolving agribusiness (also referred to as agriculture business) landscape doesn't just mean knowing your farm, ranch, stable or vineyard. These days, it's critical that you stay up-to-date on the risks that threaten it and understand your options to help protect it. From extreme weather to the revolution in agriculture technology – or AgTech – it's important to choose an agribusiness insurance carrier who can help you navigate the sophisticated hazards of your industry. We offer broad property and liability coverages, Risk Control services and Claim support tailored to meet the specific challenges you face, and to help protect what you have worked so hard to build.
Our leading-edge industry insights and expertise, strength of coverage and the competitive advantage we deliver to our policyholders by keeping them ahead of emerging risks, are just a few reasons why Travelers Agribusiness is the right choice to help protect what matters most to you.
Agribusiness Insurance Lines of Business:
Auto
General Liability
General Liability – including Personal Liability
Property
Umbrella/Excess
Who Is Agriculture Insurance Right For?
Citrus growers
Commercial growers and packers of agricultural products
Cotton growers
Estate farms
Family farms and ranches
Grain and field crop growers
Horse farms
Livestock, primarily cattle and sheep
Vineyards
Wholesale nurseries
Wineries, including tasting rooms
Find Solutions
Discover products by industry:
Tailor your Solution
AgTech Is Revolutionizing the Farming Industry
From precision farming techniques and agriculture robots, to thermal imaging and drones, technological innovations in the farming industry are helping businesses become more efficient. And, while AgTech may be plowing the way for the farming industry's future, identifying and understanding AgTech's potential risks can help cultivate and protect yours. From small family-owned vineyards to large commercial farms, Travelers offers the underwriting expertise and tailored coverages to protect a broad range of agribusiness operations.
Future-Ready Solutions for Your AgTechNeeds
[DESCRIPTION]
Travelers logo

[DESCRIPTION]
Farmer walking in cornfield

[TEXT]
Travelers Looks at the Future of Agribusiness

[DESCRIPTION]
Farmer in cornfield on a smart tablet

[SPEECH]
Technology today is expanding agriculture in ways we could never have imagined. That adds a whole new set of job descriptions to the list of the many hats you already wear.

[TEXT]
FARMER/MECHANIC/TECHNOPHILE

[DESCRIPTION]
Screen splits and plowed rows of a dirt field appear.

[SPEECH]
It also adds a host of new risks to your business.

[DESCRIPTION]
Tractor making rows in a dirt field. Screen splits to show conveyor belt sorting potatoes.

[SPEECH]
For example, smart tractors and agribots can increase your productivity,

[DESCRIPTION]
Man and small child carrying a wooden box to a wheelbarrow.
[SPEECH]
but they can also crash or collide with people or livestock.
[DESCRIPTION]
Horse in a barn stall. Thermal imaging overlays on the horse.
[SPEECH]
Other agricultural technologies like thermal imaging and drones can monitor the health of animals.
[DESCRIPTION]
Partially flooded farmland.
[SPEECH]
But environmental conditions can skew the quality of your data.
[DESCRIPTION]
Aerial view of farms and land. Closes into a split screen with aerial view on left and topographical map image on right.
[SPEECH]
Or consider technologies that gather data from GPS and satellites.
[DESCRIPTION]
Satellite flying over earth.
[SPEECH]
They can help you respond to changing conditions, but they also run the risk of system failures and data inaccuracies.
[DESCRIPTION]
Woman looking at a large computer screen.
[SPEECH]
What's worse, if data is analyzed incorrectly, it may end up doing more harm than good.
[DESCRIPTION]
Farmer sorting a conveyor belt of potatoes.
[SPEECH]
Travelers takes understanding AgTech as seriously as you do.
[DESCRIPTION]
Screen splits to show farmer with potatoes on the left and farmer with technical device on right. Image on left changes to laser scan of a topographical view of property.
[SPEECH]
From thermal imaging to geospatial data collection,
[DESCRIPTION]
Split screen with drone flying over fields on left and potatoes moving on conveyor belt on right.
[SPEECH]
from agribots and drones to alternative energies,
[DESCRIPTION]
Overhead view of farmer with tractor and smart tablet. Camera pulls out to show wide shot.
[SPEECH]
our deep knowledge of agricultural technology and its evolving risks helps us protect your growing business.
[DESCRIPTION]
Travelers logo
[TEXT]
Future-Ready Solutions for Your Many AgTech Needs
travelers.com/agribusiness
Innovative technology is transforming agriculture in remarkable ways, but with it come the challenges of embracing new technology. This can introduce new risks to your business, and a learning curve you'll need to navigate. Travelers has a deep knowledge of agricultural technology and its evolving risks, so we can help protect your growing business.
Insights & Expertise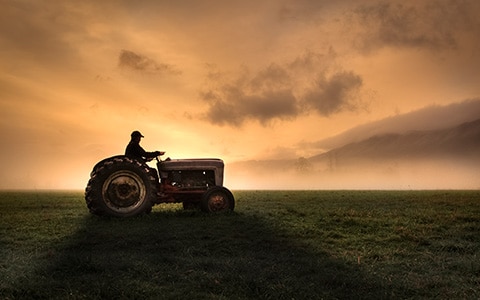 Farm-based scenarios that help illustrate how the mistakes of third parties could lead to claims against an agricultural business owner.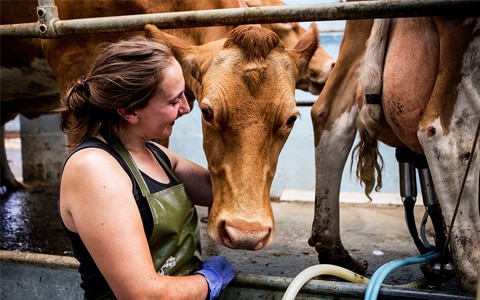 Building an effective business continuity plan can help agribusinesses prevent long term loss of income, protect employee safety and get back to business sooner after a disruption.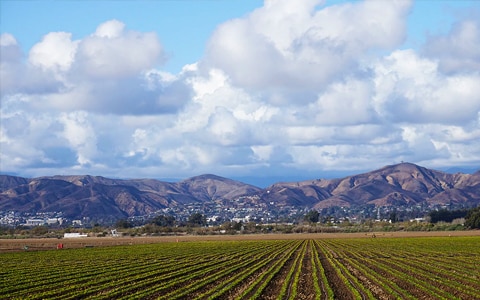 Here's guidance from Travelers Risk Control on some things you can do to be better prepared to reduce your risk from wildfire.