Commercial Surety Bonds
Travelers has over 100 years of experience in providing commercial surety bonds, so you can rest assured that we are experts in this industry.
Travelers Knows Commercial Surety
Travelers serves both domestic and international bonding needs for all types of businesses, from small businesses to multinational companies.
Travelers also provides bonds for individuals, nonprofits, associations and franchises.
Which Industries May Need Commercial Surety Bonds?
Banks
Healthcare facilities
Insurance companies
Manufacturing companies
Metals and mining industry
Power and utilities
Retailers and wholesalers
Service contractors
Technology industry
Telecommunication industry
Transportation industry
Find an Agent
Need an Agent?
Get the personal service and attention that an agent provides.
Find a local agent in your area:
Types of Commercial Surety Bonds
There are several types of commercial surety bonds required of individuals or businesses by legislation, the government or other entities. They are designed to protect the public, prevent financial losses, regulate markets, and safeguard against fraud and unethical business dealings. The following are common types of commercial surety bonds:
License and Permit Bonds
In order to comply with federal, state or municipal ordinances or regulations, these bonds may be required as a condition to obtain permits or licenses necessary to engage in a particular business or exercise a particular privilege. These bonds guarantee that the person or company seeking the license or permit is able to do what the license or permit states; will comply with all laws, regulations and codes related to the project or action; and – in some cases – will be liable if a third party is injured or sustains damage due to the project or action.
Examples of license and permit bonds include performance and payment bonds, customs bonds, tax bonds, warehouse bonds, auto dealer bonds, mortgage lender bonds, mortgage broker bonds and contractor license bonds.
Court Bonds or Judicial Bonds
When someone is pursuing an action in court, court bonds or judicial bonds may be required of either a plaintiff or defendant in judicial proceedings. These bonds may be used to reserve the rights of the opposing litigant or other interested parties and ensure costs related to the lawsuit or legal action can be paid. These bonds include, but are not limited to, bail bonds, appeal bonds, attachment bonds, injunction bonds and replevin bonds (which deal with possession of assets and return of assets based on court decisions).
Fiduciary Bonds
These surety bonds are required of those who administer a trust under court supervision. They protect heirs, beneficiaries and creditors in case a fiduciary performs dishonestly, negligently or incompetently, causing a loss of assets or other damages. Examples include executor bonds, trustee bonds, administrator bonds, conservatorship bonds, personal representative bonds and guardianship bonds.
Public Official Bonds
These bonds are required by statute for certain holders of public office. These bonds protect the public from malfeasance by an official or from an official's failure to faithfully perform duties. While these duties may vary by position and applicable law, a public official is obligated to act in the public's best interest at all times and will be held personally accountable, with few exceptions, for the duties and responsibilities of that position. In most cases, these bonds are required in order for an individual to hold office.
Public officials who may require surety bonds include:
Treasurers and employees
Tax collectors and employees
Postal workers
Town supervisors
Sheriffs, deputies and constables
Judges and court clerks
Public official bonds may be required by states, cities, towns, villages and municipalities, state colleges, universities, school districts, sheriff's departments, court offices and the federal government.
Miscellaneous Bonds
These are bonds that do not fit into any of the other categories mentioned above. They are commonly used to meet the needs of private relationships and unique business relationships. Examples include wage and welfare bonds, utility bonds, workers compensation for self-insured employees, union bonds, lost securities bonds and hazardous waste removal bonds.
Our Reliability Is Proven
For more than 100 years, Travelers has been a leader in the surety industry. We consistently earn high marks for financial strength including an A++ rating from A.M. Best*.
Related Products & Solutions
Learn more about surety bonds for banks, such as court bonds, license & permit bonds and miscellaneous indemnity bonds.
Follow this guide for tips to protect yourself as a notary.
An appeal bond, sometimes called a supersedeas bond, is required when a defendant wants to appeal an adverse judgment or order.
Insights & Expertise
Discover the three most common types of surety bonds for your business.
While international letters of credit and surety bonds are similar, there are important considerations that can make international surety bonds a more attractive alternative to letters of credit.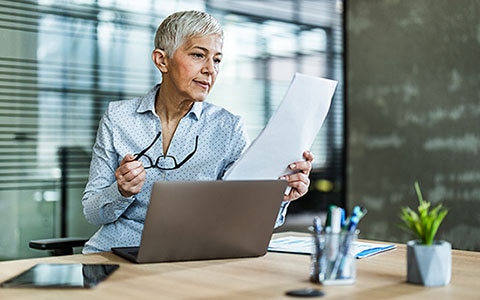 Here are important differentiators to consider that may help you choose the right bond carrier for your needs.