Technologies That Can Help Your Organization Reduce Risk
Common issues like water leaks, malfunctioning refrigeration and broken manufacturing equipment can lead to serious business interruptions if not proactively identified and addressed. Smart devices known as the Internet of Things (IoT) can alert you to risky situations — and may even help prevent losses from occurring. The Travelers Connected Protection program is here to help.
What Is IoT?
"Internet of Things" refers to devices that are connected to the Internet. They are enhanced with sensors to provide real-time feedback and alerts through a smartphone or online dashboard. Users can interact with IoT devices or "smart" features to help mitigate risks when issues arise.
What Are the Benefits of IoT? 
Depending on the type of IoT device and how it's used, benefits may include:
Reduced maintenance activities.
Ability to remotely monitor facilities.
Shifting from reactive to proactive maintenance.
Cost savings.
Optimizing operations and reducing risk.
Actionable insights.
What Is the Connected Protection Program?
Travelers Connected Protection program helps our customers reduce risk by introducing them to IoT solutions and connecting them with IoT vendors. These suppliers offer IoT devices that can address a range of risks with products that have been vetted by Travelers.
This program includes:
A fully vetted list of IoT vendors addressing a broad range of needs.
The potential for vendor discounts.
A team of Travelers specialists who provide guidance on devices and adoption.
To learn more, please contact us at: TRVIoT@travelers.com.
Click here to download PDF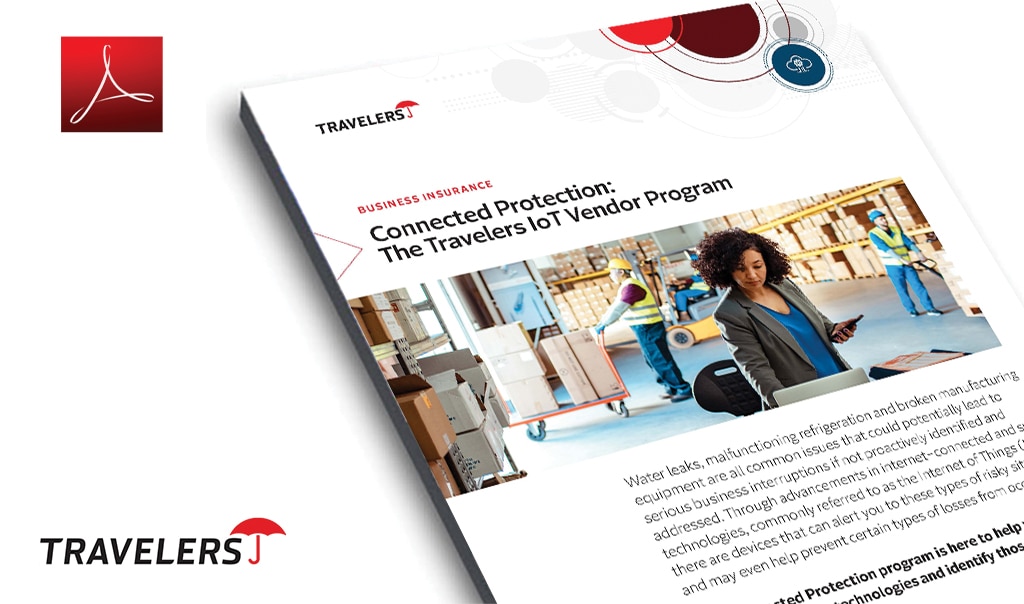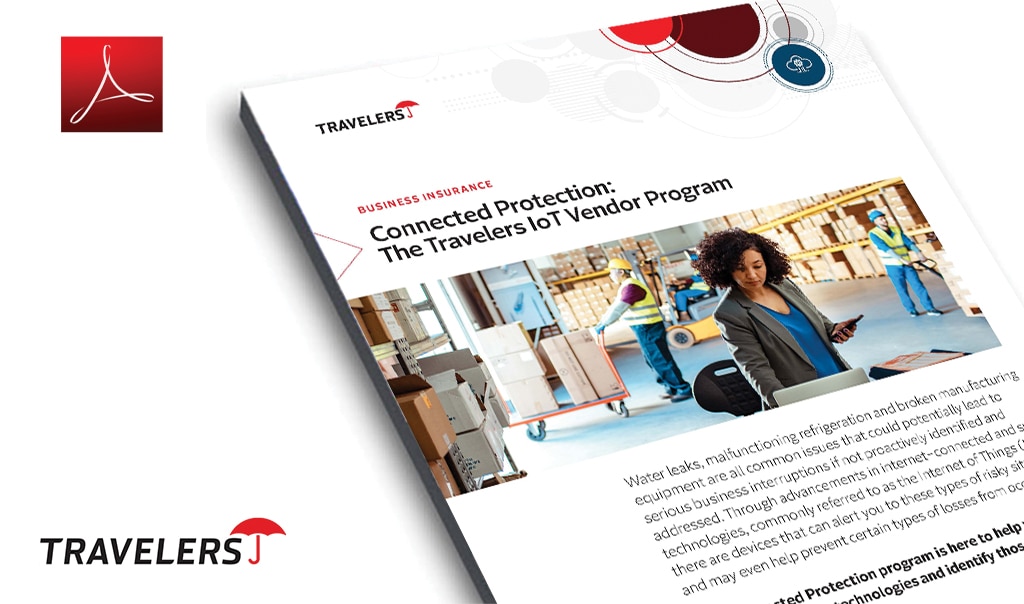 Participating Vendors*
Monnit
Offers a variety of long-range wireless sensors that monitor environmental conditions (temperature, water detection, humidity), machine health (vibration, voltage, current), motion (motion sensors, activity detector, vehicle counter), and more.

tattletale
Offers tamper-proof, cellular, fully monitored security alert systems in a box that can address risks such as break-ins, vandalism, theft, fire and water damage. Solutions are portable and easy to install/remove with the ability to dispatch with local police and fire authorities.

WINT
Provides solutions for properties with water features where water may cause significant loss. Their solutions remotely detect and stop leaks at the source by analyzing water flow into buildings using powerful artificial intelligence. If the water flow exceeds user established parameters, their water shut off product fully stops the water flow. 
* Discounts may vary by state and individual risk characteristics. Discounts are subject to eligibility and availability; does not apply to all coverages and are not guaranteed.
Applicable Industries
IoT solutions are broadly relevant to most industries and the use cases are always growing. Below is just a sampling of common applications for several key industries.**
Construction
Habitational
Healthcare and Life Sciences
Historically Significant Buildings
Industrial Property
Manufacturing
Offices
Retail
Schools and Universities
Wholesale and Cold Storage Facilities
Use Case Overview
Each drop down below provides information related to common use cases promoted through the Connected Protection program. Because there are many use cases beyond those listed here, feel free to reach out to a Travelers specialist to find others that suit your needs.
The three key components for a water protection solution include: 
Automatic Shutoff Solutions
Water Detection
Water Flow Monitoring
The most effective solution may include the automatic shutoff capability; however, that may not make sense for every building. Place water detection sensors in areas that are most susceptible to leaks or where you have high-value assets that could be damaged by water.
Environmental sensors can monitor things like temperature, humidity, air quality, dust and other air contaminants. Temperature sensors can prevent things like frozen pipes or food spoilage. Humidity monitoring prevents mold and mildew growth. Monitoring air quality and carbon dioxide levels addresses environmental risks to employees.
Monitoring things like unwanted foot traffic, open-/closed-door status and parking lot utilization can alert local authorities to help protect your premises.
Vacant or temporarily unoccupied buildings can benefit from a security system that alerts local authorities in the event of an issue or breach. Sensors that may add the most value include fire detection, water detection, indoor and outdoor motion detection and door or window contact status.
Heating equipment breakdown in the middle of winter can lead to freezing temperatures in apartment buildings, causing major troubles for tenants and frozen pipe damage. Manufacturing equipment breakdown can cause major supply chain and production issues. Machine health monitoring and predictive maintenance can help reduce operational costs and mitigate business interruptions.
Insights & Expertise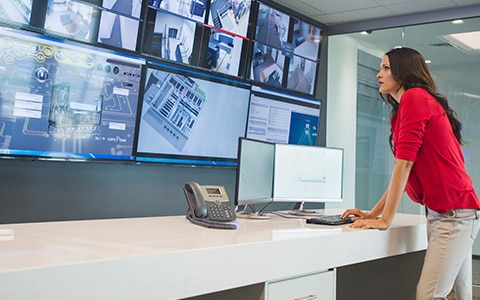 Smart technology is a powerful tool because it can reduce time, effort and costs associated with property oversight.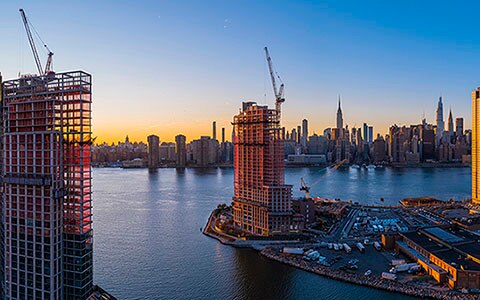 The safety, productivity and profitability of your jobs can be improved with innovative technologies. Explore Travelers Construction Innovation Hub.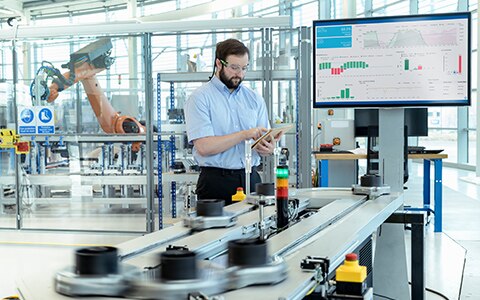 Smart tech is changing virtually every aspect of manufacturing. Here is a look at six areas where it provides opportunities, and potential risks.
Related Content
With more than 115 years of risk expertise and a staff of 500+ Risk Control consultants, Travelers has the experience and technical proficiency to help businesses manage their risks.
Our knowledgeable Claim professionals will respond to your needs with speed, compassion, integrity and professionalism. It's our business to help keep you in business.