Encouraging Lifelong Civic Learning
In collaboration with our nonprofit partners, Travelers promotes not only awareness of the issues of the day but also lifelong knowledge of – and participation in – the functioning of our democracy. Our employees have access to nonpartisan resources on everything from the First Amendment to the filibuster, and we are also dedicated to the civic engagement of our future workforce. Through partnerships with nonprofit organizations, we support nonpartisan programming for younger generations that sparks family conversations about civic engagement.
Voting and Elections
In our representative democracy, your vote is your voice. At Travelers, we're working to make sure everyone's voice is heard, both within our employee population and beyond. In addition to hosting voter registration drives and promoting awareness of upcoming elections within our Travelers offices, we are investing in a culture of democratic participation in our communities by supporting voter registration drives at events like the Travelers Championship and partnering with organizations to reach young adults and foster a lifelong commitment to voting.
[MUSIC PLAYING]

(DESCRIPTION) 
TEXT: Citizen Travelers, Get Out the Vote. 
Lindsay, Hartford, CT.
(SPEECH) 
LINDSAY: Hi. I have been with Travelers for 18 years. I work closely on the Citizen Travelers Initiative.
(DESCRIPTION) 
Lindsey smiles and waves from behind a table under a tent. '
(SPEECH) 
Getting out the vote is one aspect of Citizen Travelers that is particularly meaningful to me.
(DESCRIPTION) 
At another table location, a young person scans a QR code in front of Lindsay.
(SPEECH) 
We're bringing information to people right where they are with voter registration booths at the Travelers Championship and at our offices, providing valuable resources such as how to check and update their voter registration status.
(DESCRIPTION) 
An RV with the Travelers logo is parked next to the Travelers tent where Lindsey is stationed. 
(SPEECH) 
It has been very rewarding to play a role in making voting more accessible to everyone. 
(DESCRIPTION) 
Two young people smile and pose for a photo behind a frame that says Future Voter! Citizen Travelers. 
(SPEECH) 
I can proudly say I assisted in getting numerous Travelers' summer students and first-time voters registered for these upcoming elections.
(DESCRIPTION) 
Another young person holds up the same frame in front of a mural that says Taking care of our communities. 
(SPEECH) 
I have also enjoyed hearing other people's stories about why voting is important to them. Perhaps, my favorite thing about asking people if they're registered to vote is hearing the pride in their voice when they declare I've been voting for 40 years, or I've been voting since I was 18. 
(DESCRIPTION) 
A round American Flag sticker with the text, I Voted, Citizen Travelers. 
TEXT: "I've been voting for 40 years!" 
"I've been voting since I was 18!" 
(SPEECH) 
It really has given me a greater appreciation for having this right, which our veterans and ancestors have fought to obtain and defend. There is such an appetite for civic engagement at Travelers, and it has been inspiring to meet with people throughout the company who are so deeply involved in and invested in their communities. 
(DESCRIPTION) 
Two more young people hold up the frame. At the bottom beneath the umbrella logo is the text hashtag Citizen Travelers. 
(SPEECH) 
I am very proud to work for a company who believes in and champions the importance of civic engagement. 
(DESCRIPTION) 
On the table under the tent are red and white flowers with a small American flag in the center and a row of hats with the white umbrella logo over a blue and red circle. 
(SPEECH) 
Travelers empowers us as individuals with our own interests and beliefs, providing Citizen Travelers as a channel for us to grow and become more engaged. Every voice matters, and every voice is a vote. It's up to us to make it count. Go vote. 
[MUSIC PLAYING] 
(DESCRIPTION) 
TEXT: Citizen Travelers 
To learn more visit  
travelers.com slash Citizen Travelers 
Citizen Travelers is a non-partisan initiative to empower Travelers employees to take part in the civic life of their communities. 
The Travelers Indemnity Company. All rights reserved. Travelers and the Travelers Umbrella logo are registered trademarks of the Travelers Indemnity Company in the U.S. and other countries. 
More About Travelers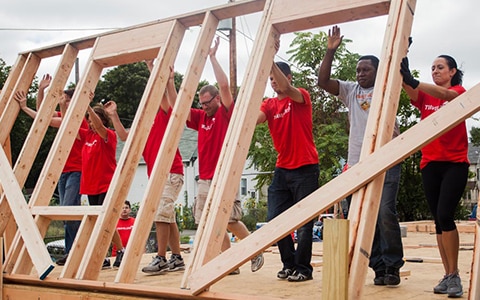 With a focus on equity and inclusion, we target our giving and volunteerism to help improve academic and career success, develop thriving neighborhoods and create culturally enriched communities.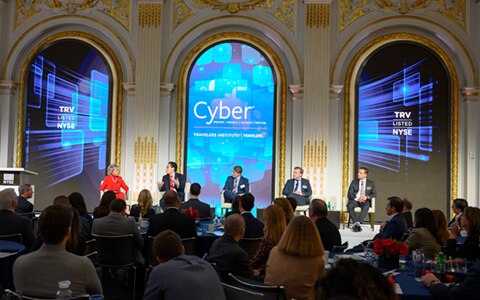 Our mission is to leverage Travelers' industry and technical expertise, along with insights from private and public sector experts, to help address the most pressing challenges facing our industry, our customers and the communities we serve.
Sustainability at Travelers means performing today, transforming for tomorrow and fulfilling our promise to our customers, communities and employees.