Travelers EDGE® Scholars Share Their Stories
Over the past decade, the Travelers EDGE® (Empowering Dreams for Graduation and Employment) Program has helped more than 440 students gain access to higher education, professional mentoring, internships and a career in the insurance and financial services industry. Many of them are the first in their families to attend college. Take a look and see how the program has shaped so many of their lives as well as the entire Travelers community.
Travelers EDGE

®

Marks its 10th Anniversary
Travelers EDGE® partners with colleges and community programs to increase access to higher education for underrepresented students. As Travelers EDGE celebrates its 10th anniversary, the company is sharing stories about the students who have completed the program, graduated from college and begun their careers at Travelers.
Travelers EDGE – Summary Video
Ten years ago, Melissa Rodriguez was sitting in her literature class at Capital Community College in Hartford, Connecticut, when a dynamic guest speaker discussed the possibilities of a new career program designed to prepare students for the business world. Inspired by this speech, she applied and was accepted to the first class of what is now the Travelers EDGE program.
Rodriguez, one of seven children, was the first in her family to graduate from college. She'd watched her father and older brother work long hours with family-run businesses, including a pizzeria and a grocery store.
Dreams of a Bright Future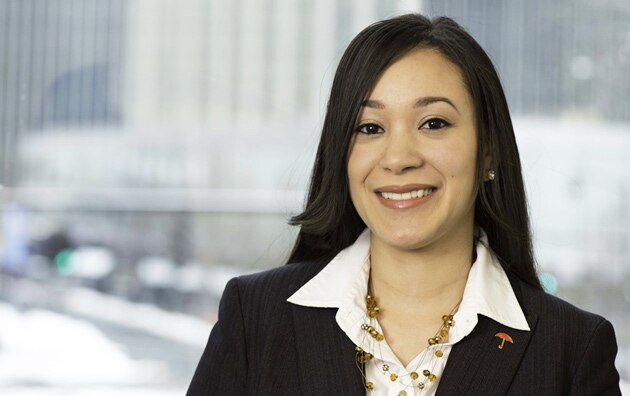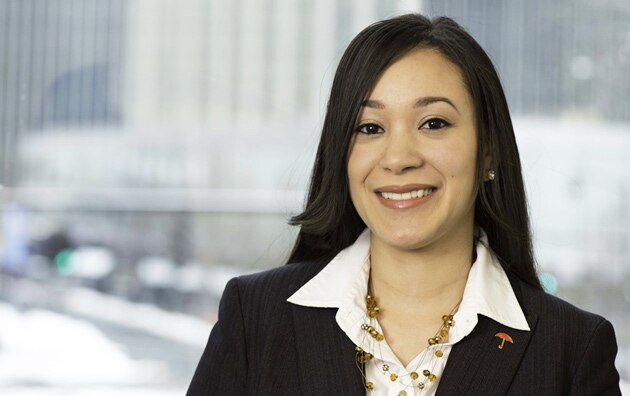 "It's a lot of work," says Rodriguez. "I always knew that I wanted to have a profession, that I wanted to be somebody someday, and then give back."
Now Rodriguez speaks at Capital's classes, sharing how her college internship turned into a career she loves, working full-time in underwriting at Travelers while pursuing an MBA.
Students stop her in the halls of Travelers' downtown Hartford offices, sharing how her words motivated them to apply to the Travelers EDGE program. She marvels at the effect of that initial inspiration rippling through the years.
"I still remember that moment when they said yes to me," says Rodriguez. "I felt like it was my golden ticket, like I'd won the lottery."
Travelers EDGE, By the Numbers
As of December 2016, Travelers EDGE, which stands for Empowering Dreams for Graduation and Employment, has provided direct financial assistance to support 440 scholars and 178 interns, including 43 who have been hired upon graduation. Through internships and other professional development opportunities, the program prepares students for careers in the insurance and financial services industries. Almost half of Travelers EDGE interns have been hired by Travelers upon graduation.
Over the past 10 years, the program has expanded from Hartford to Saint Paul, Minnesota, and Baltimore, Maryland, cities where Travelers has a significant presence. The program raises awareness of higher education and careers within the insurance industry as a possibility for high school students and offers academic scholarships, mentoring and career experience through professional development and internships.
At Travelers, Rodriguez's manager, Kevin Cahill, describes her as dedicated and resourceful, someone who can deftly handle an unexpected project and also find time to mentor student interns.
"She's fully engaged in her work here, and that comes through in everything she does," says Cahill. "She's made the most of the opportunity Travelers EDGE has offered."
More than half of Travelers EDGE Scholars are first-generation college students. Most work during the school year. To help students navigate the challenges of adjusting to college and balancing work and school, students are paired with program managers on campus as well as mentors at Travelers.
"Travelers has a really strong commitment to opening doors to opportunity," says Marlene Ibsen, President and Chief Executive Officer of the Travelers Foundation. "We believe that the strongest investment we can make for our future, and for the community, is in education."
Meet Other Travelers EDGE Students:
Julio Ortiz
One year out of college, Julio Ortiz is a new homeowner and a Travelers employee, pursuing a passion for underwriting, which he enjoys because it allows him to travel and meet different kinds of people.
"Without the Travelers EDGE program, I don't think I would be where I am today," says Ortiz, who was able to graduate from college knowing he had a job lined up. Without having to worry about paying back college loans, he was able to close on a new condo within a year of graduating. Ortiz benefited from Travelers EDGE in high school, where the program introduced him to the possibility of a career in the insurance and financial services industry.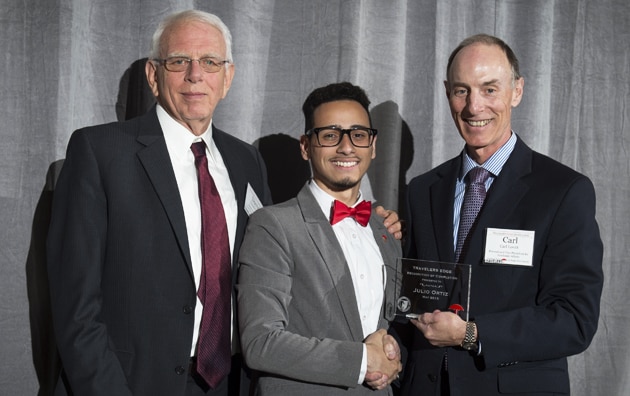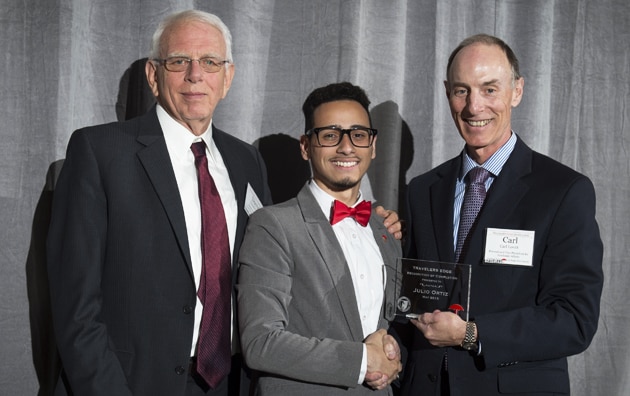 He officially became a Travelers EDGE Scholar as he graduated from high school. Knowing he would be part of Travelers EDGE, Ortiz decided to enroll in general management at Central Connecticut State University, because the major would allow him to learn about all aspects of the business.
Ortiz recalls putting in long hours to balance Travelers EDGE, school and another job. In the summer, he had a full-time internship at Travelers while also working at a nursing home seven days a week. "Travelers EDGE gave me the motivation to work hard and keep moving," he adds. "The best thing about Travelers EDGE was the support the program gave me while at college. It was almost like a family and everyone kept pushing me."
Nicole Ampe
Insurance was far from Nicole Ampe's mind when she started her college career at Metropolitan State University in Saint Paul, Minnesota. The Minnesota native planned on working in human resources, but after an internship at Travelers in the summer of 2013, she was drawn to working in the claims department.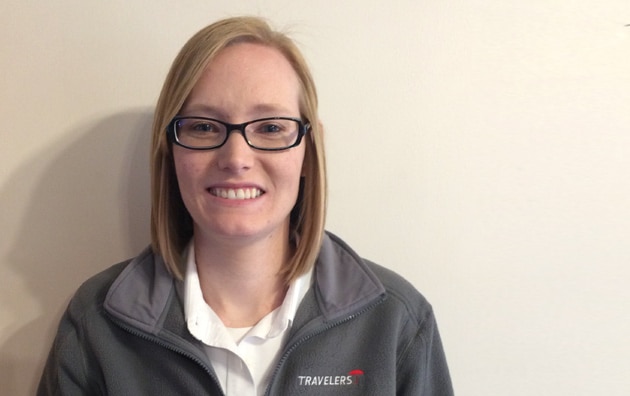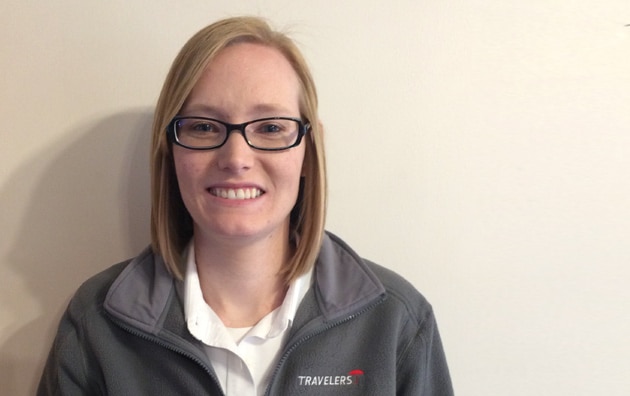 Before she joined Travelers EDGE, she says, "The only thing I knew about auto insurance was that I had it for my car." Now she's an auto damage appraiser, a job she enjoys. Ampe worked as many as three jobs at a time while supporting herself through college. Her goal was to have zero college debt, a promise to herself she was able to keep thanks to the financial support from Travelers.
The first-generation college student now mentors her younger sister, who is starting college and watching her older sister build her career at Travelers.
Jesus Medina
A freshman at the University of Connecticut, Jesus Medina speaks with the composure of a senior. Medina, who is majoring in management information systems, first interned at Travelers the summer before his senior year of high school and plans to intern again this summer. He's still weighing his post-college career options, but knows he's on track.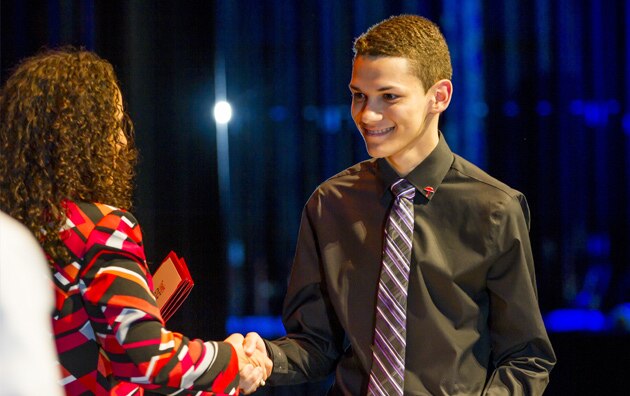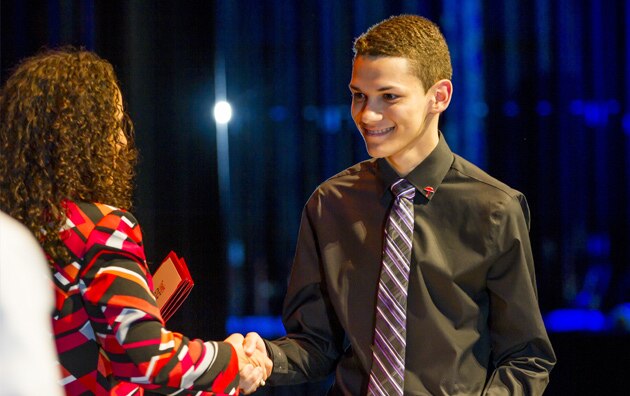 "When I talk to people here, they're a bit surprised that I have so much more of a plan than other freshmen," Medina says. He credits Travelers EDGE for that. Medina was a junior at Pathways Academy of Technology & Design, a Hartford Public High School, when he learned about the program, and set his sights on the University of Connecticut. "Coming from an inner city, it was a really good opportunity for me to be able to go to school," Medina says. "I always had the idea in my mind that I'd go to college, but Travelers EDGE helped me be able to go to a good school and to make connections."