Mentorship
Mentoring Gives Travelers EDGE Alum a Chance to Pay It Forward
Being a first-generation college student can feel like exploring a new planet on your own. That was Dustina Granlund's experience, as she searched for colleges, applied, navigated the financial aid process, and then balanced a 40-hour workweek alongside her studies at Augsburg College in Minneapolis. That was before she joined the Travelers EDGE program.
"First-generation students have no one else going before them to guide them," Granlund said. "I know how hard it can be. That's why giving back is very important to me."
For Granlund, Travelers EDGE transformed her college experience, giving the Minnesota native access to student support services, a mentor and financial help so she could focus on her Management Information Systems (MIS) major. It also opened doors to multiple internships at Travelers, where she ultimately landed a job as a QA Analyst.
Sharing What She's Learned
Now, just three years out of college, Granlund, a Travelers EDGE 2014 alumna, was thrilled at the chance to be a mentor herself to a fellow Augsburg College MIS major and first-generation student Nou Thao. Being so close in age and sharing similar experiences gives Granlund insight into what Thao, a rising senior, might find valuable.
For Thao, Granlund is an ideal mentor. "Our similarities make our relationship more comfortable – the fact that we went to the same school and have had the same experiences. It's really inspiring to follow in her footsteps."
Thao, who was born in Thailand and moved to the U.S. at four months old, is the first in her family to attend college. She joined the Travelers EDGE program and has found the professional workshops and the real-world experience valuable as she explores potential careers in the insurance and financial services industry. She finds that she can ask Granlund anything, from questions about her résumé to networking.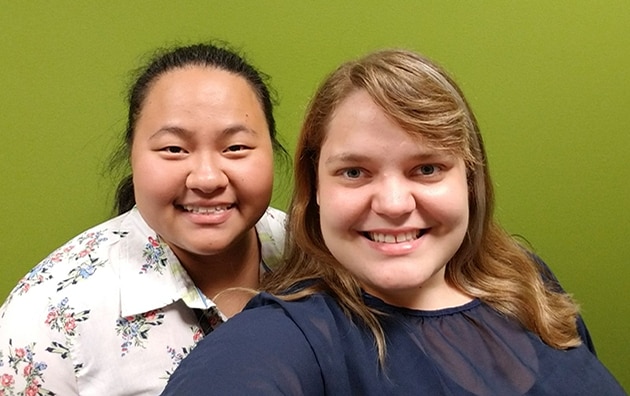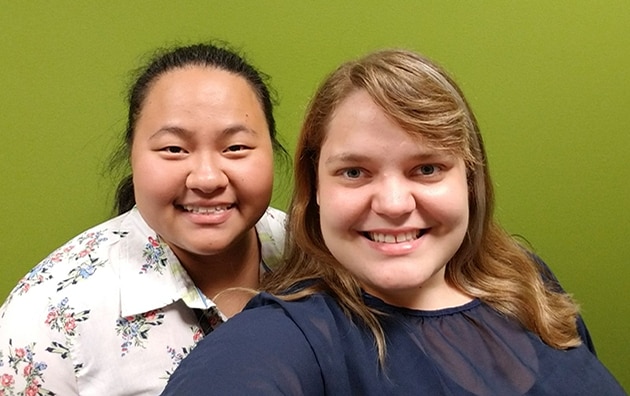 "She's already been so helpful, encouraging me to achieve my goals," Thao says.
Giving back is a theme for Granlund, who has volunteered at Big Brothers, Big Sisters since high school. Now pursuing her MBA in leadership change management, Granlund envisions a role as a manager where she can continue her interest in helping others succeed, while continuing to mentor Travelers EDGE students. "I'm always happy to see people move ahead."
Jason Bonardi Mentors Underrepresented Students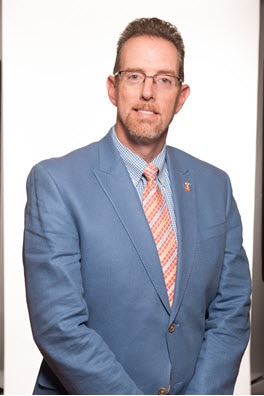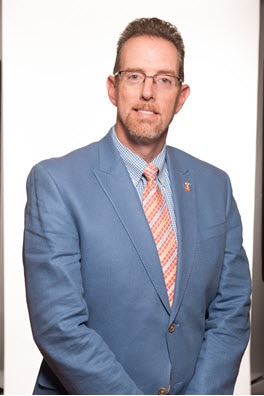 Jason Bonardi, Regional Director, Field Management, started developing a passion for mentorship when he was in high school. Today, he spends time trying to help underrepresented youth prepare for successful careers in the insurance and financial services industry.
"There are some absolutely brilliant young people out there who, compared to the housing, financial and family difficulties they face, think math and science are the easiest things they have in a day," said Bonardi, who mentors students in the Travelers EDGE program and is also the executive sponsor in Travelers' Hunt Valley, Maryland, office. "I feel that if they weren't Travelers EDGE scholars, it's likely they wouldn't be in college."
The Power Of Mentoring
Since 2009, Bonardi has mentored two Travelers EDGE scholars who have graduated from college. One of them, a Nigerian immigrant who once texted on Father's Day to tell Bonardi that he'd been like a father to him, now works for the U.S. Census Bureau.
Bonardi currently mentors Edward Bennett, who recently graduated from Stevenson University and has rotated through several departments at Travelers as a Travelers EDGE scholar and intern. Bennett says he has talked to Bonardi about everything from golf to working as a resident assistant at his college to networking for a future job.
"I've grown more confident since working with Jason," Bennett said. "Before, I was intimidated by people's job titles and I wasn't able to go up and talk to them. Jason broke that barrier for me."
Still, Bonardi keeps a level head about what it means to be a mentor. While he celebrates his mentees' successes, he knows that for many students, the path to success is difficult at times.
"Each of these students has a journey, and I just want to do what I can to help."
Travelers EDGE® Changes a Family's Course
Teresa Frausto once dreamed of becoming a forensic scientist. But in 2008, during her calculus class at Capital Community College in Hartford, Connecticut, the trajectory of her life changed.
A speaker visiting her class introduced Travelers EDGE, and explained how the career pipeline program aims to increase access to education for underrepresented students and prepare them for careers in the financial services industry.
Frausto was the first in her family, who immigrated from Mexico, to go to college. At her professor's urging, she applied Travelers EDGE, which enabled her to finish her education while interning in multiple departments at Travelers.
"I was so happy and excited to have taken this step," she said. "It changed my path personally and professionally."
In three years of job shadowing with several mentors, Frausto observed employees in different roles, including underwriting. After graduating with a degree in accounting, Travelers gave her another offer — a full-time job. Frausto is now an account underwriter at Travelers and is pursuing an MBA.
"I'm so fortunate to have had mentors who continue to be my mentors," she said. "This experience has helped me grow into the professional I am today."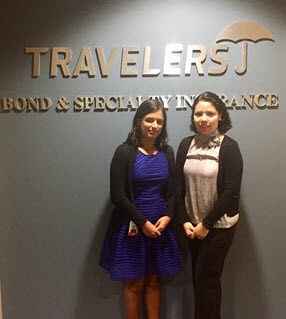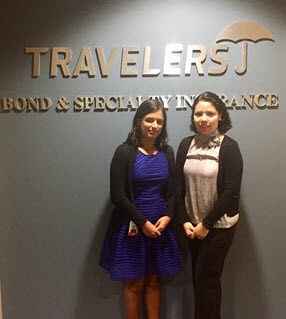 Paying it Forward
Frausto says Travelers EDGE instilled in her a "citizen's duty to give back." And she does, by volunteering with her colleagues and mentoring Travelers EDGE scholars.
Her current mentee, Sushmi Parajuli, immigrated to the United States from Nepal in 2012. Sushmi recently graduated with a degree in management information systems and started a full-time position in the Travelers Information Technology Leadership Development Program.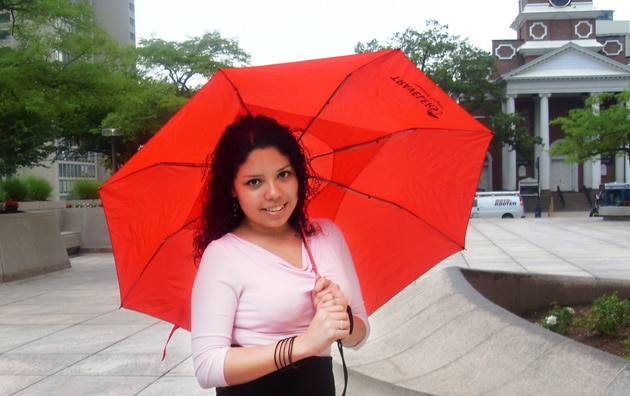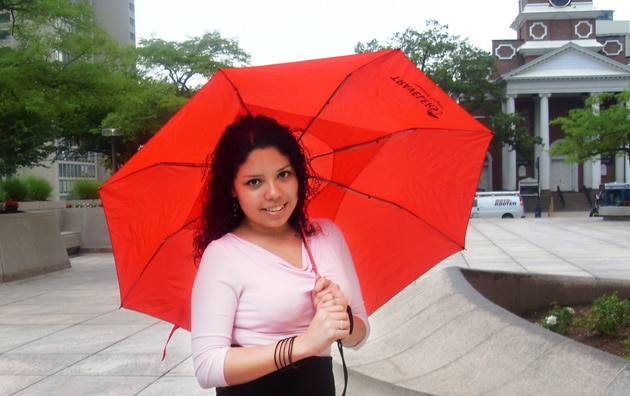 "There are cultural differences and different ways lessons are taught, and Teresa helps me work through those challenges and convinces me not to give up," Parajuli said. "She's very determined and has succeeded. She provides me great motivation."
Frausto has motivated her family, as well. She says her success has helped inspire her two younger sisters to pursue an education.
"They began seeing me dressing like a professional and getting involved in projects," she said. "They saw the real value of getting an education."
So, they went to college, too. One is now a teacher and the other attends medical school.
"My mom has said, 'You and Travelers gave your sisters the motivation and heart to go to college,'" Frausto remarked. "My mother thinks it's a blessing — a miracle."