Travelers EDGE Scholar Manny Jimenez
In August 2010, Manny Jimenez was a Marine on foot patrol in Afghanistan when his life took an abrupt turn. He had served in the Marines for four years and had already been deployed to Saudi Arabia and Kuwait when an IED (improvised explosive device) blew up, injuring him severely. Manny lost his arm at the shoulder and spent the next two years in and out of the hospital.
Now, just a few years later, Manny is a Travelers EDGE® Scholar working toward a college degree while gaining experience to prepare for a career in the financial services industry. Travelers EDGE (Empowering Dreams for Graduation and Employment) is a career pipeline program that aims to increase access to education for underrepresented students and prepare them for careers in the financial services industry. Travelers partners with high schools, colleges, universities and community organizations to reach students. The program pairs students with professional mentors and offers internships that expose students to the insurance industry.
Manny credits the program with preparing him for a new path and helping him adapt to the ever-changing needs of the workforce.
The Path to Travelers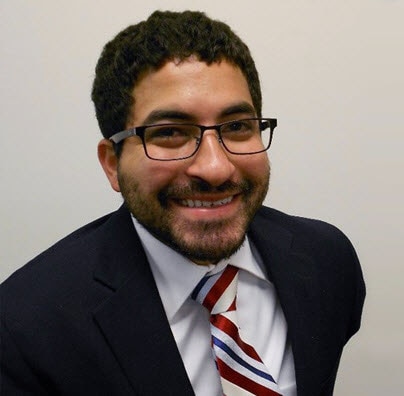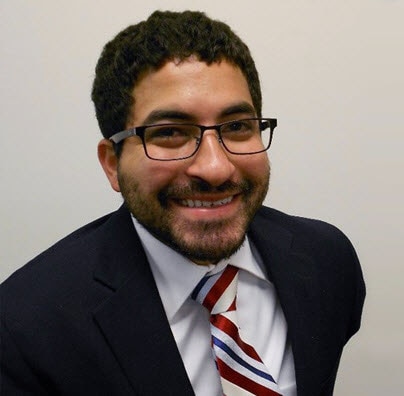 The loss of a limb can easily derail a person's ambitions. Manny was different. Upon his return from Afghanistan, he worked for the Pentagon's Office of Legislative Affairs for a time, then retired from the military in 2012. He went on to work for two nonprofit organizations: HEART 9/11 in New Jersey, where he was part of a team that rebuilt 225 homes for fixed-income families displaced by Hurricane Sandy, and Hope for the Warriors, where he coordinated efforts for military service personnel to attend sporting events around the U.S.
Not long after, he became a Travelers EDGE Scholar when he enrolled at Capital Community College, a Travelers EDGE program partner.
"That's where I learned about the program and how I could gain corporate experience and access different levels of mentorship," he said.
Manny interned part time for Travelers while earning his associate degree at Capital Community College — first in Auto Product Development and then in University Relations. In January 2016, he transferred to Central Connecticut State University to pursue his bachelor's degree in business management and continue as a Travelers EDGE Scholar.
He has received guidance, both formally and informally, from mentors working in the insurance field who have helped him learn about the industry and keep pace with trends. The experience has piqued his interest in underwriting and helped him prepare for his next steps.
"The support structure has been great," Manny said. "My mentors take their time in answering my questions and make sure I can balance work and school. I feel I am in a good position to pursue a job after graduation."
Travelers EDGE Turns 10
Travelers kicked off the Travelers EDGE 10-year anniversary celebration in Minnesota this October at the program's Partners Symposium. The symposium was a two-day event during which representatives of the partnering organizations heard from Travelers EDGE alumni and mentors, discussed their experience with the program and current trends in education, and toured the facility of Metropolitan State University, one of the partner institutions.
"Since 2007, 440 students have become Travelers EDGE Scholars. More than 150 of our scholars have interned at Travelers, gaining experience in just about every business and corporate area throughout the company," said Marlene Ibsen, VP of Community Relations and CEO of TRV Foundation. "Of those students, 43 have gone on to accept offers of full-time employment at Travelers. We have made a deep investment in our future talent pipeline with this program, and it's thrilling to know that the mentorship and hands-on work experiences are providing what students need to pursue meaningful careers in the industry and, importantly, meaningful contributions to Travelers."