Top Causes of Manufacturing Injuries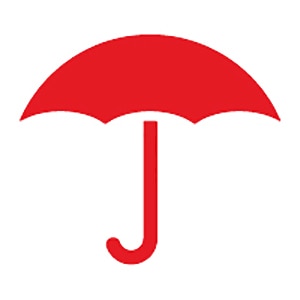 100,000+ manufacturing workers suffer a job-related injury each year.*
Many companies have key employees with specialized skills who cannot be easily replaced. A single worker missing a day or more of work due to injury or illness can have a significant operational and financial impact on your manufacturing business.
Workplace Safety is Key
A proactive strategy to prevent on-the-job injuries can help protect against disruptions and high costs associated with the absence or loss of a critical employee. Help avoid these top 5 workplace injuries by creating a culture of safety that lets employees know that taking precautions is a top priority.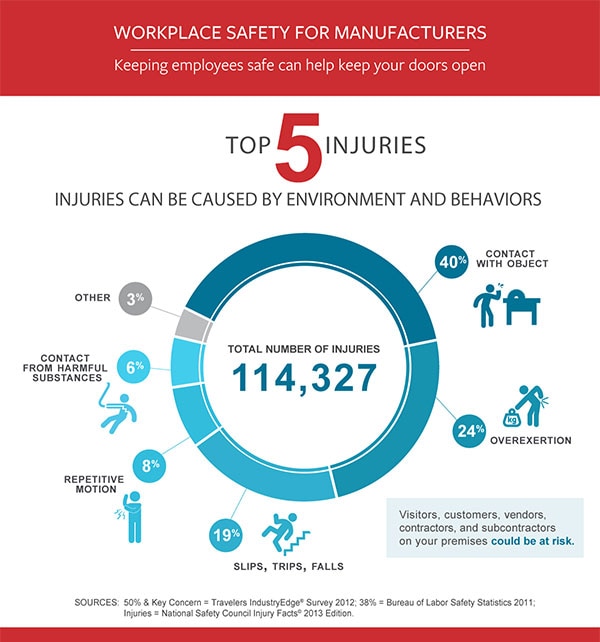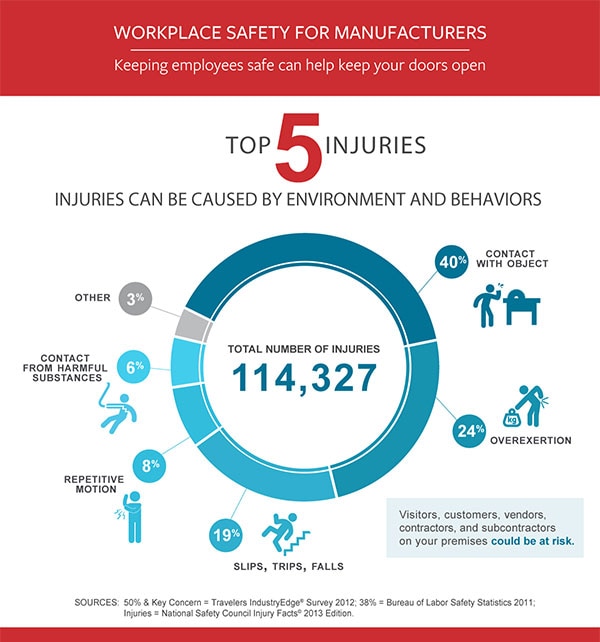 WORKPLACE SAFETY FOR MANUFACTURERS
Keeping employees safe can help keep your doors open
TOP 5 INJURIES
INJURIES CAN BE CAUSED BY ENVIRONMENT AND BEHAVIORS
TOTAL NUMBER OF INJURIES 114,327
40% CONTACT WITH OBJECT 
24% OVEREXERTION
19% SLIPS, TRIPS, FALLS
8% REPETITIVE MOTION
6% CONTACT FROM HARMFUL SUBSTANCES
3% OTHER
Visitors, customers, vendors, contractors, and subcontractors on your premises could be at risk. 
Sources: 50% & Key Concern = Travelers IndustryEdge® Survey 2012; 38% = Bureau of Labor Safety Statistics 2011; Injuries = National Safety Council Injury Facts© 2013 Edition. 
*Source: National Safety Council Injury Facts ® 2013 Edition
More Prepare & Prevent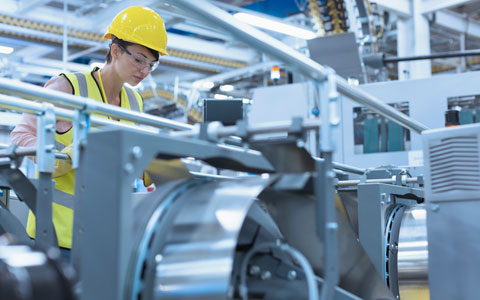 When manufacturing equipment goes down, it can derail production and lead to costly delays. Learn to help manage equipment replacement costs.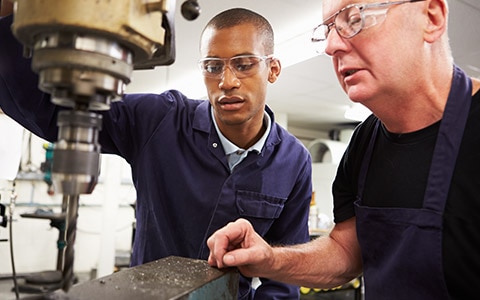 Attracting, training and retaining employees is key to gaining a competitive advantage in manufacturing.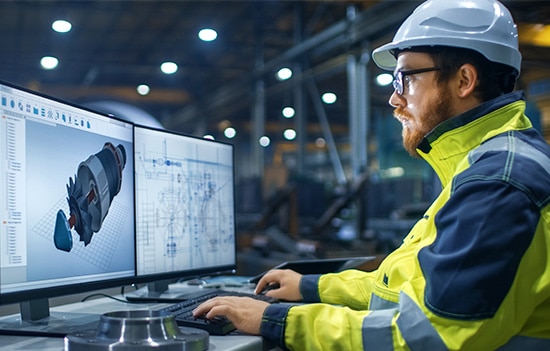 The Internet of Things (IoT) is transforming virtually every aspect of manufacturing. Are your employee training and safety programs keeping pace with manufacturing industry changes?