How to Help Municipalities Prepare for E-Vehicles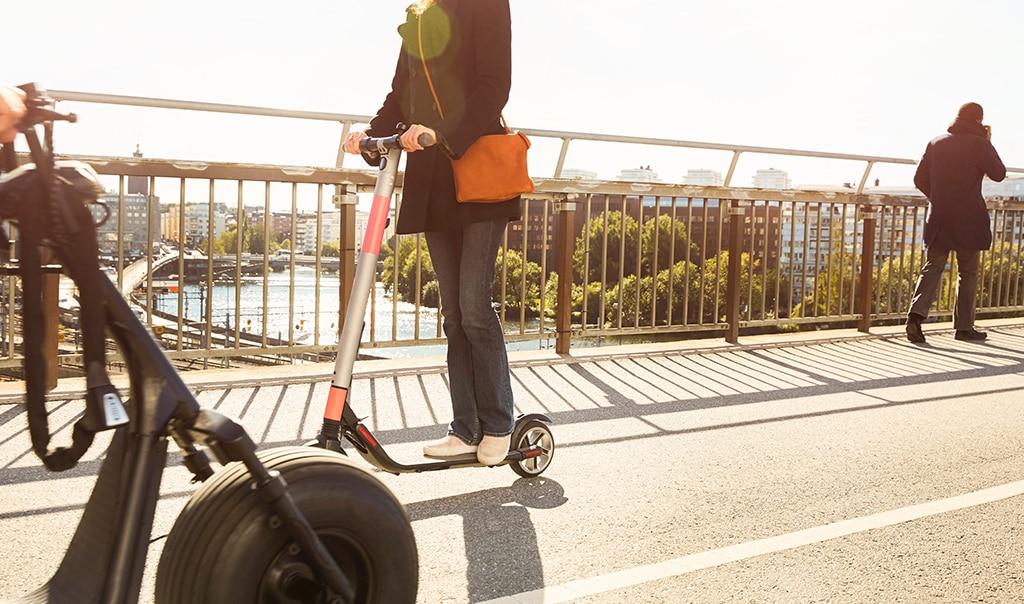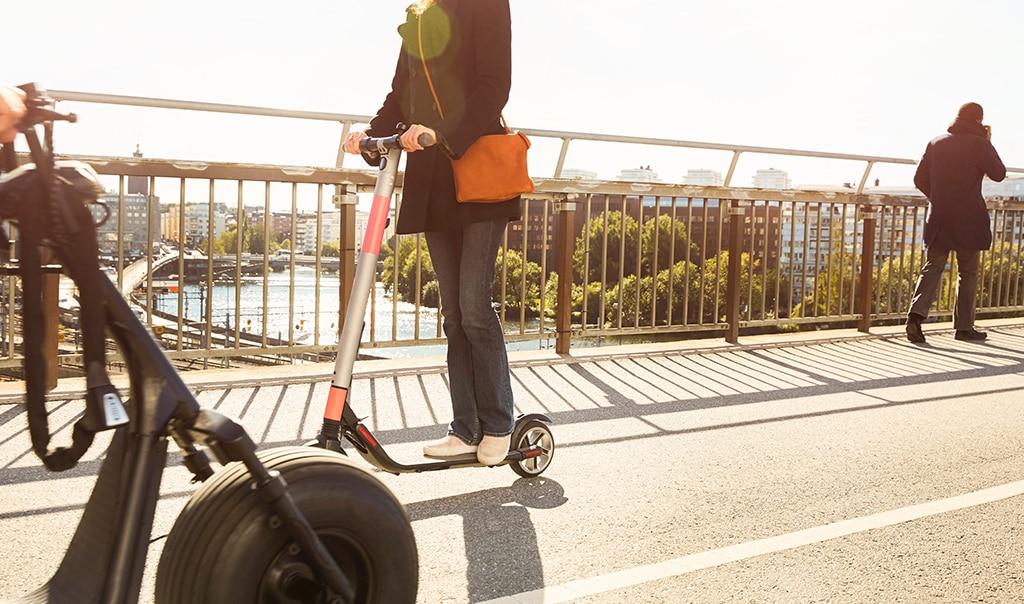 Lightweight, compact and powered by rechargeable batteries, dockless e-vehicles and e-scooters promise convenient, cost-effective transportation. For municipalities, however, these rentable e-vehicles can arrive unannounced and lead to safety risks on sidewalks and in congested streets. Municipalities that plan for on-demand e-vehicles can help manage the acceptance and safety concerns of both their citizens and visitors in public spaces.
A relatively new aspect of the sharing economy, the popularity of dockless e-vehicles is steadily growing. In addition to a growing adoption of e-bikes, e-scooters have arrived on the sidewalks and streets of more than 90 cities across the globe according to a December 2018 report1. Demand for environmentally-friendly travel options and a push for reducing car trips is expected to create a continued market for on-demand, short-trip vehicles.
"Both e-bikes and e-scooters present significant potential risk for public entities," said Amy Schmidt, Travelers Public Sector Chief Underwriting Officer. For example, roadways and sidewalks have likely not been designed for this type of traffic, and drivers and riders alike may be unsure of how to share the road. There's the potential for rider injuries and hazards related to improperly parked vehicles. "Municipalities need to develop a plan based on the unique risks of publicly available e-vehicles, ideally in advance of their arrival," Schmidt said.
Preparing for the Arrival of Rental, On-Demand E-Vehicles
The level of notice public officials receive may vary, particularly if regulations or applicable ordinances have not been adopted. An operator may provide an advance alert by formally applying to place e-vehicles in your city, but they also are known to frequently arrive without notice. Some public entities restrict which companies can place scooters or bikes in their city, while others have proactively banned the vehicles entirely. Still others are wrestling with what their presence could mean for bike lane funding, usage and enforcement.
"Having specific ordinances and zoning in place before rental on-demand e-vehicles arrive will help your public entity respond to questions from citizens and local media," Schmidt said. Additionally, understanding who in your city wants the dockless vehicles, like local business districts and college campuses, as well as those who do not, will help assure your municipality is prepared to meet both the demand and complaints when the devices encroach upon your roads and sidewalks.
Delineate E-Vehicle Classifications and Restrictions
Many city councils have not yet determined the best way to regulate e-vehicles2. While bike ordinances are common, e-bikes are often not specified within the regulations. Scooters are a larger issue, as many cities have no specific ordinances relating to these new vehicle types, while others try to work within existing ordinances to define their use.
This can be problematic as some classify e-scooters as "toy" vehicles and require they be operated outside of traffic lanes. Others recognize them as motorized vehicles and restrict them from sidewalks or bike paths, requiring they be driven on roads. Some even limit which roads are appropriate for scooter traffic based on the posted speed limit.
How these e-vehicles are classified in your jurisdiction will dictate where they should be operated, and where they should not. "Having a clear plan prior to their arrival will help reduce confusion and increase the safety of riders, pedestrians and other vehicles alike," Schmidt said. It can also help avoid potential allegations from e-vehicle operators that an ordinance developed after they were already operating in a city interferes with their "established" business.
Plan for Potential Rider Injuries
After the e-vehicles arrive, citizens and visitors to your city will almost immediately begin to ride them on sidewalks, bike lanes, and roadways. As has been reported from many municipalities across the country, crashes and injuries are common, with some likely to be severe as some e-vehicles are capable of hitting speeds up to 30 mph and helmet usage is typically low or non-existent.
A 2019 study from the Austin (Texas) Public Health Department, with assistance from the Centers for Disease Control and Prevention, looked at scooter injuries over a three-month period in late 2018. Of the 190 injured scooter riders, nearly half (48 percent) had injuries to the head3 and over a third of injured riders sustained a bone fracture or fractures. Fifteen percent of riders had evidence suggestive of a traumatic brain injury, the study found, while less than one percent of riders were wearing a helmet at the time of injury.
There is no uniform approach to planning for this new type of vehicle traffic, so be sure to consider what makes sense for your city and create a plan for the infrastructure you have in place. The maintenance or condition of intended riding surfaces, the adequacy of traffic control systems, topography, lighting and rush hour traffic, among others, are risk factors when considering permitting and regulations.
Specify Parking and Access Areas and Restrictions
Not all risks arise from e-vehicles moving within your city. Improperly parked dockless scooters and bikes can create hazards by limiting access to buildings, blocking sidewalks or handicapped parking spots, and creating barricades at bus stops. This can be especially problematic when many of the vehicles are present in the same area, like at event locations and on college campuses.
To combat this issue, several college campuses impound improperly parked vehicles4. Fines for the operators to retrieve their vehicles vary depending on where they were found, for example, up to $100 per device if it was blocking an ADA-compliant ramp or pathway. Consider how such a plan could work for your city, including where the devices would be stored, and which personnel would be involved with enforcement, storage, and program administration.
Adapting to a New Mode of Transportation
Many of the issues surrounding e-vehicles, including speed, accidents, parking and safety concerns are similar to those that marked the introduction of automobiles5. With that in mind, it is likely that the dockless e-bike and e-scooter phenomenon is here to stay, meaning public entities must develop policies to realize the benefits the vehicles can bring while managing and reducing the risks. Once your plan is developed, work with your general counsel and insurance agent to address your new risk management reality.
The National Conference of State Legislatures can be a good reference on e-scooter regulation as this continues to evolve and change. To search legislation, select "slow-medium speed vehicles" and then select "all states." Travelers can also help the public sector learn more about other emerging risks.
Learn more about protecting your city or town with Public Entities insurance or find an agent today.
Sources:
1 Electric Scooters Market Size, Share & Trends Analysis Report by Voltage, By Product, By Region, And Segment Forecasts, 2018-2030 (article)
2 Many States Have No Rules for Electric Scooters. That's About to Change. (article)
3 Dockless Electric Scooter-Related Injuries Study, Austin Public Health, April 2019. (report)
4 The Scooter Wars of 2018 (article)
5 What's the future of electric scooters? 18 point roadmap. (article)
More Prepare & Prevent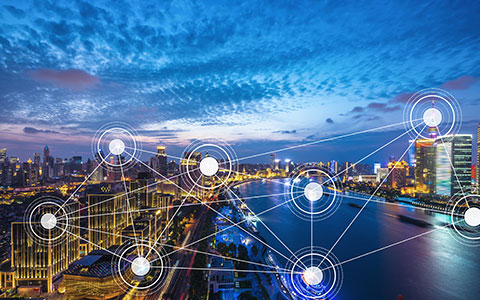 Considering implementing smart city technology? Know the risks and how to help protect your public entity.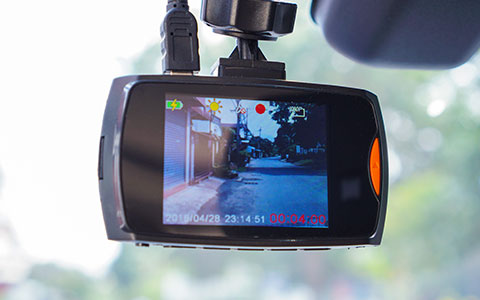 Videos and social media presents law enforcement with new risks. Here are five tips to help manage those risks.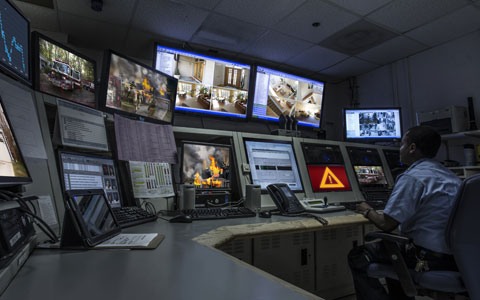 Smart street lights & predictive policing are two ways smart technology is used for public safety. Explore smart tech for public safety.