Employee Injury Trends in Small Business [Infographic]
The COVID-19 pandemic has created a steady stream of challenges for small business owners focused on maintaining operations as they continue to adapt to repeated disruptions, such as labor shortages and supply chain backups. In many cases, these issues have increased the likelihood of small business employees handling multiple roles at once, which can lead to burnout or injury.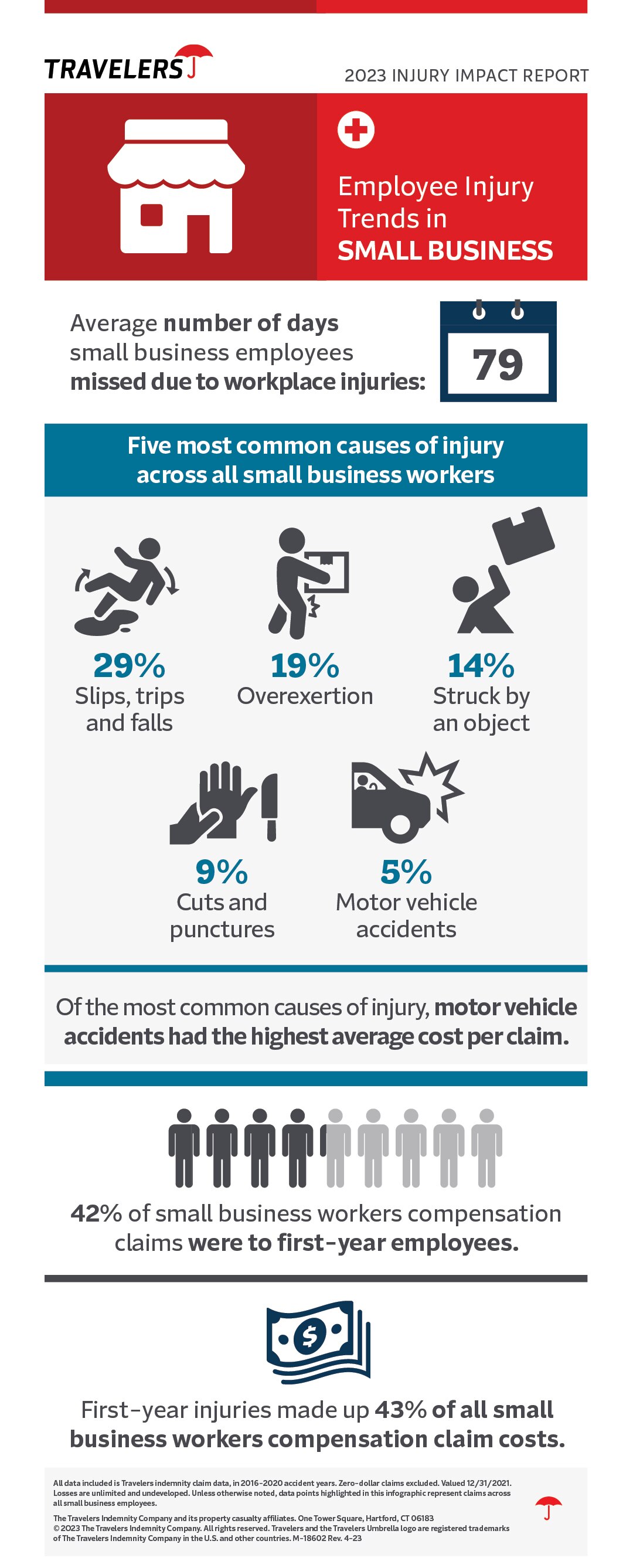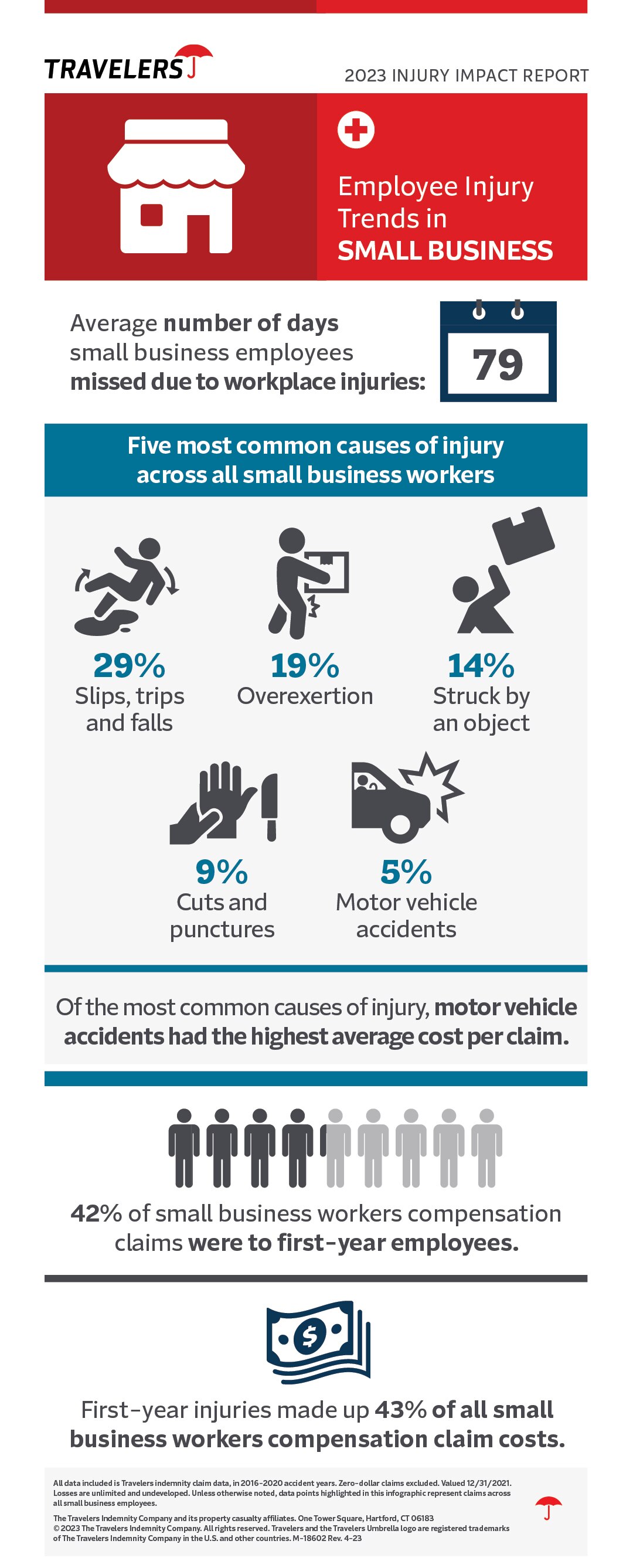 TRAVELERS
2023 INJURY IMPACT REPORT
Employee Injury Trends in SMALL BUSINESS
Average number of days small business employees missed due to workplace injuries: 79
Five most common causes of injury across all small business workers
29% Slips, trips and falls
19% Overexertion
14% Struck by an object
9% Cuts and Punctures
5% Motor vehicle Accidents
Of the most common causes of injury, motor vehicle accidents had the highest average cost per claim.
42% of small business workers compensation claims were to first-year employees.
First-year injuries made up 43% of all small business workers compensation claim costs.
All data included is Travelers indemnity claim data, in 2016-2020 accident years. Zero-dollar claims excluded. Valued 12/31/2021. Losses are unlimited and undeveloped. Unless otherwise noted, data points highlighted in this infographic represent claims across all small business employees.
The Travelers Indemnity Company and its property casualty affiliates. One Tower Square, Hartford, CT 06183 © 2023 The Travelers Indemnity Company. All rights reserved. Travelers and the Travelers Umbrella logo are registered trademarks of The Travelers Indemnity Company in the U.S. and other countries. M-18602 Rev. 4-23
Having an employee out of work for even one day due to injury or illness can have a significant effect on a small business and its ability to operate. According to Travelers data, the newest employees are the most vulnerable, with 42% of workers compensation claims from small businesses involving employees with less than one year in their role.
2023 Travelers Injury Impact Report [PDF]
Learn more about injury trends, including the most common resulting injuries.
Download the Report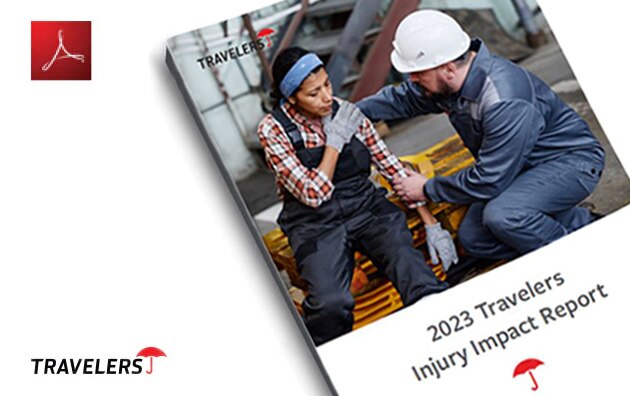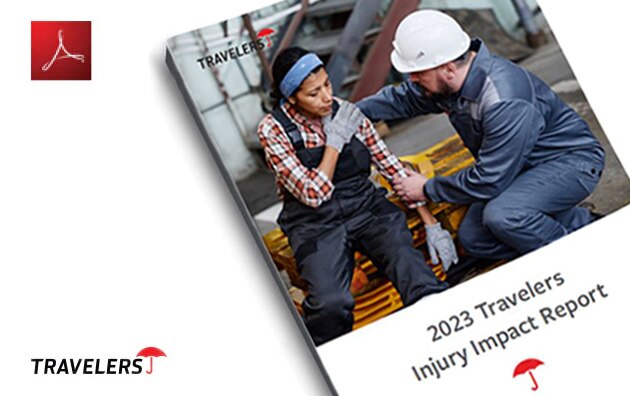 More Prepare & Prevent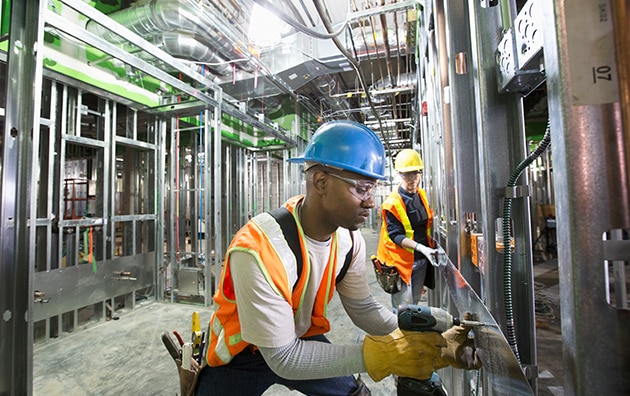 First-year employees can be at greater risk of injuries on the job, but there are steps that employers can take to help keep them safe at work.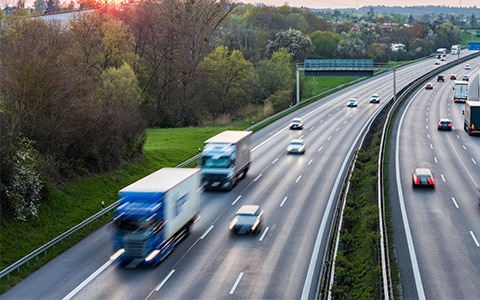 Rear-end collisions can cause serious harm to people and property and can create significant costs for business owners. Learn how to help reduce rear-end accidents and protect your company's bottom line.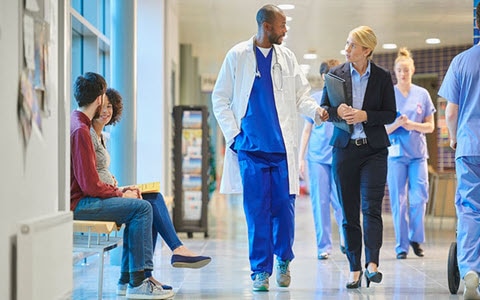 Travelers Workforce Advantage® can help businesses promote employee health and safety.