Embracing an Agile Mindset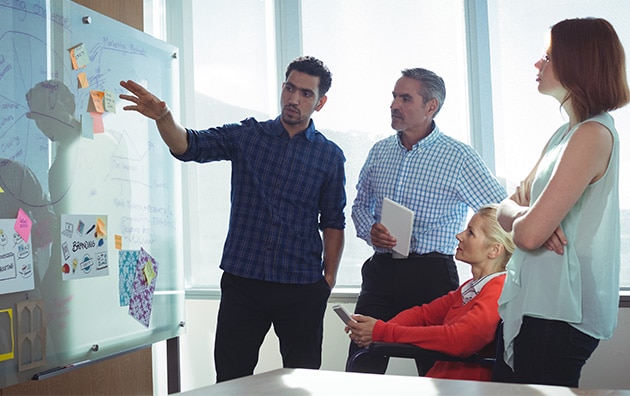 "Travelers has been on a multiyear journey to move beyond just doing Agile into actually being agile," said Travelers Executive Vice President and Chief Technology & Operations Officer Mojgan Lefebvre. "At Travelers, we see this journey as a path toward unlocking employees' full potential, both as individuals and as team members, so they can deliver a great customer experience." 
Through the Agile framework, Travelers employees are empowered to create and iterate the best digital-first solutions for our customers. With a sharpened focus on customer needs, our Agile work environment frees our teams to deliver products and services faster while also creating a more interactive, dynamic workplace for our employees. 
Our Agile Journey
Scaling Agile across our $32 billion enterprise with 30,000 employees and 165+ years of corporate history has been no small feat. To do it right, leaders at Travelers met with representatives from top companies around the globe that had successfully implemented Agile. They learned about the cultural changes necessary to truly adopt the Agile framework and committed to nurturing that culture at Travelers.
With the foundation for Agile firmly in place, enthusiasm for this framework continues to build across Travelers, and our teams are deep into the "Agile 2.0" phase of our journey. During this phase, teams have become increasingly more self-sufficient. When each team plans and oversees its work, those team members gain autonomy to make decisions and be accountable for delivery and outcomes.
     
Thanks to this framework, teams are better positioned to manage their time and speed up delivery from several months to a matter of weeks. Finally, by operating in cross-functional, product-focused teams, our engineers become more well-rounded, going beyond data and technology to better understand how their products impact our business and our customers.
Agile in Action
Below are just three examples of Travelers projects that were created within the Agile framework. 
Catastrophe Map Viewer
Built for Travelers agents dealing directly with customers, the Catastrophe Map Viewer provides before-and-after aerial images of areas affected by weather catastrophes, such as wildfires or hurricanes. Agents, armed with greater insight, can use this information to better understand how their customers' property may be impacted, enabling them to reach out proactively to customers.
Aerial Imagery and Artificial Intelligence (AI)
When catastrophic weather events occur, Travelers employs an extraordinary amount of collaborative teamwork and in-the-moment problem-solving. For instance, our dedicated in-house team of empowered technologists and data scientists work on the front lines, alongside our Catastrophe Response Team. The team leverages aerial imaging and artificial intelligence to quickly assess the damage sustained and to prepare for the claims process. "Not only are they the designers, but they're also our thought leaders, translating our ideas and turning them into reality using geospatial platforms," said Chris Day, Assistant Vice President, Catastrophe Operations.
Using AI to Improve Underwriting and Customer Experiences
We apply AI models – some built internally and some leveraged from vendor partners – that streamline the underwriting process and improve customer experiences. A cross-functional Agile team, with employees from several tech, data and Personal Insurance business areas, collaborated to implement one such model in 2021. It generates home characteristic information (like roof materials and roof shape), based on third-party aerial imagery, to pre-fill information instantly, simplifying the process of quoting a home policy for our employees, agents and customers. Through this streamlined quoting process, we can improve the overall customer experience. This capability improves the previously time-consuming process of identifying and relaying home characteristic information and cuts down inspection handling costs. 
More Technology & Analytics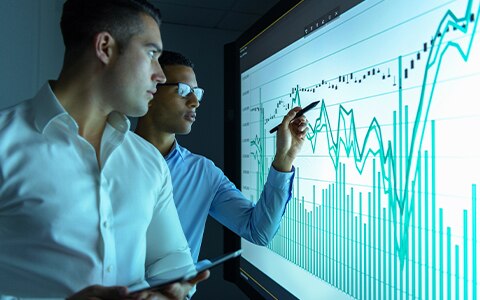 Mojgan Lefebvre, Chief Technology and Operations Officer, on how Travelers uses deep learning, Al and design thinking to create best-in-class customer solutions.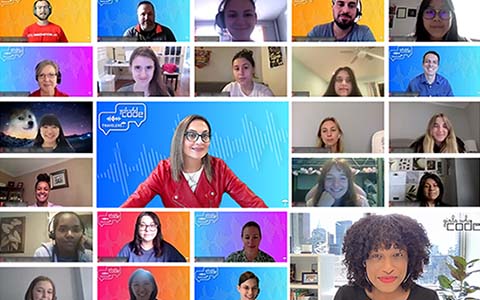 Future women in tech get coding experience at Travelers through Girls Who Code.
Learn more about Travelers' employee driven patents such as HomeSafe, Cargo Theft App, Wildfire Defender and more.