Pet Insurance for Dogs & Cats
Protection for Your Pet's Health and Your Wallet
Pets are a part of your family, so of course you want to do what you can to help keep them well and healthy. Protecting your furry family members with pet insurance is one way to do that.
But good veterinary care comes at a cost, and you don't want to have to choose between life-saving modern veterinary care and your wallet. A pet health insurance plan can help cover the cost of the care your pets need without causing financial hardship in your budget. You can also purchase optional preventive care coverage for an additional minimal cost. The preventive care option is designed to help pet parents plan and pay for the yearly routine care that helps keep their pets healthy. Pet insurance is offered from our trusted partner, the ASPCA® Pet Health Insurance program. **See details below.
Why Choose Us
Our trusted partner, the ASPCA Pet Health Insurance program, is one of the oldest pet insurance providers in the U.S. In the past 20 years, the ASPCA Pet Health Insurance program has insured more than 600,000 dogs and cats and counting. We're proud to partner with the ASPCA Pet Health Insurance program as their robust coverage can help you take great care of your pet. The program offers an extensive list of coverages built for pet parents like you. Benefits include:
Discounts: 10% multiple pet discount. 10% discount for current Travelers policyholders.***
No Upper Age Limits: All cats and dogs eight weeks and older are eligible.
Fast Reimbursements: Get reimbursed for covered costs by direct deposit or check.
No Networks: Visit any licensed vet, specialist or emergency clinic.
Online Claims Management: Simple online claim submission, claim tracking and account management.
Easy to Use
Use our easy quoting tool to get step-by-step guidance. Getting a quote is free, and you can review every step and see your quote without committing to enrolling until you get to the final checkout page.
With the ASPCA Pet Health Insurance program, you pay your vet bill, submit a claim and get reimbursed for covered expenses. You're free to visit any licensed vet, specialist, or emergency clinic you want, and you can choose to receive reimbursement by direct deposit or by mail.
No Age Restriction or Examination Required
There is no upper age restriction or breed restrictions for enrolling and there are no exam or vaccination requirements to enroll your pet.
No Network Required
Pet insurance coverage isn't limited to a "network" of health care providers. You can have your pet treated by any licensed veterinarian, specialist or emergency clinic you choose in the U.S. or Canada. The process is easy to follow:
Visit any licensed veterinarian, specialist or emergency clinic you like and pay your bill for the visit.
Submit claims online, by mail or by fax.
Have reimbursements for eligible expenses directly deposited into your bank account or mailed to you.
Great Customer Service
Excellent customer service representatives are available to answer your calls and get you the information you need. You can also access the online member center any time to file a claim, review the status of a claim, view your coverage and policy, and manage your account.
Multi-Pet Discount
We love our pets and sometimes that means we have more than one. There is a multi-pet discount for each additional pet you enroll.
Customizable Plans to Fit Your Budget
Plans are customizable, so you can select the coverage that works for your budget. Accident-Only plans are available if you want to keep your premium at a minimum, but Complete CoverageSM plans will get you coverage for accidents as well as illness. With either choice, you choose your deductible, reimbursement percentage and annual limit. Get reimbursed up to 90% of covered veterinary charges.**
Robust Coverage
Some items covered are:
Accidents
Illnesses
Dental Disease
Hereditary Conditions
Behavioral Issues
Chronic Conditions
Exam Fees
Diagnostics
Treatments
Prescriptions
Alternative Therapies
Chemotherapy
Select Accident-Only Coverage
If you just want coverage for when your pet gets hurt, Accident-Only coverage is available.
Add Preventive Care Coverage
For a little more per month, get reimbursed up to the scheduled amount for treatments that help protect your pet from getting sick, like vaccines, dental cleanings and screenings such as heartworm/flea prevention and more. For preventive care coverage, there's no deductible, co-pay or waiting period, just reimbursement for things that help keep pets healthy.
Related Products
Protect your home the way it protects you by choosing the property insurance coverage that meets your needs. 
Your condo association may have insurance, but your individual unit has its own coverage needs. Condo insurance protects your personal property and liability.
Renters insurance can help to cover more than your personal property. It can help to protect you from personal liability, so you can rest easy.
Tools & Resources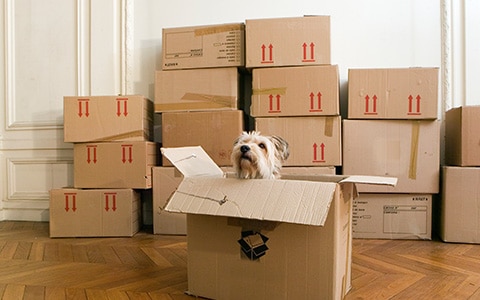 Moving with your cat, dog or other pet can be stressful for both you and your pet. Follow these tips for moving with pets to help with a smooth transition.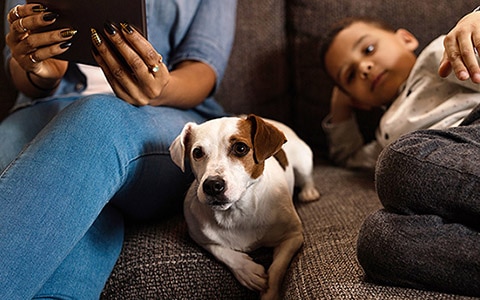 Dogs can communicate many things, but can you tell when they're sick? Learn more about signs and symptoms that your furry friend may not be feeling well.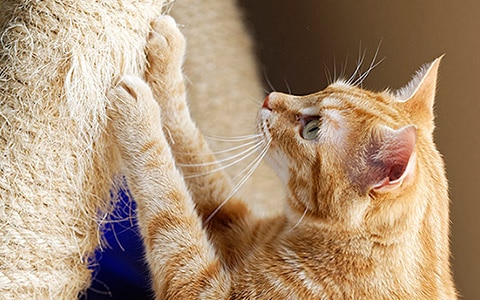 Cat owners frustrated with scratching may consider declawing their cats, but the procedure can be damaging. Learn more about alternatives to declawing.