Developing a Strategy to Control Your Company's Medical Costs
Medical cost inflation again topped the list of concerns facing businesses in the 2017 Travelers Risk Index. Sixty-one percent of business leaders said they worry about medical cost inflation. Having a medical cost management strategy can help companies control long-term medical loss trends.
A changing workforce, inflation and increased demand on the healthcare system are three factors impacting medical costs. More than 10,000 workers per day are estimated to turn 65 between now and 2021.1 Half of the U.S. workforce has at least one chronic health condition, such as heart disease or diabetes, and 25 percent have more than one chronic condition,2 which can increase the cost of medical treatment. By 2019, medical costs are expected to make up 67 percent of total workers compensation loss costs.3
Preventing Medical Losses
Having pre-loss prevention strategies in place, including attracting and hiring qualified candidates, onboarding and training, and supporting and engaging employees, can help employers manage a safer workforce and avoid injuries that may result in workers compensation claims, particularly among newer hires who tend to be at greater risk. Twenty-eight percent of injured employees had been on the job for a year or less, according to Travelers data. Properly training newer employees into a safety culture can help prevent costly injuries.
Even with the most proactive prevention strategies, accidents happen. But there are steps that companies can take to help manage medical costs, including engaging with employees both from the start of their careers and during their recovery from any injuries.
Taking an integrated approach to medical management with Travelers Medical Advantage® can help prevent losses, mitigate medical costs and leads to optimal outcomes for customers. Here's a look at three innovative programs designed to help customers control medical costs.
Engaging with Injured Workers
"An engaged workforce has 48 percent fewer safety incidents," according to Rich Ives, Vice President, Workers Compensation Claim, at Travelers, who adds that employers who stay engaged with employees after an accident are more likely to see those employees return to work in a timely basis. "The more you know about the individual and their unique circumstances, the more you can guide and direct medical treatment to provide personalized care," explains Ives.
With national healthcare spending projected to increase an average of 5.8 percent a year over the next decade,4 employers can take a proactive role in controlling their medical costs, Ives says. "As the largest workers compensation carrier in the industry, Travelers leverages data and insights from more than $4 billion in workers compensation claim costs a year to help companies manage the total cost of risk for employers and control their losses."
Those insights helped inspire the Travelers ConciergeCLAIM® nurse program, which has been proven to reduce days out of work by 35 percent and reduce attorney representation by 86 percent. Travelers-employed nurses are stationed in select medical clinics across the U.S. In addition to helping build relationships with injured employees, the program also helps encourage timely claim reporting, increases visits to preferred network providers, reduces overall claim costs and helps employees return to work as soon as medically appropriate.
Addressing Chronic Pain
The rise in frequency of chronic pain is helping to drive up spending on pharmaceuticals, including opioids. Drug overdose was the leading cause of accidental death in the U.S. in 2014, with nearly 19,000 overdose deaths related to prescription pain killers.5
Travelers has developed the Early Severity Predictor® to help predict the likelihood of an injured employee developing chronic pain. By addressing pain with a customized, sports medicine-like regimen, injured employees can avoid being prescribed opioids. Treatment can include exercises to help build strength to avoid re-injury. The Early Severity Predictor has led to up to 50 percent savings on workers compensation claims that involve chronic pain.
"Early Severity Predictor changes the way we manage chronic pain," says Melissa Burke, Travelers National Pharmacy Director. "We're seeing pain that's actually being treated, rather than masked by opioids."
Connecting Across Cultures
Navigating the healthcare system can be challenging, and language barriers can make that challenge even greater. Travelers Cultural Advantage improves Travelers' return-to-work outcomes by bridging language barriers throughout the claims process. By staffing culturally aligned professionals in Claim and Risk Control, including medical professionals, we can answer questions from injured employees and our customers.
The program has led to a 22 percent reduction in attorney involvement.6 Travelers Cultural Advantage allows Claim professionals to quickly and accurately capture information and provide continuing support throughout the claim process, providing employees with a smooth, safe and medically appropriate return to work following an injury. In addition, our Risk Control professionals work with employers to help avoid future injuries and losses.
More Prepare & Prevent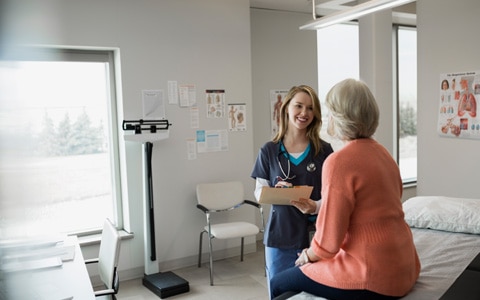 This program can help injured workers find access to quality healthcare, stay engaged in the workforce and return to work sooner.
Travelers' comprehensive approach to managing workers compensation, which involves attracting and hiring candidates, onboarding and training, and supporting and engaging employees.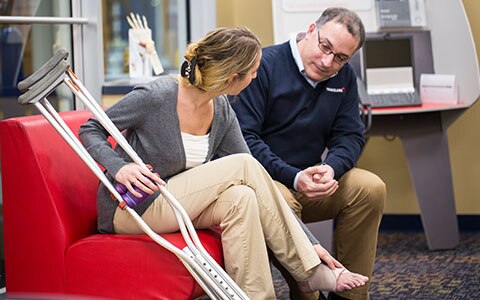 Our Claim professionals will partner with you, your injured employees and medical providers to ensure your employees return to work safely and quickly.