Team Rubicon Partnership


Travelers is the exclusive insurance sponsor of Team Rubicon's Mobile Training Center. Team Rubicon, a nonprofit organization, unites the skills and experiences of military veterans with first responders to rapidly deploy emergency response teams after disasters, all while providing veterans with a new sense of purpose, community and identity. The Mobile Training Center travels across the U.S. to provide large-scale training events, recruit volunteers and establish relationships with state and local emergency management agencies.
In 2019, the Travelers-sponsored mobile training center visited 18 cities, engaged with more than 4,300 people and recruited 63 new members. In addition, 1,100 members completed 106 courses and 250 instructors received training.
In 2018, Travelers provided Team Rubicon a grant to pilot a rebuilding program focused on low-attention disasters – that is, devastating weather events that affect communities but are not large enough in scale to draw the government, media and philanthropic response triggered by major events. In 2020, the company provided a grant to bring the program to scale across the United States. With Travelers' support, Team Rubicon will extend its Rebuild operation for a third year in Houston to continue to support Hurricane Harvey recovery, providing quality, free rebuilding services. At the same time, Team Rubicon will pilot a remote Rebuild operation that deploys teams into low-attention disaster communities as needed. The Rebuild program began following Hurricane Harvey in 2017 and was expanded to Puerto Rico and Collier County, Florida, following subsequent hurricanes. Since then, Team Rubicon has rebuilt 54 homes in Houston, 500 roofs in Puerto Rico and 38 homes in Florida.
More Community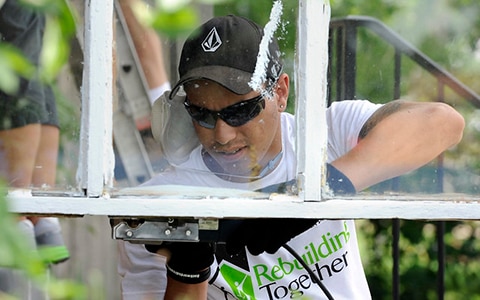 Travelers fosters more resilient communities by recognizing organizations that show leadership in disaster preparation, response and recovery.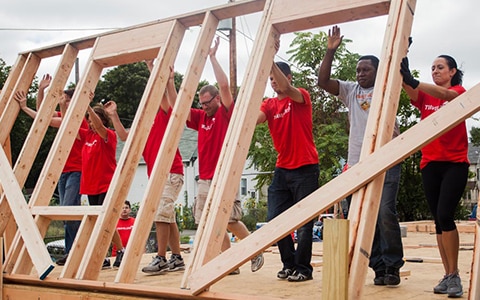 Working with Habitat for Humanity® and IBHS, Travelers is helping construct affordable, FORTIFIED homes that are better able to withstand disasters.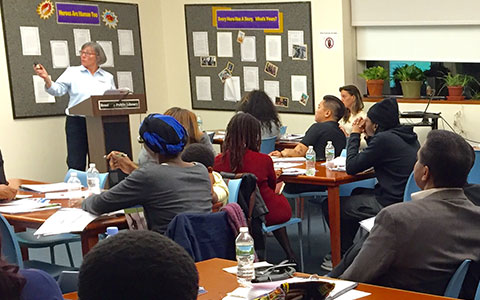 The Travelers Small Business Risk Education program is giving women, minority and veteran entrepreneurs the support and insights they need as they pursue the American dream.