Travelers Excellence in Community Resilience Award


The Travelers Excellence in Community Resilience Award Application is now closed. Please look for information regarding the 2020 award in fall 2019.

  
Travelers is committed to raising awareness about disaster preparedness and creating discussion about the importance of improving response and recovery actions after major events. Through its charitable giving arm, the Travelers Foundation, and its public policy division, The Travelers Institute®, the company has created an annual Excellence in Community Resilience Award of $100,000 to recognize an organization that demonstrates leadership in addressing community resiliency.
Award Criteria: Applicants' initiatives should demonstrate leadership in addressing safety, community resiliency, and/or financial threats related to catastrophic events.  In addition, the program should take into consideration the varying needs of all residents of the geographic region.
Applicant organization must have a demonstrated track record of positive impacts related to disaster preparation, mitigation, response and/or recovery.
Award may be for a new or existing program related to creating community resilience for communities facing risks from hurricane, tornado/hail, and wildfire. Programs related to creating general community preparedness are also eligible.
The organization or program must demonstrate innovation in the field and intent to share effective strategies with others.
Eligible organizations will submit plans to implement, or proof of having implemented, actions in the community. Academic research projects and surveys are not eligible.
Applicant Qualifications: The organization and program must be located within the United States.  Applicants must be IRS-designated public charities or government agencies; individuals are not eligible for the award.  If the project is a collective effort, a single fiduciary organization must be identified.  Applicants must be on sound financial footing and demonstrate strong governance practices. Previous Excellence in Community Resilience Award winners must wait three years from the time of the award before applying again.
The following organizations will not be eligible for the award:
Organizations that discriminate on the basis of race, gender, religion, culture, age, physical disability, sexual orientation, gender identity, status as a military veteran or genetic information.
Universities, except as fiscal agents for collaborative efforts with other entities in action-oriented initiatives.
Religious organizations, unless it can be shown that the organization is seeking charitable funds in the direct interest of the whole community.
Fraternal organizations.
Political or lobbying organizations.
Rebuilding Together is the fifth annual Travelers Excellence in Community Resilience Award winner. Rebuilding Together is a nonprofit organization with over 30 years of experience in home and community rehabilitation, preservation and revitalization. The award will support the launch of the organization's Safe and Healthy Housing Disaster Recovery training program, which will educate communities about the essentials of effectively restoring homes after disasters.
Past Winners Include:
Application and Award Process
All applicants must complete the Travelers Excellence in Community Resilience Award online application (see above). The application for the 2019 award is now closed. The winner will be announced in the spring of 2019. Applicants must commit to having a senior executive attend the Travelers Institute® Kicking Off Hurricane Preparedness Season Symposium, which will be held in late May or early June 2019.

More Community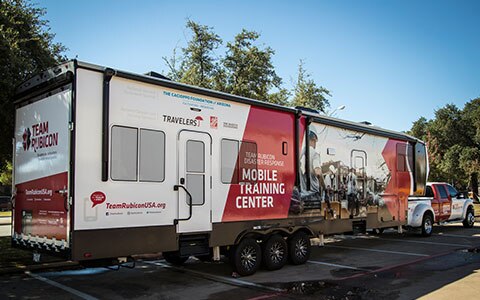 We are the exclusive insurance sponsor of Team Rubicon's Mobile Training Center, which prepares volunteers to respond to natural disasters.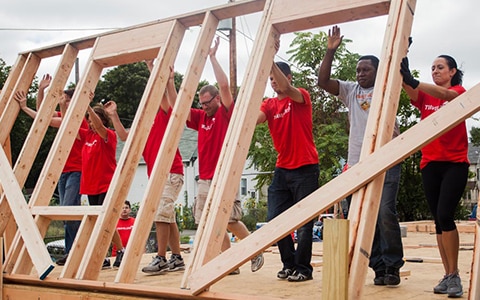 Working with Habitat for Humanity® and IBHS, Travelers is helping construct affordable, FORTIFIED homes that are better able to withstand disasters.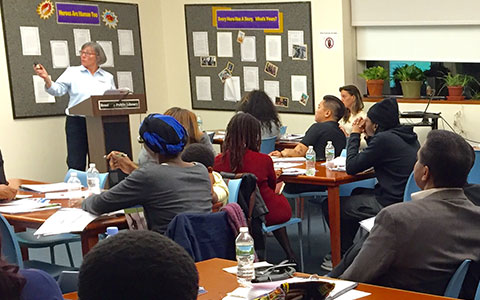 The Travelers Small Business Risk Education program is giving women, minority and veteran entrepreneurs the support and insights they need as they pursue the American dream.