Managing Your Construction Risk
With building activity and hiring expanding in many states in 2019, the outlook for the construction industry continues to improve.1 Yet, the perennial challenges to the industry remain: finding skilled workers, ensuring quality work and maintaining workplace safety. Fifty-two percent of construction companies worry some or a great deal about the dynamics of a changing workforce.2 Effectively managing these risks could become a significant competitive advantage for contractors, who could see a positive impact to more than just their bottom line.
"Managing the cost of risk can be an effective way for contractors to both improve safety and to reduce costs associated with preventable losses," said Lisa Morgan, Senior Vice President, Construction, Energy and Marine at Travelers. "The financial and business implications related to risk extend well beyond an individual event. Losses can lead to project and scheduling delays, reputational risk, increased regulatory scrutiny, challenges bidding and being awarded new projects, and greater difficulty attracting and retaining talented workers."
Before beginning a project, contractors can assess the potential impact of risks, and the steps and costs involved to effectively minimize them. "Taking the time and investment to manage those risks upfront can pay future dividends for a contractor if, for example, it helps avoid a dispute, a workplace injury or a loss," Morgan said.
The Travelers Approach to Managing Customers' Construction Risk? Dust, mud and data.
Not surprisingly, the construction industry has one of the highest costs of risk. Travelers understands the impact this has on a contractor's balance sheet. It's why you should carefully consider the value and protection you're getting in return. It's important to look just beyond what you're paying in premium and any potential loss when an incident occurs. Travelers believes that the more an insurer understands the industry, the more value a contractor is getting from their insurance carrier. Here's what we mean:
Comprehensive insurance solutions. Although it might seem like we're stating the obvious, making sure that you do not have unanticipated gaps in your insurance coverage is foundational in managing your cost of risk. At Travelers, we design our insurance policies based on deep knowledge of construction risk. According to a 2018 Travelers study3, many contractors have insurable exposures outside the scope of the coverages they purchase. Common examples are professional, environmental and cyber exposures. These are among a number of other coverages that Travelers offers contractors that can help to reduce coverage gaps. In addition, even though many contractors purchase umbrella coverage, oftentimes the limits are inadequate to cover the potential for loss.
Perspective. As a contractor, you're typically only seeing your own job sites, and have a limited line of sight to the types of losses the industry is experiencing. But with dedicated Travelers Risk Control and Claim professionals, the benchmarking that we do around the country allows us to come to your site with the perspective of what your peers are doing differently and what trends in safety we're seeing in and across the industry. Not to mention the hours of courtroom experience defending claims.
"Our risk control team visits over 300 job sites per month. We see patterns and draw insights," according to Bob Kreuzer, Vice President of Construction Risk Control at Travelers. "We have the expertise to address many of the risks facing the construction industry, such as construction defect losses, contract risk and fleet related exposures."
Industry knowledge. Aside from our decades of experience Travelers has in construction, most of our Risk Control staff, and many underwriters and Claim professionals, come from the construction industry. Travelers insures more than 5,000 contractors across the United States, including General Contractors, trade and heavy highway street and road contractors. That depth of experience, coupled with our wide footprint across the industry, gives us unique industry perspective. When you engage with a Travelers construction expert, they will have an understanding and appreciation for the risks your business faces on a daily basis, both on and off the job site.
Data. In addition to years of front-line perspective and knowledge, our deep engagement in construction translates to rich data, which gives us insight into the industry. While losses can and will happen, translating that loss data into insights can help our customers prevent similar losses in the future. Every Travelers Risk Control site survey is information that gets aggregated into benchmarking data for your company and the industry to recognize risk sooner and be safer and more productive.
Working with contractors, Travelers can help assess the cost of risk and develop strategies to reduce risk, to help keep employees safe, and to improve the overall bottom line. "We believe in sharing benchmarking safety data, loss trends, new technology and other construction expertise to help our customers, and the entire industry, improve," Kreuzer said.
Risk management and improved cross-team collaboration can help the construction industry avoid costly losses and delays. Learn more about how Travelers offers risk management solutions for construction contractors.
Insights & Expertise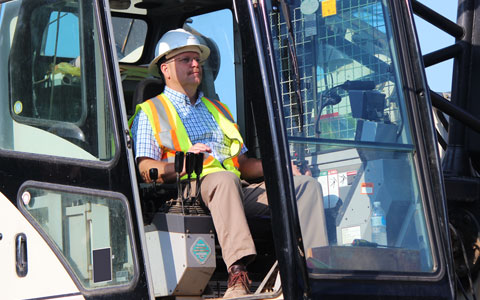 Having a well-trained team is an important aspect of crane safety. Learn about the responsibilities of four key roles during crane operations.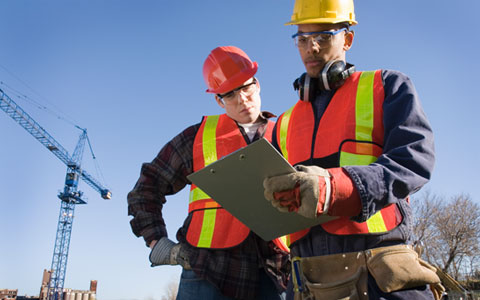 Companies preparing for crane operator OSHA certification should also train their supporting team about ongoing safe crane operations.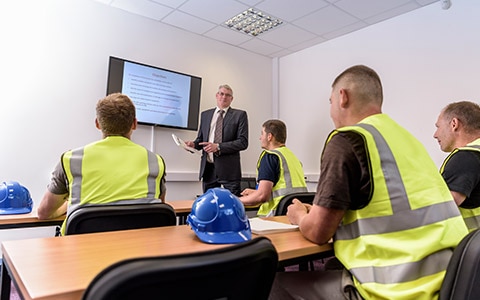 Construction companies can help protect workers by hiring candidates with a focus on safety and giving ongoing safety training.