2014 Business Risk Index - Risk Factors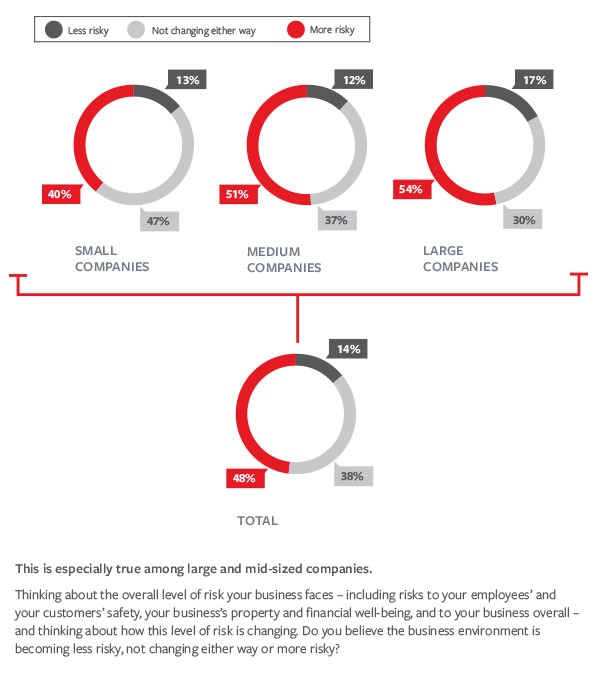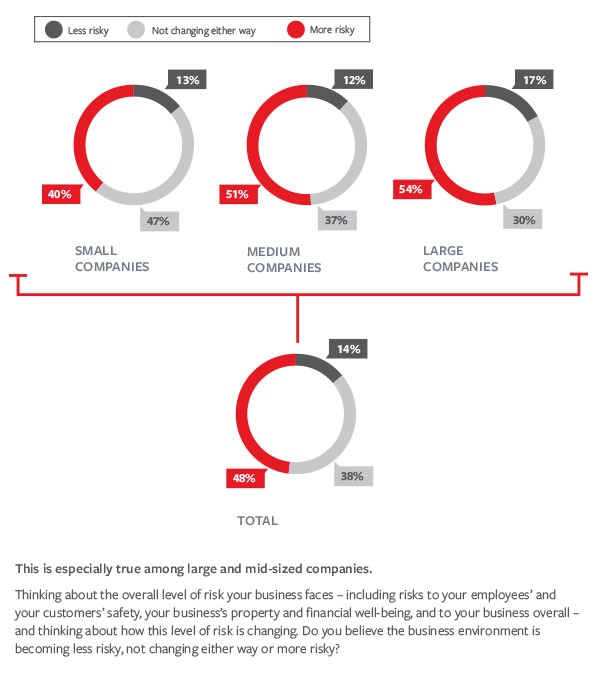 When it comes to risk perception and preparedness, size, industry and location seem to matter. While there is some consensus, the type of risk businesses face—and the strategies they take for mitigating those risks—is as varied as the businesses themselves. Sizing up business risk perception and preparedness
The larger the business, the more likely it was to report concern about a risky business environment, with 54% of large companies citing an increased risk. While mid-sized businesses report an increased risk of 51%, small businesses report just 40%. Company size also appears to be a major factor in risk preparedness. In nearly all cases, larger companies appear likely to make risk management a strategic priority.
Industry Insights On Business Risk
While medical cost inflation, legal liability and the rising cost of employee benefits top the list of worries for most industries, other chief concerns vary accordingly to the nature of the business. More than half of construction businesses rank employee safety and changes in the American workforce among their top concerns. The financial sector worries more, on average, about cyber, regulatory compliance and reputational risk. Healthcare businesses are among the few to have financial issues breach their top seven concerns. And while professional services and wholesalers view the business environment as the least risky of all industries, manufacturers believe it is actually riskier than ever, and are among the most likely to be prepared.
Business Risk By Region
Regional differences in risk perception and preparation were also evident in our survey. Companies in the North and South were far more likely to perceive the business environment as risky, with businesses in the Midwest and West more likely to portray the business environment as stable. Medical cost inflation also tops the list in most every area of the country. Midwestern businesses are more concerned than others with attracting and retaining talent, while Western businesses appear to be less concerned than others about most risks.
Join the Conversation
#HARNESSRISK
Learn More from the 2014 Travelers Business Risk Index
Top 7 Perceived Risks >
Risk Planning >
Risk Prevention >
Manufacturing >
Technology >
Work Safety >