How to Declutter and Recycle Your Electronics Before You Move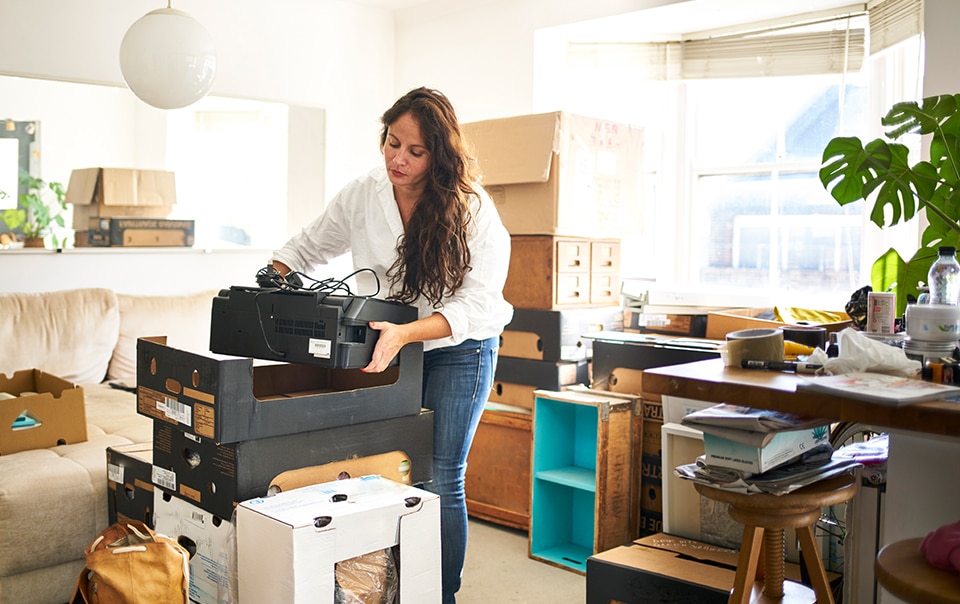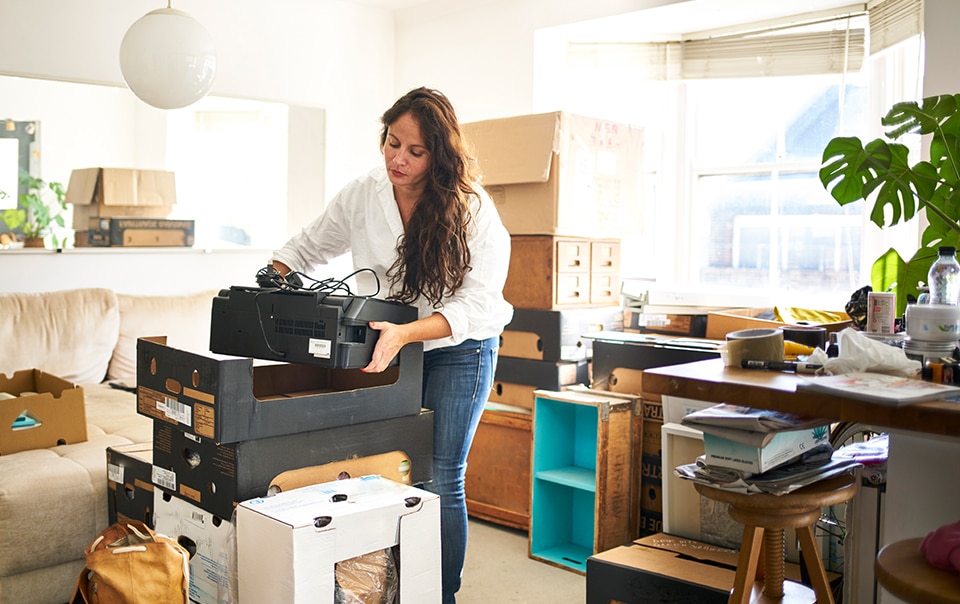 When it comes to packing for a move, a big part of the process may be sorting through what you own to declutter. With many of us making electronic devices a daily part of our lives, the task of decluttering also includes those devices that we've tucked away whenever we've upgraded. So how do you begin to declutter your electronics before you move?
Decluttering your electronics doesn't have to be difficult or take much time. Here's a general guide to help you organize, declutter and recycle your electronics.
Why Should I Declutter Electronics?
Decluttering your electronics can help save you time and money. It may even help you avert misfortune, as electronic clutter can put you at risk for identity theft, injuries in the home and even house fires.
For example, old electronic devices often contain your most private information, such as your tax ID number or your health data, making your devices a treasure trove for identity thieves. In 2018, 14.4 million Americans1 were victims of identity fraud.
Electronic clutter can also cause physical injuries in various ways. A heavy device could fall from a closet shelf; a pile of corded electronics can pose a trip-and-fall hazard. Falls make up one-third of all non-fatal injuries2 in the U.S. Additionally, a visitor falling in your home could lead to a lawsuit, which is one of the many reasons it's so important to have good home insurance.
Tangles of cords and crowded power strips also can cause fires. Electrical failures or malfunctions are the second leading cause3 of U.S. home fires.
How Do I Declutter Electronics?
Try taking a methodical approach to decluttering your electronics. Here are four suggestions to help you purge your home of old computers, phones and other items:
Search your home for old devices. Find and gather up electronic devices that are collecting dust. Maybe you've tossed an old cellphone into a drawer or hidden a broken remote containing an old battery out of sight on a shelf.
Remove old batteries. Old batteries, like the ones in your unusable remote, can be recycled. Collect any non-working batteries and place them in a sturdy container for safe disposal.
Give away working electronics. You may have a hand-held blender you never used or an old DVD player that got tossed into a closet when you upgraded to a newer device or transitioned to an on-demand streaming network. You can help declutter your belongings by donating electronics that are in safe working condition to a nonprofit, or by giving them to family, friends or neighbors. Be sure to delete any personal information from the devices before you give them away.
Gather outdated devices for recycling, repair or safe disposal. Once you've removed batteries and given away the items that still work, you may be left with a pile of old cords and electronics that are broken, obsolete or malfunctioning. Sort these devices into three piles: repair, recycle or safe disposal. Read on to learn how and where to recycle or safely dispose of old electronics.
How Do I Recycle Electronics?
Recycling electronics prevents toxic chemicals from being released into the environment and it saves natural resources.4 Recycling electronics, or "e-cycling," can be easy. With just a quick search on your computer or mobile phone, you can find the closest recycling center in your area.
Here are some ideas on how to recycle different types of electronics or safely dispose of those that can't be recycled:
Batteries: You may be able to recycle your old batteries. Many battery companies and "big-box" home improvement stores offer battery recycling. Type your ZIP code into the Call2Recycle directory5 to find a battery recycling location near you.
Cellphones: Restore your phone to factory settings to remove all your personal information. If your cellphone still works, you may be able to sell it by contacting your service provider to ask about their buyback program. If your phone doesn't work, remove the SIM card to keep your information safe, and take out the battery to recycle that separately. Many big-box stores also offer cellphone recycling. You can also check Call2Recycle to find a cellphone recycling drop-off site near you.
Computers: First, remove all data from your desktop or laptop computer. Unplug your keyboard, speakers, camera or any other accessories. If they still work, they can be reused or donated to a charity.
Small appliances: Unplug the appliance and tie or tape the cord so you don't trip while carrying the item. Also remove any glass parts before taking the small appliance to a recycling center.
Where Do I Recycle Electronics?
There are many drop-off facilities where you can recycle electronics. Here are four examples of places where you can generally recycle electronics:
Your local municipality. Many cities, counties and towns offer drop-off spots for safe disposal, and sometimes recycling, of electronics. Call your local municipality or check its website for details.

Big-box stores. Many big-box electronics and home improvement stores offer in-store electronics collection for recycling. They may have a container with a slot where you can simply drop in your old phone or laptop.

Electronics companies. Some companies that manufacture batteries or electronics also offer recycling programs. If you have one near you, this can be a great option.
Scrap metal companies. Many scrap metal buyers will accept small appliances such as blenders, toasters and microwaves. These appliances often contain steel that can be reused.
How Do I Organize My Electronics?
Now that you have that electronic clutter cleared out of your home, you may want to consider how to organize your current electronic devices in your new home while keeping safety in mind. Here are a few ideas to consider:
Set up charging stations. Creating a few charging stations where you regularly plug in your phone and other devices can keep cords out of the way and save time spent looking for lost items.
Keep cords neat. It's smart to use organizing tools like zip ties or cable clips to keep your cords organized and out of the way so no one trips over them. Never run cords under rugs, as this can damage the cord and pose a fire hazard.

Plug in safely. Plug only one heat-producing appliance, such as a coffee maker, toaster or space heater, into an outlet at a time. And don't plug major appliances into extension cords or power strips.
Create a home inventory. Now that you've pared down your electronics to the ones you currently use, make a home inventory checklist for insurance purposes. Include your electronics and other possessions.
While you're decluttering to prepare for your move, make sure you're getting the right coverage to protect your new home and your belongings. Contact a Travelers agent to get a quote on homeowners insurance.
Sources
1 https://www.javelinstrategy.com/coverage-area/2019-identity-fraud-study-fraudsters-seek-new-targets-and-victims-bear-brunt
2 https://www.nsc.org/home-safety/safety-topics/older-adult-falls
3 https://www.nfpa.org/News-and-Research/Data-research-and-tools/Electrical/Electrical
4 https://www.epa.gov/recycle/electronics-donation-and-recycling
5 https://www.call2recycle.org/locator/


More Prepare & Prevent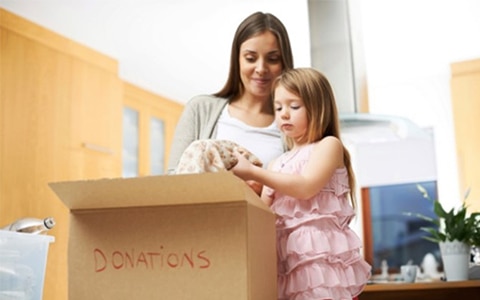 Cut down on clutter to appeal to potential home buyers. Learn how to declutter your home for sale with these 5 steps.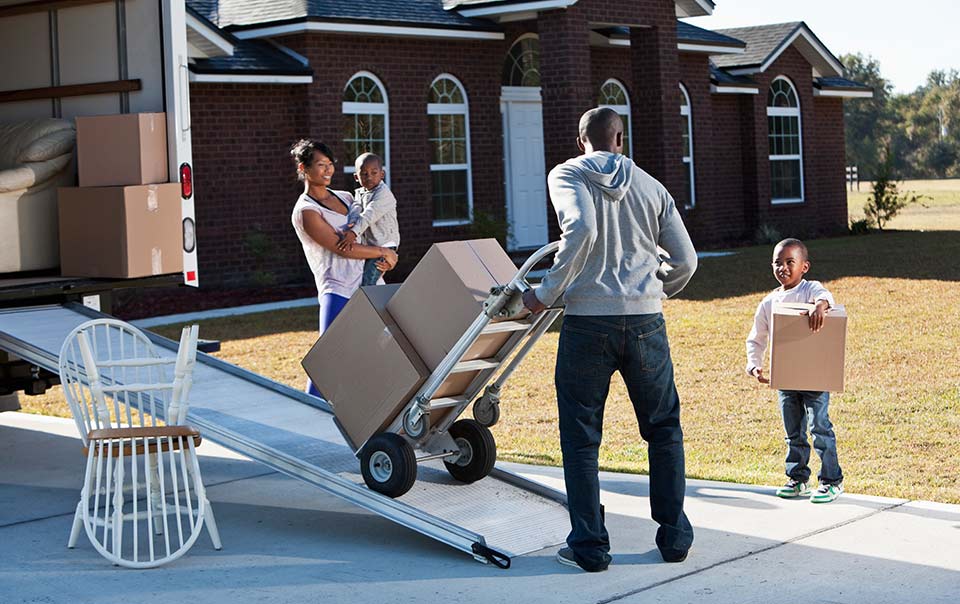 This day-by-day guide and checklist can help you pare down and pack your possessions, so you can move as efficiently as possible.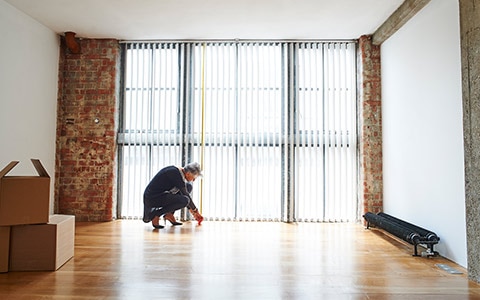 Having a planned approach for how to downsize your home can help make the process less stressful.