How to Help Protect Your Smart Home from Hackers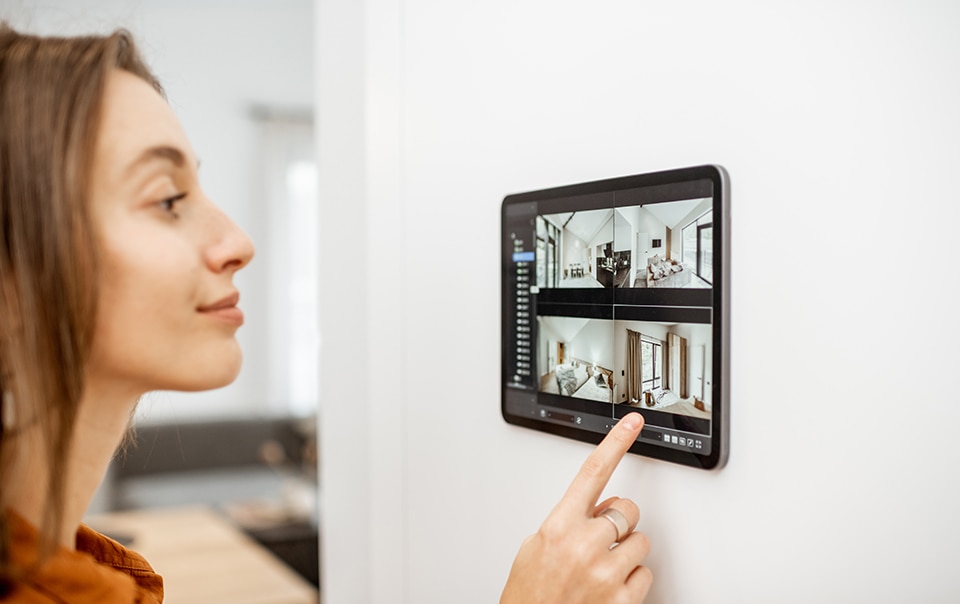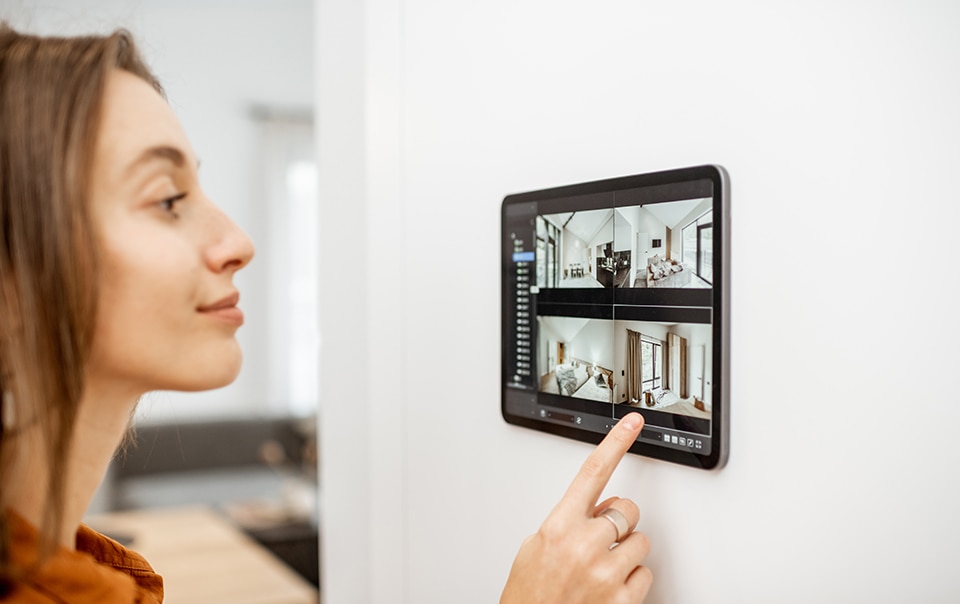 As the popularity of smart home technology continues to grow, you may be one of the many consumers enjoying the convenience of virtual assistants, smart appliances, smart home security, smart lighting and more, but have you wondered whether smart homes are secure from cyberattacks? It's a good question, because smart home technology has the potential to put your personal information at risk of being compromised. You'll want to do what you can to help protect your smart home from hackers.
When you consider the many ways consumers are using smart devices in their homes, it's no surprise that the risks have increased. From regulating a home's temperature to controlling entry into a home through monitoring, locking and unlocking doors, smart devices have become part of everyday household routines in many homes.
Despite all their benefits and like any digital technology, smart home devices can be vulnerable to hacking, and can therefore introduce the possibility that your sensitive information and home security could be at risk.
How Can Smart Homes Be Hacked?
Before we dive into steps you can take to help prevent hackers from accessing your smart home devices, let's answer a fundamental question: How can a smart home be hacked in the first place?
A smart home's vulnerability lies in its connectivity to the internet. Any smart home device that is capable of connecting to the internet has the potential to be hacked, accessed remotely, and in many cases, even controlled by outside users ‒ just as any website or computer can be. The devices themselves may have little or no built-in security, making them susceptible to attacks by software that is designed to gain unauthorized access to a computer or home network, potentially allowing your personal information to be exposed. Or, as the case may be, the devices may have security features that you need to set up or enable. So, review the information that came with the devices to confirm the built-in security and to determine if there are steps you need to take to enable the security features. The key to preventing a hack is to first recognize the device's potential vulnerabilities and to then make sure you have the necessary security built in and appropriately set up to properly safeguard your home network and your devices.
The key to preventing a hack is to safeguard the network your devices are connected to, as well as to secure your individual devices using strong passwords and other safety measures.
To help prevent your smart home technology from being hacked, consider the following tips:
1. Understand your smart home devices and their vulnerabilities.
The first step toward protecting your smart home technology from hacks is to identify which devices are capable of connecting to the internet and whether there is a need or desire to connect those specific devices. You will also need to understand what security features are available for a device before purchasing it or installing and connecting it to your home network.
For example, if your smart speaker is connected to your Wi-Fi router, which is also connected to your smart TV, your video doorbell and your smart thermostat, then any one of those products can pass on vulnerabilities to another. If one item is hacked, the rest may be susceptible to the hack. Therefore, you'll need a plan to protect not just one device, but every item in your smart ecosystem.
2. Use only reputable smart home technology brands.
Some smart home technologies are expensive and, for many of us, it can be tempting to cut corners and buy the lowest priced product. Consider your options carefully, and keep in mind that choosing based on price alone may come with added risk. You may expect that brand names typically tend to take extra precautions to protect their reputation, which may mean they take security seriously. But even brand names can be hacked. There are no guarantees, so it's important to research your options appropriately.
When choosing your smart device, consider whether or not it comes with regular software and security updates, and read the privacy policy to understand how personal data on the device might be used after it's captured. Consider reading customer reviews and conducting research on consumer protection websites.
3. Protect your Wi-Fi network.
When you are setting up your Wi-Fi router, or if you have not updated default settings, it's very important to create a strong, unique password for your Wi-Fi network. The default password, for example, the one that's posted on your router or given to you by your service provider, may present a vulnerability. Choose a unique password that's not used on any of your other devices or accounts and use it only for your network. You should also use WPA2 encryption (located in your router settings) and enable any firewall that's available.
Refer to the product information from the manufacturer included with your Wi-Fi router when you bought it, for more detailed guidance. If you need help accessing your router settings, beyond product information, visit the manufacturer's website. Your service provider's website may also be a good resource.
Additionally, consider working with your service provider or router manufacturer to learn how to keep your router up to date with the latest security updates.
4. Use unique passwords for everything.
Having a unique password for your network may not be enough to safeguard your devices. Consider having designated passwords for all your devices ‒ each one different and specific to that product only. Be sure to update these passwords at least a few times a year.
Also consider enabling multi-factor identification. This usually requires entering a code that's randomly generated and sent to you by text, email or mobile app. Additionally, you may want to consider using a secure, easy-to-use and reputable password manager, to manage your logon credentials across all your devices. A password manager is an encrypted digital vault that stores the login information you use to access websites. It can generate strong passwords to help ensure you aren't repeating them across your devices and services and is another way you can keep your passwords safe.2
5. Secure your smart home devices.
Unique passwords aren't the only way to secure your individual devices. Consider going into the privacy settings of each device and make sure you have the highest security options enabled. You'll also want to disable remote access while you're there (unless it's a feature you absolutely need). Also, consider disabling Wi-Fi on devices that you choose not to use as a smart device.
Finally, it's important to be careful about how you manage and use your smart home technology. Accessing your video doorbell or home security system while connected to a public network (like at a coffee shop, for example) can put your entire home at risk. Never access your devices on an open or unprotected network. Instead, use your own personal hotspot or a VPN (Virtual Private Network) app to protect yourself before opening these connections.
Be Safe and Save Money
With adequate security measures in place, your smart home devices can be a safe and convenient addition to your household. Keep in mind that security risks are constantly evolving, so it is important to update and manage the security of smart devices and your home network regularly.
The possibilities for smart home devices are always expanding. Some consumers use smart technology to turn on lights and appliances remotely from their mobile devices, or set and schedule room temperatures and lighting schemes throughout their home. Other people use these technologies to play music, keep their schedule, shop online, or schedule alerts and reminders. Additionally, many smart homes have security systems that can qualify policyholders for money-saving discounts on their homeowners insurance.
To learn more about smart home technology discounts or how these devices could impact your household's insurance policy, contact a Travelers representative.
Sources:
1 https://us.norton.com/internetsecurity-iot-smart-home-security-core.html
2 https://www.cnet.com/news/best-password-managers-for-2019/
More Prepare & Prevent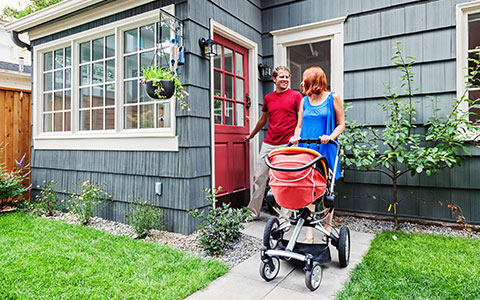 Follow this quick three-minute home security checklist before you leave your house each day to help prevent break-ins.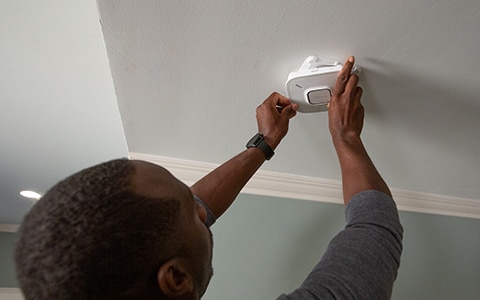 Fire is one of the most expensive risks for homeowners. Join us at the CNET Smart Home® to see how easy it is to add a smart smoke detector to your home. 
Paid Content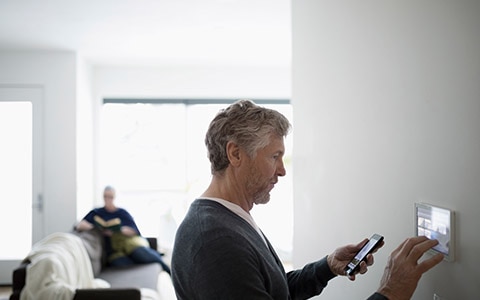 Smart home technology offers ease and convenience. It can also help protect your home and reduce home insurance costs.