Keep Your Home Safe from Water: Best Practices to Protect Your Home While You're Away [Video]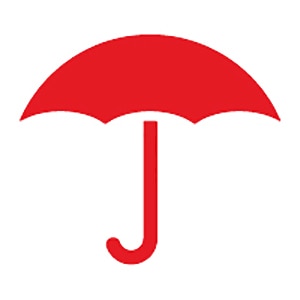 When you think of water damage, you probably think of torrential rain and other storm-related losses. But most water damage that homeowners experience is the result of leaks in pipes and connections frequently due to maintenance issues. When this happens while you are away or on vacation, it can be especially disastrous.
Here are some tips to consider to help you avoid heartbreaking damage to or loss of your property:
1. Only Run Your Appliances When You're at Home – and Awake
Appliances, as well as their supply lines, can fail at any moment, and turning them on before leaving the house creates a significant risk.
Try thinking of your water-related appliances as you would think about your stove or oven. Just like you wouldn't leave your oven on when you walk out the door, don't start your appliances before leaving the house, either – whether it's your dishwasher, your washing machine or some other appliance.
2. Install Leak Detection Sensors
Leak detection sensors can be an easy, affordable way to get early warnings of potential water problems throughout your home to help you avoid major damage. Though more comprehensive models require professional installation, there are a number of products you can install yourself. These are placed in strategic locations where water releases may occur. Alerts can be sent to your smartphone for real-time updates.
3. Set Up Automatic Shut-Offs
Some leak detection systems come with automatic shut-off capabilities, which are designed to shut down water flow when a leak is detected.
4. Know Where Your Shut-off Valves Are Located (and How to Shut Off Water to Your Individual Appliances)
It's important to know where your main water shut-off is, as well as where the individual supply shut-offs are to your appliances and fixtures, including your washing machine, dishwasher, toilets and sinks. You'll want to know where the shut-off valves are so you can isolate a leak when it occurs and help minimize the damage to your home.
5. Keep the Heat on if You're Away in the Wintertime
If your home is in a cold climate (or it's just winter), keep your heat on in the house ‒ even if you'll be away for a while. Pipes in exterior walls can freeze if the heat is not properly maintained in your home. Set the temperature at 55°F or higher to help keep the interior of the floor and wall cavities, where the water piping is likely located, above freezing temperatures.
Pipes are under pressure, and when a frozen pipe thaws, water damage can occur very quickly. Leaks that occur on upper floors will damage floors below, as water follows the path of least resistance.
6. Consider Shutting Off All Water if You'll Be Away for an Extended Period of Time
Many homeowners don't think of this, but if you're going to be away from your property for a long span of time, consider shutting off the main water valve before you leave. Just be sure to consult a professional about shutting off your main water valve, as well as any other steps you may wish to take if you're planning to be away for an extended period of time.  If you can't shut off the main water valve, consider shutting off individual water valves to major appliances and fixtures.
7. Maintain Your Appliances and Fixtures
The older the house and plumbing system, the higher the probability of a water-related loss. Most water-related damage stems from general wear and tear. As an example, you should be diligent about replacing the supply lines and valves around your sinks and toilets.
Some supply lines are only designed for five or 10 years, but some people keep them until they fail, long after the designated life span. These components are relatively easy and inexpensive to replace.
8. Conduct Regular Visual Inspections
If you notice a drip or signs of a leak, or other potential plumbing problems, immediately call a professional. Regularly inspect your exposed pipes and plumbing parts for signs of corrosion, cracks, deposits, discoloration and other indication of wear and tear.
If you do find something amiss, go for a full checkup of the home by a professional. It may be an indication that you want to do a more thorough assessment of your other plumbing components, because they may be just as old or as compromised as the part that failed.
9. Be Careful With DIY Repairs
Some small plumbing parts can be replaced without the help of a professional, but if you do go this route, follow the instructions carefully. You'd be surprised at how specific some of the installation requirements are for different fittings. Over-tightening or improper installation are common causes of water losses.
How to Protect Your Home While on Vacation: A Home Water Safety Checklist
Planning to leave your house for an extended period of time? Here's what Travelers specialists recommend doing before you travel to help prevent water-related damage:
Shut off your main water valve or, at the very least, the valves to individual appliances, such as your washing machine and toilets. Before shutting off your main valve, always consult a professional.
Set your thermostat properly. If it's cold, make sure your home will get continuous heat while you're away (maintain a minimum temperature of 55°F).
Install smart leak detection sensors. These will alert you if a water leak occurs while you're out. Make sure you have a neighbor or friend on call in case it happens.
Check that your sump pump pit is clean and clear. Test your sump pump before leaving, to make sure that it's functioning properly.
Do a quick visual once-over of your exposed plumbing. If you spot any discoloration, cracking, deposits or other issues, immediately call a licensed professional.
Water Does More Than Damage Your Home
At the end of the day, it's important to remember that plumbing complications don't just damage your home and the things inside it. When serious exposure occurs, it can also uproot your life as you know it. You may have to live elsewhere while your home is repaired, and you might find yourself, your loved ones and your pets displaced for a significant amount of time.
Be proactive about protecting your home, know how to maintain and care for its systems, and be especially careful when leaving the property – even if it's only for a few days. Finally, contact your local independent agent or Travelers representative to make sure your home is covered if damage does occur.
More Prepare & Prevent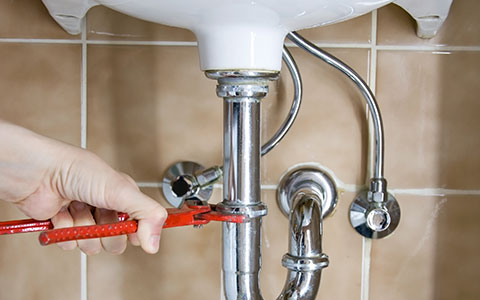 Knowing the causes of home water damage and signs of a problem can help prevent long-term issues.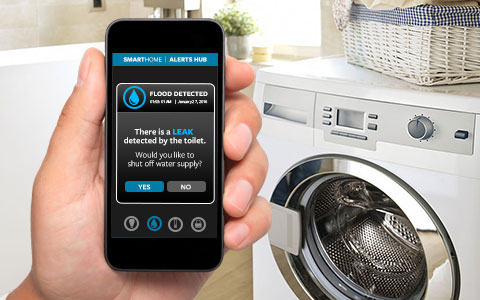 Learn how water sensors work and where to place them in your home with these tips.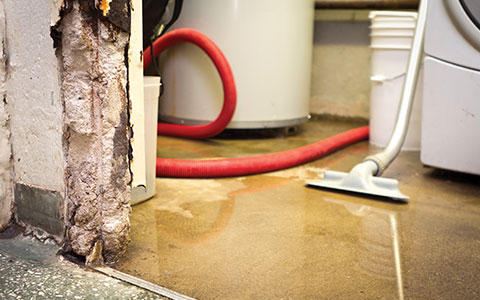 Routine sump pump maintenance at least once a year helps ensure the pump will work when you need it most.