Summer Driving Safety [Infographic]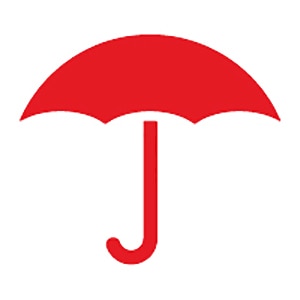 Summer vacation season means more individuals and families setting out on road trips of all kinds. Statistics indicate that distracted driving from phone use occurs most frequently during the summer; nearly 10 percent more than any other time of year. This summer, consider how you can avoid distraction and stay focused on the road.
Check out all our guides and tips for your summer road trips, including how you pack your car, what to bring in your roadside emergency kit, and where kids and pets should sit. All these valuable tools can help ensure you will reach your destination safely.


SUMMER DRIVING SAFETY
DISTRACTED DRIVING INCREASES IN SUMMER
NEARLY 10% MORE DISTRACTED DRIVING OCCURS IN SUMMER THAN ANY OTHER SEASON1
Stay Focused and Safe
STOW YOUR PHONE 
Turn off the phone or put it in "do not disturb" mode to help remove the temptation to use it.
KNOW YOUR ROUTE 
Have a passenger program your navigation system or enter your destination before you start driving.
CREATE ZONES FOR KIDS AND PETS 
Secure pets and children safely in the back seat.
ON AVERAGE, DRIVERS ARE DISTRACTED FOR ALMOST 15 MINUTES OF EVERY HOUR OF ROAD TIME DURING SUMMER2
DON'T BE A SOURCE OF DISTRACTION 
Avoid calling or texting family and friends when you know they are driving.
SET A GOOD EXAMPLE 
Parents can model good behavior for their children by demonstrating attentive driving.
VOW NOT TO MULTITASK 
Avoid eating, grooming or calling someone while behind the wheel. Of course, never text and drive.
OTHER SUMMER ROAD TRIP TIPS  
TUNE UP BEFORE HEADING OUT 
Inspect tires, brakes, lights and fluids.
PACK SAFE 
Evenly distribute weight and keep a clear line of sight.
READY YOUR ROOF RACK 
Watch your vehicle height and rack weight limits.
KNOW WHAT TO DO WHEN IT COMES TO SUMMER TRAVEL 
SHARE THIS INFOGRAPHIC WITH YOUR FAMILY, FRIENDS AND NEIGHBORS TO HELP THEM #THINKSAFE. 
VISIT TRAVELERS.COM/PREPARE-PREVENT TO LEARN MORE.
1TrueMotion 
2TrueMotion 
About TrueMotion 
TrueMotion, the leading smartphone telematics platform, analyzed the driving behavior of 20,000+ drivers over 8.4 million trips using its free distracted driving mobile app, TrueMotion Family, from January 2017 through May 2018. The company collects smartphone sensor data and uses machine learning to determine when a person is driving and if he or she is actively distracted texting, making phone calls or using apps like Facebook versus passively distracted with apps for music and maps.
travelers.com 
The Travelers Indemnity Company and its property casualty affiliates. One Tower Square, Hartford, CT 06183 
This material does not amend, or otherwise affect, the provisions or coverages of any insurance policy or bond issued by Travelers. It is not a representation that coverage does or does not exist for any particular claim or loss under any such policy or bond. Coverage depends on the facts and circumstances involved in the claim or loss, all applicable policy or bond provisions, and any applicable law. Availability of coverage referenced in this document can depend on underwriting qualifications and state regulations. New 6-18 
© 2018 The Travelers Indemnity Company. All rights reserved. Travelers and The Travelers Umbrella logo are registered trademarks of The Travelers Indemnity Company in the U.S. and other countries. New 6-18
More Prepare & Prevent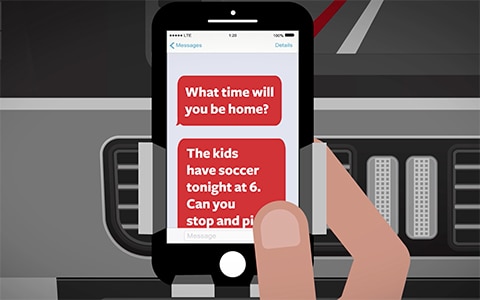 Every second you take your eyes off the road to do another task, like text, read, reach over, groom or eat, can be dangerous. Share these videos to help raise awareness.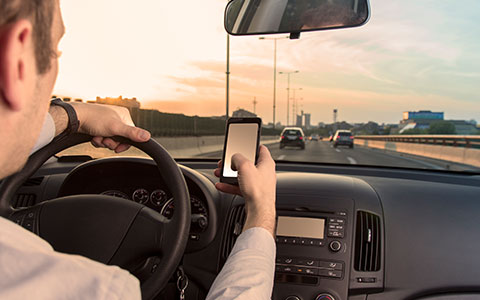 You may be surprised to learn that cell phones and texting are just part of the problem when it comes to distracted driving.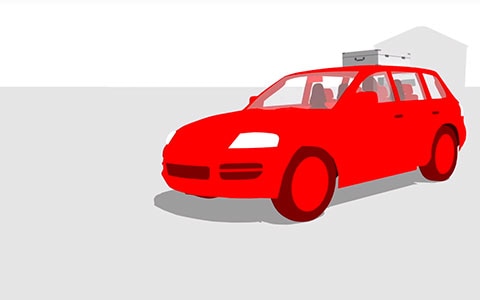 Securing luggage, maintaining vehicle balance and clear sight lines are important when loading a car for vacation.