2020 Vision: Construction and the New Financial Downturn
The new financial downturn may look different from past recessions, but we can gain insights from construction firms that weathered past storms better than others. In these videos, Stan Halliday, Travelers Chief Underwriting Officer, Construction Surety, and David Hombach, Chief Underwriting Officer in Bond & Specialty Insurance, look at real industry data from the Great Recession to gain insights and identify approaches to help your construction firm get through this latest financial downturn.
Chapter #1
A Pre vs. Post COVID Environment in Construction
The construction environment is a tale of two worlds, according to David Hombach, Chief Underwriting Officer in Bond & Specialty Insurance.
Before March 2020, the construction industry was enjoying one of the most robust markets in history. Then the market changed precipitously, virtually overnight. 
Learn more about how the market shifted.
>> SPEAKER: Pre COVID the construction industries exhibited characteristics of one of robust markets ever in history. Our clients had record backlogs with increasing margins.
We were seeing all of the subcontract trades making more money than they ever had before. Labor was tight in the market, the unemployment rate in the construction industry was probably at an all time record low.
Fast forward to March of 2020 and the outset of the COVID environment and the market changed precipitously virtually overnight.
Projects were delayed or stopped, projects were canceled, projects were modified, shut down. We saw major supply chain disruptions.
Labor shortages and particularly in our sub trades where not only project safety was a concern, but also the fact that the unemployment benefits that were a part of the rescue package initially and had enhance unemployment benefits.
And so we actually had clients that were complaining about the inability to get workers to the job because of elevated pay levels for being on unemployment.
Finally, we really expected to see a cash crunch, similar to what had occurred in the downturn in the '08 – '09, the great recession, but that in fact did not materialize.
The government had done a good job of priming the pump with the financial system. And so we saw projects continue to pay out as expected. We didn't see any material delays and payment or owners having difficulty staying viable, at least during the course of construction. 
>>SPEAKER:
You see these three lines in here and I and I just wanted to touch on this from the standpoint of, okay, why is institutional above the other two.
And, and why is commercial the lowest of them all. Well, if you think about it, commercial for one instances like office buildings and retail
Probably two of the segments that were hurt the most optically by the coronavirus. I mean, nobody's working in their offices.
There's, there's a big conjecture is to, do many companies ever go back into the office or not.
And so that, that has to that will definitely impact the planning around future space, for office space and/or retail if we're not going to be able to shop in stores like we have that's going to be a whole different model.
Residential in in that space. You know there's there. There's a big thought that there will be an out migration from the big cities and then people will be moving back out in the suburbs.
And what does that mean for residential, i.e. condominiums and apartments that have been built in this in the center of the city.
Institutional is probably the highest because it had enough work in the pipeline and is funded in part not by tax revenues entirely but private sectors for like private universities and what have you. So that's why that numbers a little bit higher.
Chapter #3
A Changed Landscape – Current Market Conditions
Bringing back manufacturing onshore, developing new infrastructure and building healthcare facilities may help drive construction, post-COVID-19. Better subcontractor and workforce availability overall are also positive signs.
Here more opportunities and risks that could affect the market's recovery.
>>SPEAKER: This whole coronavirus thing has exposed the Achilles heel of the American economy is that we were highly dependent upon sources of supply that may in fact not be conducive to us doing things as we need to.
So I think we're going to bring back a lot of manufacturing from China and abroad.
And that's beginning to happen. Healthcare, obviously, we probably aren't if we built out enough to handle this kind of thing moving forward.
And the infrastructure bill. And I think there will will see something on this at some point in the not too distant future. But it's, that's a tall order.
Subcontractors are obviously better available now. However, there are some trades i.e. drywall in particular where, because of the labor concentration and as close as they work together, it's hard to get the kind of production that you need. So we're seeing some issues with that.
But overall, in Stan's comment about the unemployment rate with a 14% unemployment rate, there are people available to work if in fact they choose to.
Again, the inhibitor is a little bit of the unemployment benefits that sits out there right now.
Risks moving forward. Funding. If it's a tax based funding mechanism, that's at risk. As far as the viability  and the amount of work to be had.
Jobs just getting started that were already previously funded, may be okay. If they were counting on future tax streams in order to pay for that, that might present a problem.
Supply Chain performance, I mean we'd had contractors that have been impacted greatly because they were waiting on materials from Europe and/or China that were from plants that were shut down during the virus.
Challenging contractual risk. That's one of the issues that we we are exploring with our clients, almost every day today.
Owners are trying to put language in there to remove themselves from the responsibility loop for COVID related and/or pandemic or health related issues.
We could see a resurgence in the in the outbreak levels and we're starting to see that now as states have started to open up.
Worker health and safety continues to be an issue. But the biggest risk in here, biggest risk in here right now is the inability or concern about the inability to acquire new backlog and at what rate.
And what size will my company be in the future, given the constraints that I see in front of me.
Chapter #4
Failures Have Many Causes
A single project going wrong can have a significant impact on a construction company, especially in today's environment. An analysis of Travelers construction customer losses incurred over time explores factors that have led contractor failures, from overextension to excessive debt.
See some of the other potential causes of failure.
>>SPEAKER: We've done an analysis of the losses that we've incurred over time and develop some characteristics that come out of those losses.
Down below in the box you'll see, difficult project + week internal controls = catastrophic situation. That's true. These get at percentages of the failed contractors in our portfolio as to the critical reason behind the failure.
Number one on this list, catastrophic project. One single, we're seeing way more losses today caused by one single project going bad than ever before.
Problem on a large poor estimate, new job type or location and bad owner.
The next most important is obviously internal controls and system failures.
And this manifests itself from the standpoint of we constantly stress with clients about the need to know where you are at all times in order to manage the business better.
And in losses, we're seeing many cases where the system that they had in place did not allow management information in a timely fashion to deal with a problem before it metastasized into something that was lethal.
Overextension. Stan's point about overeating at the buffet line is the reason for failure more than starving to death and that is in fact the case.
And finally, excessive debt on the balance sheet is an is an additional risk from an outside creditor that can cause contractors to fail if in fact they end up starting to miss their payments.
So these are some four key elements of contractor failures and in this environment today because of the exposures that exists that aren't normal to the construction business, it's very critical to focus on these moving forward.
Chapter #5
What Can Construction Companies Do? It all comes down to baseball
Even the best hitters in baseball appreciate good pitches. Stan Halliday, Travelers Chief Underwriting Officer, Construction Surety, says the key for contractors in this economy will be to wait for the "good pitches" that involve a familiar type of work and location, rather than taking a risk on an unfamiliar project or procurement method.
Learn more about what constitute a "fat pitch" for contractors.
>>SPEAKER 1: Some of you baseball fans may recognize the little chart on the right.
And it's a chart that Ted Williams put together and Ted Williams was considered probably the greatest hitter all time in baseball. But what he figured out is it dependent where the pitches he swung at as to how successful of hitter he was.
So he divided the pelt plate that's home played into certain sectors and he he determine what his batting average would be if he hit pitches only from that sector.
So you can see if he had only low outside pitches, he would not have been a Hall of Fame hitter. He'd been a pretty pedestrian player there at 240 or 230, right?
But if he swung where the pitches were best for him, there in the middle of the plate, he was a 400 hitter.
So we want you to think about your job and your work, kind of in that regard. And this goes back to the graph before that, Dave.
David just talked about is, okay, what do I do. Well, we want you to do is, and we think about it, and I think about construction is really simple.
Type of work. Well, it's really easy to think I need to keep my revenue up and try a bunch of new things.
And that's didn't work out in the last recession. Really doing the type of work that you do is a really good predictor of whether the jobs gonna be successful or not.
Doing it in a familiar location. Working in a new geographic area greatly increases risk. So if you're doing work that you normally do in a place you'd normally do it, that has a higher probability of success.
 Then combine that with the will the team, the owner, the subs designer and the team that's actually doing the work.
Are those all familiar partners of yours from that, are you used to dealing with them. Again, the more familiar and success you've had in the past, the more likely you're probably gonna have a good job.
The same with procurement method.
This may not be the time to enter the design bill market if you've never done it. I'm not saying you can't learn it, but usually there's a learning curve with anything that's new, so trying something that you haven't done before.
And then finally contract language, again, a bad contract can negate a lot of good work because the terms don't go your way. Now your feedback to me and I know I can't really get it yet, but maybe Stan, but if things are tough now.
I'm not going to be able to just get work that I've always done. I'm gonna have to stretch a little bit
And we understand that a little bit, but kind of a good rule of thumb is the further you get away from each of these things, the more risky a job becomes.
So let's say I'm going to try a new type of work, but it's in a familiar location with a bunch of people that I've worked with, it's a procurement method I'm familiar. I've got a good contract. I've done work for this owner before. Well, maybe that's a risk you might want to think about taking and realize you have to be a little careful about it.
But now, let's say you're doing a new type of work for someone you've never worked for with a bad contract, that's a recipe probably to lose money.
So you really have to think about it and have your people and your estimators, your project, people kind of, Kind of keep it simple at some point in time. You can talk yourself into some I can hit that outside corner pitch down the line. I know I can slap it in the corner for a double. Maybe not.
And again it is a percentage game, and the more often you take these risk, the more often we see contractors have trouble so 
>>SPEAKER 2: It sounds like the downside of the risk could outweigh the benefit.
>>SPEAKER 3: Yeah, I really do. What, what, what was really clear in the last recession for us is those contractors that tried to grow during the recession, tended to do worse than those that were willing to get smaller and to stick to do what they were doing well at.
You just have a shrink your swings on a little bit and be willing to be a little smaller for a while.
Chapter #6
It's All About the Fast Pitches…
Working where you have been successful, and doing what you know how to do, could help contractors choose the right projects in a difficult economy. Contractors will want to choose teams who have completed similar types of work successfully, rather than taking on unfamiliar projects that introduce new risks.
See more about choosing the right projects.
>>SPEAKER: Yeah, I kind of go back to being there and I kind of said this another thing, work where you've been successful if you can, and it's going to be really important now to do what you know how to do.
Maybe you have to learn something a little bit, but if you're doing what you've done and doing what you know what you're doing for people, you know, with teams that have done it, under fair and reasonable contract terms, I think that's the best recipe for success.
I wish it was something mathematical or really, really good, but construction and most businesses really pretty simple as you gotta do what you know.
And and yes, you may have to take a little more risk here and there, but but try and do just one thing at a time. Try not to do three or four new things at a time.
I used to think sometimes the best job that you ever had is the one you didn't get. And I think a lot of contractors if you're listening probably can nod your head with that and
Another saying that one of my mentors taught me was in construction, you make money in shovels shovel falls, but you can lose it in dump truck loads.
And if you end up having one of those dump trucks on you, that's what we showed in that blue chart that can take you down. So what we're trying to do is avoid you from having that dump truck like event.
Maybe you can lose a few shovels for a while, but that's a lot easier to bounce back from I think.
2020 Vision: Construction and the New Financial Downturn
More Prepare & Prevent
Highly-skilled underwriting, customized commercial insurance products for the construction industry, and tailored programs and services to help reduce contractors' cost of risk.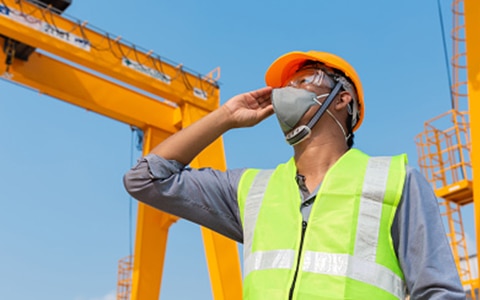 Reopening a construction project after a shutdown can be challenging. To help prepare your site for success, develop a plan for evaluating conditions and hazards and identifying necessary controls.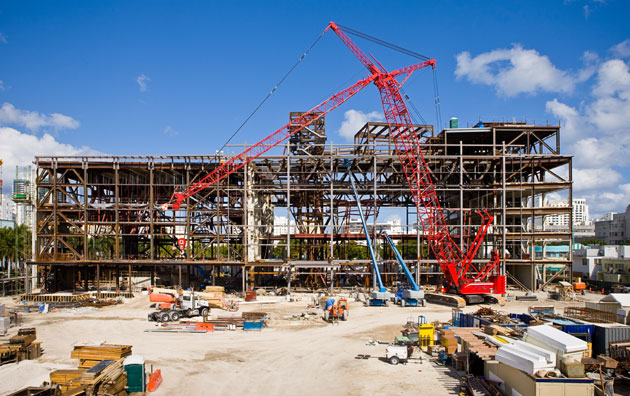 Whether planned or unplanned, a construction shutdown can have a significant impact on a project's potential for loss. The following resource offers guidance on how to maintain site safety and security during periods of inactivity.