Wildfires: Planning Ahead to Help Protect Your Business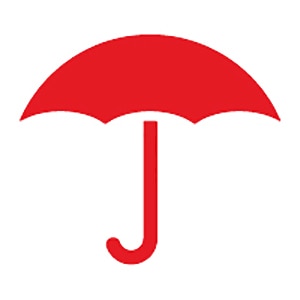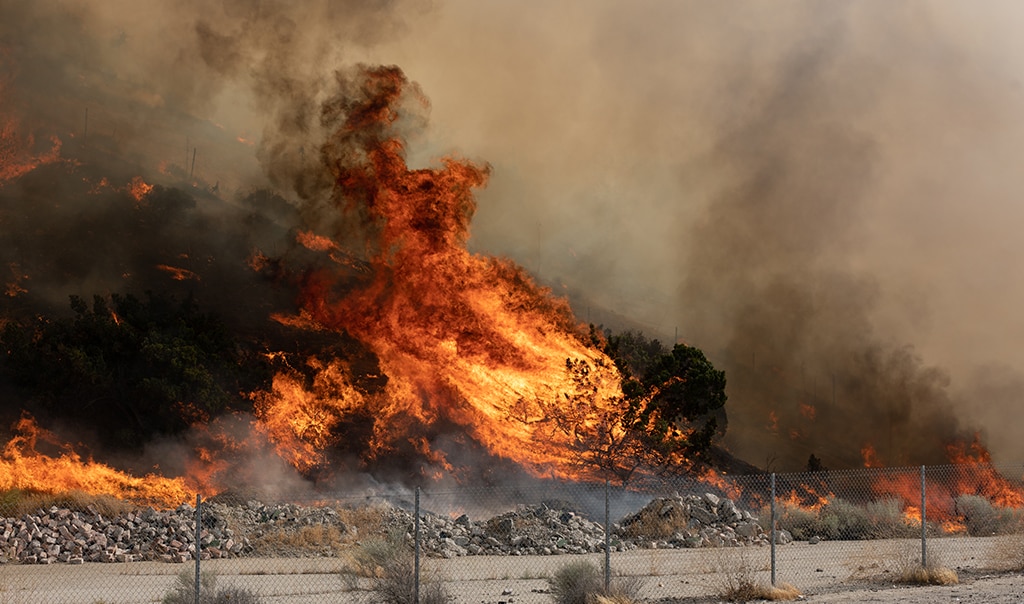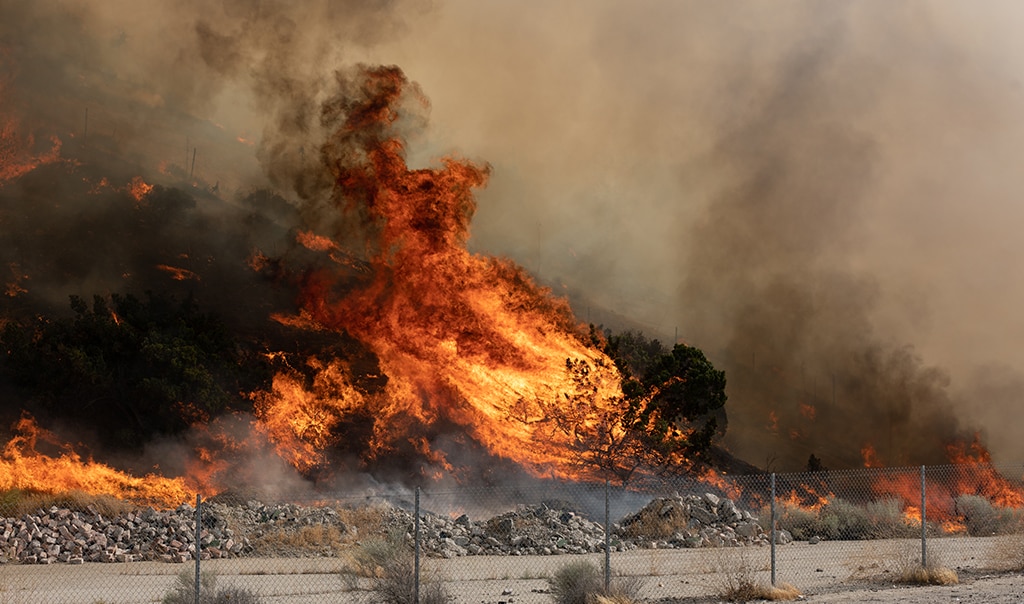 According to the USDA Forest Service, historic fire data shows that wildfires are not only getting larger, they are becoming more intense. For any business with an exposure to wildfire, advance planning and taking proactive safety precautions can be critical in helping to reduce property loss and injuries due to wildfires. To help reduce risk and protect your business from wildfires, consideration should be given to the fire resistance of structures, the condition of those structures, the topography of the land surrounding the property and the nature of and proximity to nearby stored items, brush, trees and vegetation.
Business Wildfire Protection and Preparation
Create Safety Zones Around Structures
Remove combustible landscaping such as mulch, pine straw and foliage within five feet of the building. Install only hard surfaces in this zone such as concrete walkways or noncombustible mulch. This can help prevent flying embers that land in this space from igniting combustible materials, exposing the exterior wall of the structure to fire.
Trim back or remove trees outside of the five-foot noncombustible zone that have branches overhanging the roof.
In addition to the five-foot noncombustible zone, thin or remove trees or foliage within 100 feet of your building to prevent forming a continuous fuel path to the building. If your property line is less than 100 feet from your building, clear at a minimum, to the property line. Tree canopies should be at least ten feet apart with the distance increasing with increasing slope on the downhill side. Prune limbs and branches to a minimum height of six feet off the ground. The objective is to create separation between the tree canopies to help prevent fire from spreading from tree to tree and then to the building.
Some plants are considered to be more combustible than others. Choosing fire-resistant landscaping for your business can help reduce your wildfire risk.
Combustible outdoor storage and idle wood pallets should be kept a minimum of 30 feet from the building.
Any flammable or combustible liquids or gases should be properly stored in accordance with applicable NFPA codes, such as NFPA 30, Flammable and Combustible Liquids Code, and any applicable local codes.
Maximize Fire Resistance – Choose Construction/Building Materials Wisely
If you are building new construction, remodeling or retrofitting existing buildings:

Select exterior wall cladding made of noncombustible siding materials.
Select roof covers with a Class A fire rating based on testing to ASTM E108 or UL 790.
Select windows that are dual-paned with tempered glass or install fire shutters.
Select gutters and downspouts made of noncombustible materials.
Consider exterior mounted fire sprinklers to help protect the roof, walls and windows.

Install 1/8-inch metal mesh screening over all vents.
Install spark arrestors with metal 1/2-inch mesh screening at the outlet of all chimneys.
Prepare Your Business for Wildfire
Keep any fuel-powered fire protection pumps fueled and be sure to test them regularly.
Consider developing an inventory of equipment and contents. This can help in recovery efforts if the interior of your business is impacted.
Store important documents, data and an inventory of your property and furnishings in a safe location offsite or in a fire-rated safe.
Create an emergency contact list and a communication plan to keep in contact with essential personnel, employees, vendors and suppliers, as well as key customers.
Be sure to maintain accessibility around the building for fire department equipment.
Develop emergency shut down procedures. Determine timelines required to safely shut down production processes and equipment.
Develop and document a business continuity plan, which should include alternative arrangements for continuing critical operations.
Monitor local conditions in the event of a fire in the area and be prepared to evacuate early.
Wildfire Response
Create and Communicate Your Evacuation Plan
Given the rapidly changing nature of a wildfire, it is important to be prepared for a possible emergency evacuation. In addition to having a well-documented plan, be sure your plan is communicated with your employees well before a fire threatens your business. Your plan should outline where employees should go and what they should bring with them.
Other considerations should include:
Having several possible escape routes in case one or more are blocked.
Practicing your evacuation plan.
Accounting for all members of your workforce prior to, during and after evacuation to help facilitate a safe and complete evacuation.
Following disaster plan/emergency shut down procedures. This includes processes, equipment, machines, HVAC and other building systems.
Closing vents, windows, entry and shipping/receiving dock doors prior to evacuation, as well as making sure to shut off all sources of natural gas, propane or fuel oil supplies.
Wildfire Recovery
Know How to Proceed After A Fire
Read OSHA's Wildfire: Response/Recovery.
Other Considerations
Contact your local fire department, forestry office, emergency management office and building department for information about local fire laws, building codes and prevention measures. Obtain local building codes and weed abatement ordinances for structures built near wooded areas. Some jurisdictions have grants and other resources to help businesses reduce their wildfire risk and become better prepared.
More Prepare & Prevent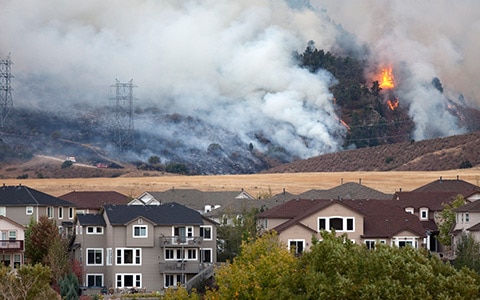 Learn how to help prepare for a wildfire including tips for before the fire starts, and as it approaches and passes.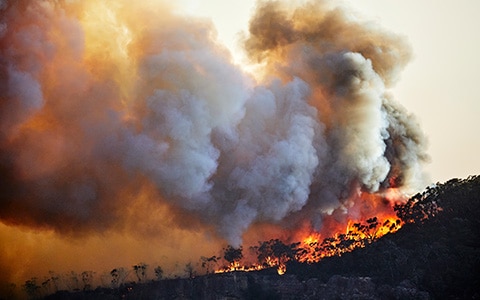 Here are some steps to help protect employees from poor air quality due to chemicals, gases and fine particles contained in smoke and ash from wildfires.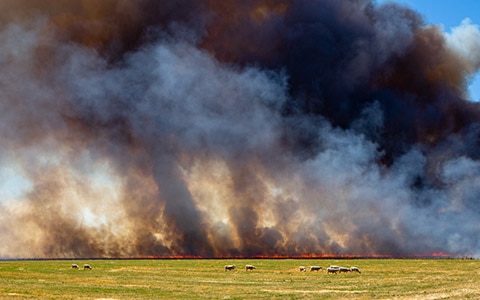 Agribusinesses should take steps to protect the property they've worked hard to build. Here's guidance on some things you can do to be better prepared.