Transportation Industry Insights: "More Miles, More Knowledge"
The transportation industry is continually evolving. Through "More Miles, More Knowledge," Travelers is dedicated to bringing you in-depth insights on topics to fuel your success in the transportation industry. From cargo theft trends to security best practices, have a listen and gather key takeaways on today's most challenging issues.
Episode #1: The Latest Trends in Cargo Theft
Guest Keith Lewis, Vice President of operations at CargoNet®, shares the numbers behind cargo theft trends and how the pandemic has impacted the types of goods thieves are targeting. As supply chain bottlenecks and other economic factors play a role in theft increases, learn about the preventive measures companies and drivers can take to recognize, prevent and report thefts. Discover which pockets of the country are seeing the highest spikes in incidents, as well as insights for tracking missing cargo.
(DESCRIPTION)
Image of red tractor trailer traveling on road.
Text: More Miles More Knowledge. Episode #1 The Latest Trends in Cargo Theft. Host Scott Cornell, Transportation Lead and Crime Specialist, Travelers. Guest Speaker Keith Lewis, Vice President of Operations, CargoNet.
Sound of truck horn and truck turning off.
(SPEECH)
SCOTT CORNELL: Hi, my name is Scott Cornell. I'm the National Transportation lead and crime and theft specialist for Travelers insurance and specifically the Inland Marine Division. Today, we're here with Keith Lewis, Vice President at CargoNet, for our inaugural recording of the Travelers, More Miles, More Knowledge podcast. This is exciting debut for us here at Travelers. Thanks for being part of it, Keith and for being a great partner with us. Our intention with this podcast is to go a little deeper on the transportation topics that matter most to you, our audience. So, if you're a trucking company owner, or intermediary, or any service in the transportation industry, this podcast is going to provide expert insight information for you that you can use in your day-to-day. Nice to have you here with us, Keith. Today we're going to talk about cargo theft. Talk to us a little bit first about what is CargoNet? What does CargoNet do?
KEITH LEWIS: Thank you, Scott, and thank you for having me. CargoNet is a division of Verisk Analytics. We track cargo theft. We take in theft data, we aggregate it, we provide reports, we provide theft prevention tips to our clients, and we provide investigative support to law enforcement.
SCOTT CORNELL: Great, so Keith let's talk a little bit about cargo theft in 2020 and 2021. We know that both years were years for the record books. And we're going to talk a little bit about that. And what CargoNet has been seeing in terms of theft trends in relation to the economic shifts. When we do that, let's just briefly go back and use 2008 and 2010 and the shifts we saw then as a comparison. So that we're explaining how every time we see major shifts like this, we see shifts in cargo thefts and some of the trends there. So, let's just start there briefly talking about that 2008 to 2010 period, and then relate it to what we saw in 2020 and 2021.
KEITH LEWIS: So, thanks Scott. 2008-2009 electronics lead the pack as far is the most common commodity stolen. Specifically, along the I-40 corridor. The industry did not have good security practices at the time. And the organized theft rings took advantage of that. Couple of things happened. The industry got their act together and the economy chugged. We had a hiccup in the economy which changed everything. We went from what I want, to what I need, and what I need turned out to be food, beverage, household supplies. Those type of things became critical. So, we saw them by 2010 to make that shift to food and beverage. And by 2010 we saw food and beverage jump in at that top commodity targeted and stolen and across the country and it stayed in that spot until 2020. We know that initially they moved to food and beverage for the need factor that you mentioned, but we saw them learn very quickly that, hey, this is a great commodity to target. It is perishable, it disappears, the evidence is consumed, or its spoils quickly, and then we can just toss it out or dispose of it. We can move it pretty easily. So, we saw them stick with that commodity all the way through 2020. And that was related to that economic shift that we saw in 2008 to 2010.
SCOTT CORNELL: So, let's fast forward to 2020 now. And again, we see another economic shift. And what did CargoNet see in 2020?
KEITH LEWIS: Scott, 2020 end of first quarter, beginning of second quarter, we saw the push go to household goods versus electronics and other supplies. Items like household cleaners, masks, other PPE types of supplies, gloves, ventilators became a hot commodity to steal. And that's carried on throughout the year and even up to this point of this year.
SCOTT CORNELL: And so, if we use the cardinal rule that you and I always talk about, which is organized, cargo rings are going to steal what they know they can sell. One of the things we saw in 2020 was people spending more time at home, right? And so, when we see that shift to household goods, it makes sense, right? We heard all the stories about people having to create offices in their home, space for their children to attend Zoom classrooms, things like that. And so, it makes sense. It goes back to the same type of thing that we saw with the food beverage switch in 2010. So now we saw that shift in 2020 and I know some of it was significant in the second quarter, right. And I think the second quarter over 60 percent, but for the year it was 29% total increase in 2020 over 2019, right?
KEITH LEWIS: Correct.
SCOTT CORNELL: So now we move into 2021, and what is CargoNet seeing numbers wise or shift wise in 2021, the first three quarters?
KEITH LEWIS: So, we saw the household goods taper off and now we're starting to see electronics pick up. And one of the problems is now is with the logjam at the ports, both Savannah and California. We're starting to see thefts in that area increased quite a bit. Savannah, Georgia, we're seeing food, mostly seafood type products, frozen. Coming in from the port, California, it's electronics. Again, it's a pull system. It's what the consumer wants, is what the bad guys will steal.
SCOTT CORNELL: And when you talk about California, Long Beach, and the port of Savannah, let's talk a little bit about some of the shifts we see around the geography of cargo theft too because in 2020, we saw a significant geographic shift in cargo theft that we hadn't seen for as long as I can remember. And you and I had talked about it immediately after those numbers came in. So, let's talk about how Texas jumped into the number one spot over California.
KEITH LEWIS: Sure, Texas jumped up significantly, and it's not just Texas jumped up and California stayed the same. Texas went to 232 thefts, California went to 222. So, a really significant increase where the prior year, California was 145, in Texas was 74. So, we just saw just an unbelievable increase in Texas.
SCOTT CORNELL: So, when we talk about the top six areas of the country for cargo theft which tend to be California, Texas, Florida, Georgia and New Jersey, Illinois and then Memphis. And they'll jostle around but, for as long as you and I have known each other for as long as I can remember, California has been in that number one spot. So, it was a significant shift to see Texas take that number one spot, but what are some of the things that drove that change?
KEITH LEWIS: Again, if you're looking at what stolen its household goods, again. And you're looking at a huge state with a huge population. Again, it gets back to a pull type system. And, Texas has so many big cities, and if you look at the Texas map, you're going to see the thefts all over the maps in the big cities. Where, if you look at, say, another state, you're going to see them almost pinpoint to a certain area. The Dallas area is the hottest spot on the map. There's a distribution network there. You've got a port state. Right. So, you've got a lot coming in. There are so many different things that are stolen there. Building materials is a big thing in Texas right after a storm. But again, this year it's been household.
SCOTT CORNELL: All very interesting information stuff that we talked about on a pretty consistent basis, waiting for more shifts and see how 2021 pans out. I do think in 2020 we saw the bigger shifts, or the bigger jumps in numbers in the beginning of the year and in 2021, it seemed like 2021 started off a little bit slower and then is starting to heat up a little bit more as we come in to the third quarter and potentially end of the fourth quarter. I know that 2021 is down compared to 2020, but it's still higher than 2019. And I'm curious to see how far off 2021 will be from 2020. What are your thoughts around that?
KEITH LEWIS: I think we're going to start to see again, it's going to be higher than in 2019. We're seeing a reduction right now. Thefts are down this year. Our big electronics month was June, July, August, and we saw that organized crime ring operating out of California. But the trends that we see come from the pull of what the consumer will buy. So whatever selling at the retail stores, that's what the hot commodity is going to be in the bad guy supply chain as well.
SCOTT CORNELL: So, let's move then into when we see jumps like what we're seeing in southern California or what we saw in Texas, let's talk about what can drivers and companies do to prevent cargo theft in the first place? How can they work to keep the horse in the barn rather than have to chase the horse once it's out of the barn, so to speak?
KEITH LEWIS: It's a lot of small things that the companies and the drivers can do. If you're using the data that CargoNet supplies, you can see that on my route and using our product called Route Score, you can see that if I'm going from A to B, these are the hotspots along the route. In one good example is that if I've got six hours to drive, but if I drive those six hours, it's going to take me right in the center of that hotspot. Maybe I want to drive 5.5 hours and stop 40 miles prior to that red zone and take my break there versus drive right into the middle. Yeah, it's a half-hour, it's 40 more miles. But if it saves someone's stealing my freight, or even more important, sometimes drivers get involved and get hurt. It protects my safety as well. Just a few small deterrents, three to five minutes, it will send a thief somewhere else or send them home for the night. Park in front of a pole, park in front of a building, back up to another trailer. Park with the trailer facing the roadway, not facing the back of the parking lot. So, there's a lot of little things that companies and drivers can work together as a team to pre-plan the routes and use the data to prevent cargo theft.
SCOTT CORNELL: Exactly, and I think the information part of it that you mentioned is critical. Our Special Investigations Group that is unique to Travelers works 24/7/365 to respond when our clients have a theft and then we'll go out and they will try and recover the stolen cargo. And they've recovered tens of millions of dollars of stolen goods for our clients over the years. And I know especially over the last couple years, CargoNet and our team work together on that recovery aspect. But, when we talk about the prevention part of it, our team stresses a lot of the same things that your team does and that information part of it is critical. Knowing where the thefts occur and where they're occurring today, not in 2018, or what we commonly see, right. And I go back to the earlier conversation. It was always common that California was the number one spot. While in 2020, if you weren't looking at the 2020 numbers, you may not have understood how significant the jump was in Texas and that you really needed to take more precautions, if not the same precautions in Texas that you would in California, which generally, were across the country anyway. But we talk about that later. We talk with our clients about good process and procedures and that knowing the topic is part of that good process and procedures. And then we'll talk about introducing hard locking devices, you know high security rear door locks that match up with things like you said. Where are you parking it? Are you parking against something so doors can't be opened? But if you have that high security rear door loc that's effective and keeping those two rear doors married and you can't find something to back up, at least you have that in place. If you're carrying a perishable commodity, like food and beverage or things like that we talked about earlier, having a good seal lock on there to protect the seal because as we've discussed in the past, if you have a broken seal on a perishable load you're going to have an issue, right? And so, taking that layered approach, that information, some hard locking devices and then we talked about covert tracking and I don't want to get too detailed in covert tracking, but maybe then covert tracking is a good enhancement to those other two first steps in the prevention cycle.
KEITH LEWIS: Sure. So, I agree with you, it's a multi-layered approach. There's not one thing that is Stand-alone that you mentioned that's going to prevent cargo theft. So, if you take the half dozen or so that you mentioned, you execute on 50% of those, you'd stand a good chance of not being a victim of cargo theft.
SCOTT CORNELL: Exactly. So, while we're on cargo theft and we've talked about the prevention part of it can you share any insights on tracking missing cargo? Again, I mentioned our team that works to recover cargo. We know your team works to recover stolen cargo and sometimes we end up working together, which is great. But a lot of this comes down to knowledge and experience, right? We know as an example, from years of doing this how certain cargo was going to move. We know that if a load of tires this is stolen in the Memphis area. It's probably going to head down to the Miami area or it's probably going to head down to Florida. If something is stolen in Georgia, mostly depending on the commodity, but most often we see those loads also had down into that Florida area. If it's stolen and Illinois, it tends to stay in that area or maybe you'll get put on the rail, you know, kinda move back into the supply chain. Talk a little bit about tracking cargo and how experience and knowledge come into play on that.
KEITH LEWIS: Well, you mentioned something important is you one thing you want to do is you want to recover that cargo before it gets reintroduced into the supply chain as a legitimate commodity. Because once it's commingled with other goods, it's going to be very difficult to make a criminal case – much less recover the product. So, you know, we look at these, you and I've been doing this forever. And you've got excellent investigators in your SIG group. And I've got three world-class analysts. And we can look at these thefts and by the MO, by how it was stolen, when it was stolen, time of day, what they did, did they bring their own tractor, et cetera. Did they get the covert device out and throw it on the ground? We pretty much know which theft ring it was. And especially working with some of your folks in California, we know where the empty trailer is going to wind up. So, we do a breadcrumb trail back to where the stolen goods are going to be in. The next thing you know, we've got a recovery. So, law enforcement network is critical. We've got a law enforcement footprint of tens of thousands of law enforcement officers in our network that we're partnered with. And that first 24 hours is the most important. If we can all get together, whether it's your SIG group, us in law enforcement working together, or if it's a situation where there's no boots on the ground working with law enforcement because we can't get somebody there quick, at least get that information out and get the ball rolling on an investigation and get law enforcement interested in going the case.
SCOTT CORNELL: Right. And timely reporting is key you brought that up and that's critical. We know that after the first 24 hours, the industry standard, you know, talking point is that the chances to recover that load probably dropped about 40 to 50 percent after that first 24 hours. So as quickly as you can report it as quickly as you can gather the information and when you report it, have the information. Right, we talk about this all the time. Truck number, trailer number, commodity, any copies of bills of lading, invoices, things like that. Where did that come from? And how far away from the pick-up point were you? All that information is critical in that first 24-hour report.
KEITH LEWIS: Absolutely. And so many times I see a theft report a month, two months after its stolen. And, you're basically just taking in data to put in the system -- the chances of recovery are so, so slim that law enforcement, it's not going to put an effort into chasing a cold case, especially when it's involving property.
SCOTT CORNELL: So, what's next? Based on your experience, what do you think is going to happen in the future? We've talked about this in the past. I do think eventually, in my opinion, that food and beverage is going to come back into that number one spot. But it might not be until the end of 2022, early 2023.
But in general, what are your thoughts, what we're going to see in the future?
KEITH LEWIS: If you look at the history, if you look at the data of the past, it predicts what's going to happen in the future. So, what we're seeing now is kind of an anomaly. And things will even out and go back to what we saw prior years. And it gets back to needs versus wants Right now, the economy's going great. If we do see a downturn in the economy, not saying we will, but if we see one, we'll get back to needs versus wants. And I see in 2022, beginning of 2023, food and beverage coming back and taken the number one spot again.
SCOTT CORNELL: You can't predict that a 100 percent, neither one of us can, but a lot of things come into play with that too, right? What is the next shortage going to be? Is there going to be a next shortage? There might not be another next shortage. Everything might level out and get back to normal. And then we see that shift that you and I are talking about back to food and beverage. But if there are other shortages that can change. What we're going to see in that number one commodity as well as make changes in the geographic part of it as well.
KEITH LEWIS: These are unpredictable times that we're living in right now. So, we just have to sit back and be spectators and protect our cargo as best we can.
SCOTT CORNELL: The last thing I'll mention is that prior to 2020, we had been hosting a California cargo theft summit with CargoNet for a couple years. It's been extremely successful, great attendance, great speakers, a lot of great industry participation. We went to a virtual format for that in 2020. Still went very well. Attendance was excellent on the virtual part of it. But in 2021, we just postponed and are moving it to early in 2022. So, we'll be back on track for that in-person in Southern California for the Annual Cargo Theft Summit, probably around May of 2022. And, we invite everybody to attend that -- great networking. You can meet a lot of resources and a lot of people there that are willing to help out and share knowledge. So, I think we've learned a lot about trends and cargo theft. Always great to talk with you Keith. Thanks for joining us today on our first More Miles, More Knowledge podcast.
KEITH LEWIS: Thank you so much.
(DESCRIPTION)
Sound of truck horn and truck pulling away.
Travelers on Freightwaves Podcast
Travelers has recently contributed to the Freightwaves "What the Truck" podcast series to share insights on topics ranging from choosing the right insurance carrier to commonly overlooked coverages to trends in cargo theft.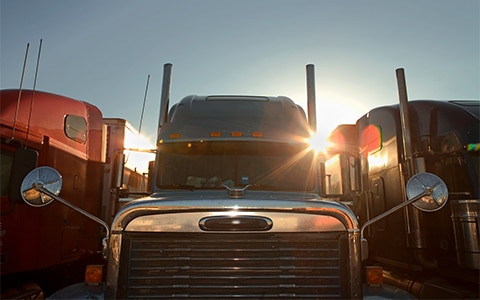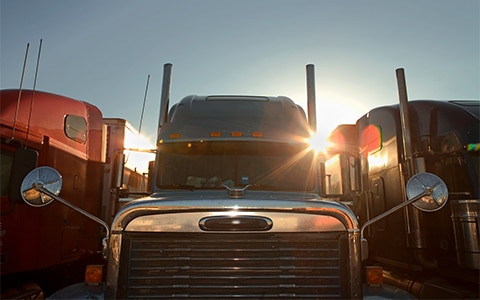 More Prepare & Prevent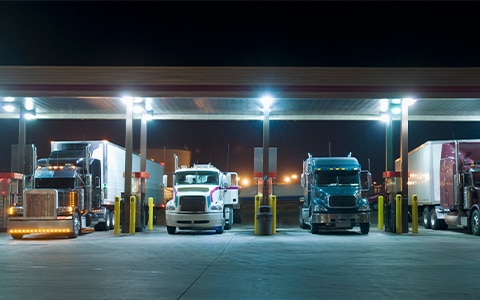 Gain insight into where and when your cargo is most at risk for pilferage and seal breaks. Get the facts on events reported for the first half of 2020 with this infographic.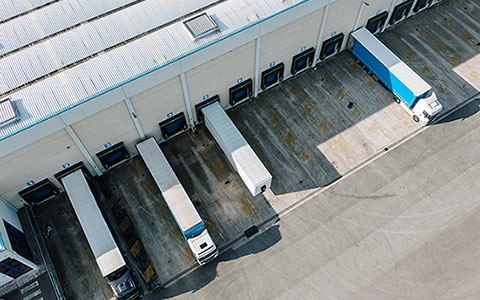 Freight brokers may face unique liability risks as compared with trucking companies. Learn how they can protect their domestic operations from liability claims that may not be covered by traditional cargo insurance policies.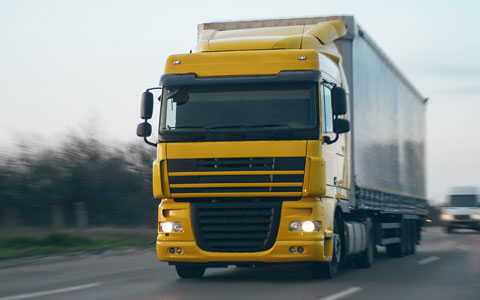 Cargo theft comes in many forms, from fictitious pickups to misdirected loads. Learn cargo theft types and tips for cargo theft prevention.
Related Products & Solutions
As a leader in insuring commercial vehicles, Travelers provides a broad range of affordable commercial insurance coverages to auto and transportation industries:
Protection for a business' property that is mobile in nature or requires unique valuation for the construction, transportation, fine art and renewable energy industries.
Northland, a division of Travelers, has been providing industry-leading products and services at competitive prices to trucking business for over 70 years.
Travelers commercial auto & trucking insurance offers quality products to protect your business on the road.