Transportation Resources
Protecting your cargo and your business is our business. Travelers is dedicated to helping freight brokers, fleet operators and logistics firms reduce preventable losses and costs through our products, vendor alliances and claim processing. We use our transportation experience and science to assist companies with security best practices, proper securement techniques for loading and handling, theft prevention, and road safety issues.
Travelers on Freightwaves
Freightwaves is the leading provider of trucking news, media, and analytics for truckers, intermodal, and logistic operators.
Travelers has recently contributed to the Freightwaves "What the Truck" Podcast series to share insights on topics ranging from choosing the right insurance carrier to commonly overlook coverages to trends in cargo theft. Give each a listen.
Podcast #1: What to look for when selecting a cargo insurance carrier
Hear from Scott Cornell, National Transportation Practice Lead at Travelers who is also one of one of the nation's foremost cargo theft experts, as he talks about the key considerations for selecting a cargo insurance carrier—including commonly overlooked items.
Aired: 6/22/20
Paid Content
[Dooner] All right, we're going to dial up Scott Cornell right now. He is a Crime and Transportation Business Lead at Travelers Insurance. Crime and Transportation Theft Lead. Is this Scott? This is Dooner and The Dude on What the Truck. What's up man?
[Scott Cornell] Hey, how are you? Thanks for having me.

[Dooner] Oh yeah, thanks for joining us on the air. I love your title there. Crime and Transportation Business Lead. Crime and Theft Specialist. How much crime and theft is there in the supply chain, in the unit that you oversee?
[Scott Cornell] Well, across the supply chain there's a decent amount of cargo theft. And right now, as an example, cargo theft is up pretty well. So different times of the year are busier for cargo theft than others, but it's something that a lot of people don't think about, but it's definitely there.

[Mike Vincent] Yeah. Hey Scott, Mike Vincent here thanks for joining us today. An interesting subject, being in the business for 33 years on the actual side of moving freight, and not here at Freightways, but we always said, "If you don't think you got a theft problem, then you've got a major theft problem. If you think you've got a theft problem, then you've got a theft problem." Right? It just keeps going. But, so ...

[Scott Cornell] That's a good way of saying that, yeah.
[Mike Vincent] Yeah. It's amazing. It's amazing. So what are some of the things... So give us a little background on what you do there. What are some of the things when people should be selecting their cargo insurance carrier, exactly what are you doing there kind of a background.
[Scott Cornell] Yeah, so I lead transportation for Travelers in the marine. I've been with Travelers for just under 20 years, and then prior to taking over to lead transportation, I led the cargo theft investigation group that we'll talk a little bit about today. So I think when you're selecting your cargo insurance carrier, there's a few basic questions you should ask yourself. How long have they been doing this? And are they really a cargo insurance carrier? Meaning, is this really what they do? If they're new to the market, they may not have the expertise or the ability that really supports you in the way an experienced carrier can. They may not have all the resources that you need, but they offer specialization in this space.
[Scott Cornell] I think specialization is important. I think it's tremendously valuable, especially when something goes wrong and even before. Because it means that they tend to understand the differing needs and the requirements that your organization has, based specifically on what you do. A good example of that would be a reefer hauler or someone shipping food is really going to care about potential contamination issues. So things like temperature controls and seal integrity are going to be critical.

[Dooner] Yes.

[Scott Cornell] Go ahead.

[Dooner] Steve Ferrera, just real quick in the comments, he was just kind of building upon an earlier point. He said, "Ocean freight cargo theft is the easiest to pull off. With advanced public data, any sophisticated theft ring can rig the system."
[Scott Cornell] Yeah, so there's a couple different types of cargo theft. One's called strategic theft, one is called straight theft. The strategic theft is when they really manipulate the information. They pretend to be somebody that they're not, they insert themselves into the arrangement of the deal and they trick people into giving them the cargo. So yeah, that can be pretty tricky.

[Mike Vincent] Yeah.

[Dooner] Is there something that's commonly overlooked or not thought about when shopping for a coverage? Sometimes people tend to block out... I mean, my dad was a lifelong insurance guy. He did marine cargo insurance back in the day. And he said one of the things about selling insurance, getting people to use insurance is that people don't like to focus on what can happen to shipments or the negativity that can happen, but it's not really something you want to gamble with is it?

[Scott Cornell] It's not, I think it's important. I think... Claims is where the rubber meets the road, right? A lot of people say that. Do they have a dedicated claim team? Is their claim team dedicated to transportation? Here at Travelers, our claim team's fully dedicated to cargo. They do that full time every day. What type of coverage are you being offered? Is it in a system? To me it's essential you have a simple, easy-to-read form. Right? So you can understand when you're covered and when you're not. A legal liability form, as an example, tends to be a little easier to understand and really should offer protection for instances where you assume a contractual risk, whereas named peril form really must include specific perils that you're likely to encounter in order for there to be coverage.
[Scott Cornell] So when you're looking for a carrier, we want them to understand the specific roles that you play or that your business plays in the supply chain. So are you a carrier, a broker, a freight forwarder, or another part of the supply chain? Brokers, for example, might not think to ask is there a contingent coverage available beyond their primary coverage? This type of coverage can be very important and not only at the time of the loss, but to help preserve relationships with shippers. And then we touched earlier on a reefer hauler as an example, may not think to ask is there coverage for mechanical breakdowns or driver error and temperature control settings. And sometimes these can be commonly excluded perils. So you have to think about, to your comment, whether or not those things are going to be there for you. You're going to have those coverages and those resources when bad things happen.

[Dooner] Steve Ferrera, in our comments, he has a question for you. He says, "Is marine cargo insurance less expensive when a client can prove to travelers or similar that they, the BCO, has opted out from the public manifest reporting system.

[Scott Cornell] I think something like that's not really going to come directly into play. I think you're going to... As an insurance care, if you're doing your homework, you're going to look at each account as a totality, you're going to look at it on its own merits, and you're going to decide based on what they do every day in totality the proper pricing and the proper considerations.

[Mike Vincent] Interesting. And going through the different coverage and the riders and that type of stuff, and you have special considerations. Is there additional considerations beyond what you spoke about that people need to be talking about or looking into in their coverages?

[Scott Cornell] Definitely. I think we need to look beyond just the coverage form. Right? So I always say you look for a partner that's going to help you before you have a loss. Most people, when they think of insurance, they think about the loss or the day they have a loss. Do they have services that are going to help you identify or anticipate risk or prevent losses? As an example, Travelers, we have on-site and virtual risk control consultation to our risk control team. We have a mobile app called Risk Toolworks for customers, and it contains tools, guides, resources. We have a customer portal that offers training tools and learning sites with over a thousand risk management resources. Is a claim team going to be available when you need them. 24/7. 365. Our claim team here at travelers is available 24/7, 365.

[Scott Cornell] We also offer, which you touched on right at the beginning, we have a special investigations group that's dedicated to cargo theft recovery for our clients. So we have 10 investigators across the country that respond to cargo theft 24/7, 365 for our clients. And just since 2011, they've recovered more than 65 million in stolen goods for our clients. Now that's an exciting number to talk about and it's a great job that they do, but they work with our clients before those losses happen and try and teach them about cargo theft and how to prevent themselves from becoming a victim of cargo theft. So what is a partner doing for you before you have the loss?

[Dooner] What's going to tell... Because exclusions are... Your coverage is a great thing, but another big aspect of that is your exclusions as well. So what's going to tell someone that they made the right choice, they have the right coverage, that they're filling all the gaps.

[Scott Cornell] Yeah. I think... We touched a little bit on that. I think you want to make sure you partnered with somebody who's trying to help you prevent losses in the first place. Are they really working with you so that you don't have that bad day? Eventually you're probably going to have a bad day it's going to happen. You kind of touched on that at the beginning, but when you do have that bad day, how was your experience at that time? Did they make it easier for you? Did your insurance company make it easier for you or did they make it more complicated?

[Scott Cornell] Think of insurance as an investment, not necessarily as an expense. It's easy to think about just the coverage form, but think about what are you getting beyond that coverage form. It shouldn't be just all about price. Do a lot of research, do a lot of due diligence, research whether or not that coverage form is going to respond to the contractual obligations that you're making. We always tell carriers, you should have a process in place to really review the contracts you're committing to and your coverage form and how are the two going to mix, right?

[Dooner] Yeah, no, I mean, insurance is very resource heavy. People need to learn and get educated on this thing. Where would you send them after this? Where can they go on travelers to learn more information?

[Scott Cornell] Travelers.com.

[Dooner] It's that easy. So super simple.

[Scott Cornell] It's that easy.

[Dooner] Oh, wait. Before we let you go, I don't know if you've ever met Steve Ferrera, he's an ocean consultant and this topic is fascinating him. He's had about 12 questions, but one is about cargo blackmail. Are there situations where a theft ring offers to point you where the goods are, similar to like ransomware? But actually with like physical cargo.

[Scott Cornell] So we really haven't seen too much of that and I'm not going to say it never happens. There are some times where a bad actor will go AWOL with the cargo or we'll try and do that. We haven't seen that so much in the last couple of years, I would say three, maybe four years ago, there was a spike in that type of thing where somebody would hold the cargo and they would basically say, "Hey, you wire me this amount of money" or things like that, "We can tell you where the cargo is." And that's kind of faded out that specific method of cargo theft really comes and goes. It spikes up and then it disappears, you don't hear about it for a year or two and then it comes back, and then it's around for a short period of time.

[Dooner] Wow. Well, hey Scott, thank you for your time today. Thank you for answering all our questions, including those from the comments. We really appreciate it.
Podcast #2: Key insurance coverages for transportation companies
Listen in to gain key insights from Scott Cornell, Transportation Practice Leader as he shares recommendations for critical coverages for freight brokers, motor carriers, and warehouses.
Learn how Travelers is uniquely positioned to help transportation companies with industry-leading broad cargo coverages, unmatched dedication, carrier vetting, claim management and risk control. Aired: 7/13/20
Paid Content
[Dooner] Let's dial up Scott Cornell. He's a Transportation Lead and Crime and Theft Specialist at Travelers Insurance. He's over in Peoria, Arizona, but I think he may also be on vacation. So, let's dial him up and [crosstalk 00:00:10] see what's going on.
[Mike Vincent] All right, and see [crosstalk 00:00:11] how where he's vacationing.
[Dooner] Hey
[Scott Cornell] Scott Cornell.
[Dooner] Hey. Scott Cornell, you are on What the Truck with Dooner and The Dude. When we spoke to you a few weeks ago, you mentioned a bunch of additional key insurance and transportation coverages. But it's also our understanding you are on vacation, so thank you for taking this time out of your free time to talk with us on the show.

[Scott Cornell] Oh no, I'm happy to be on. Thanks for having us again.

[Dooner] Cool, man. Well, when we ask about additional key coverage, let's get into some insurance here. Is there a catch-all for everyone, or are there specific coverages, coverages specific to different roles that companies play in the supply chain?

[Scott Cornell] There're different liabilities for different roles, for sure. Whether it's freight broker, motor carriers to warehousemen, the different liability standards inform key coverage considerations for each member of the supply chain. So this is why when we spoke last, I mentioned it's key to work with an insurance carrier that understands your role in the supply chain and specializes and really understands the key differences.

[Mike Vincent] Excellent. Can we dig into those a little bit? What are the key cargo considerations or cargo coverage considerations for trucking specifically? Asset-based trucking?

[Scott Cornell] Trucking itself can be... Sure, so trucking itself can be specialized. There're several different types of trucking. Dry vans, flatbeds and reefer for example. Reefer haulers or dry van haulers handling food might be more concerned about transit temperature and equipment breakdown, broken seals, issues like that. Wording on coverage forms varies, and then the forms vary from company to company. So, how an insurer treats these perils or exposures to a loss can really vary dramatically. Some companies may exclude certain perils, they can sub-limit them, they can impose higher deductibles or even add other terms and conditions. And other companies might provide full limits for these perils and exposures, so you really have to do your homework on that.

[Dooner] What about from the broker's perspective? What key coverage considerations should they be having?

[Scott Cornell] Brokers are different too. With respect to cargo, freight broker legal liability standards differ from those that are applied to motor carriers. Freight brokers by their very nature don't touch the freight, so their exposure is tied to operating procedures. Contractual risk transfer, and the quality of carrier betting practices. So as an example, we talked about my background in cargo theft. So as an example, a carrier or a broker if they're vetting the carrier might have a higher likelihood of hiring a thief, because the thieves will pose as a legitimate trucking company. And without a solid contractual review process, a freight broker could be exposed to liabilities that are not always covered under their policy.

[Mike Vincent] Understood. So I imagine with warehousing, it's a lot like... Like you said, there's different specialized warehousing as there is in trucking. Can you enlighten us on some of that?

[Scott Cornell] Again for warehousing, there're considerations for both dry and cold storage as an example. With cold storage, much similar to what we just talked about with reefer haulers. The significant concern is exposure to contamination and changes in temperature. In contrast, there might be greater concerns with dry storage over inventory shortage or shrinkage. For both cold and dry storage, the defense or litigation costs associated with a suit following a loss could be a big financial exposure. How an insurer's form responds to that exposure? In other words, do defense costs erode the limit, or are they outside of the limit of insurance, should all be taken into consideration.

[Dooner] Wow. So what services does Travelers offer to help its customers, in addition to all those different types of coverage?

[Scott Cornell] Again here at Travelers, we specialize very much in transportation. The traveler special investigation group, our SIG group would help with that carrier vetting so that a broker would not have as much likelihood of hiring a bad guy. Our experienced and dedicated claim team can help explain how our coverage would respond in comparison to a customer's contractual commitments. Having a knowledgeable claim team is important for these conflict topics. And lastly, our risk control specialists add another layer of expertise. They understand the specificity and the concerns of each role in the supply chain, and they'll work with our customers to help them best manage their risk depending on the role they play in the supply chain.

[Dooner] Well there's a lot to take in there. I imagine someone should go to a site like Travelers.com maybe to get more information. Where should we send them after this interview?

[Scott Cornell] Travelers.com for sure.

[Dooner] Ah, see? It's that easy?

[Mike Vincent] There you go.

[Dooner] We've mentioned multiple things. You can be calling from that 3PO perspective, you could be calling as a warehouse manager, you could be calling as a trucking company. Is there someone specific one from each group should go to, or would that main line take them exactly where they need to be?

[Scott Cornell] No, that website will give them contact information. They can always look me up on there, or even on social media. LinkedIn, or contact me directly. I can put them in touch with somebody. If they go to their local agent, most likely that's the direction they go. Is they go to their agent who's handling their insurance, and their agent can bring them to us.

[Dooner] Wow. Hey Scott, sounds good, thank you so much for joining us today.

[Scott Cornell] Hey, thanks for having us again.
Special Investigations Group
Our Special Investigations Group is dedicated to theft protection and recovery, guiding clients through the adoption of procedures that harden their operations against criminal activity and assisting law enforcement on the recovery of stolen goods.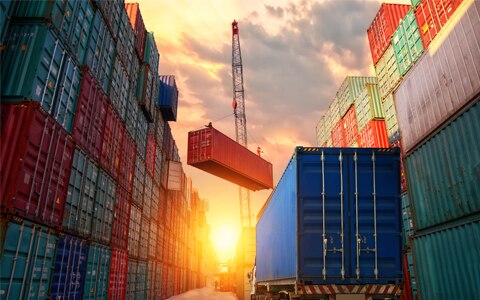 Read about the milestones that the Travelers Special Investigations Group has achieved in the past 15 years.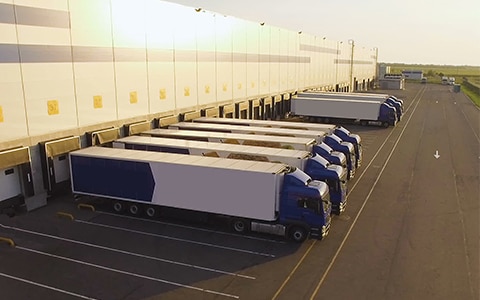 A new business model in the freight broker industry brings new risks as well as opportunities.