5 Smart Home Automation Safety Tips [Video]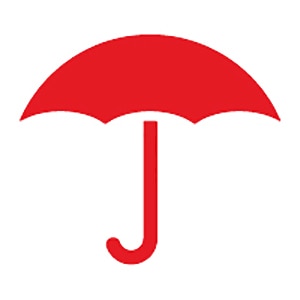 (DESCRIPTION)
This content is brought to you by Travelers. Logo, Travelers, text with the Travelers red
umbrella. Text, Protecting Your Home with Smart Technology. Animation, a car drives away
from a house.
(SPEECH)
SPEAKER: Smart technology devices can help provide protection and security for homeowners
in a variety of ways.
(DESCRIPTION)
Graphics of locks appear on the house, on the windows, front door and garage. A cross section
of the house with a basement and two floors above ground.
(SPEECH)
Some common smart tech devices include: smart leak detectors, which can monitor the flow of
water in your pipes to help you identify a leak.
(DESCRIPTION)
Split screen. On the left, water flows through a pipe in the basement. On the right, a hand holds
a smartphone with lines that move around circles, and a bar graph. which changes to an
exclamation point with the text, Leak Detected, and a flashing bar that says "Call Professional."
(SPEECH)
Smart smoke detectors, which work like traditional smoke detectors, but can also send an alert
directly to your phone so you're notified of an emergency even if away from home.
(DESCRIPTION)
Split screen. On the left, smoke rises from a washing machine and goes to a smoke detector.
and circles emanate from the detector. On the right, a hand holds a smartphone that says,
Smoke Detected, Laundry Room, with a flashing exclamation point.
(SPEECH)
Smart home security devices, which may include smart door locks, cameras, or doorbells, all of
which can help you to monitor different areas of your home when you're not there.
(DESCRIPTION)
The devices appear and move to the areas mentioned.
(SPEECH)
It's important for all smart technology devices to be installed properly. So, if you're unsure,
always consult a professional.
(DESCRIPTION)
A hand holds a phone that dials a contractor.
(SPEECH)
Talk to your Travelers representative or independent agent today.
(DESCRIPTION)
Logo, Travelers, a red umbrella on a white background. Text, Visit travelers.com. The Travelers
Indemnity Company. All rights reserved. Travelers and the Travelers Umbrella logo are
registered trademarks of the Travelers Indemnity Company in the U.S. and other countries.
Smart home automation technology can offer homeowners peace of mind, convenience and efficiency, making it possible to automate systems and equipment ranging from home security to thermostats. With a smartphone acting as a control center, homeowners can remotely monitor video cameras, lock or unlock doors, turn on lights or automatically shut off the water to their home if a leak is detected.
A recent study found that 69% of consumers will own a "smart" in-home device by 2019.1 As this technology gets integrated into more homes, the potential exists for a variety of home security vulnerabilities and concerns. With so many possibilities, there are a number of decisions to make. Following are some important home automation safety considerations.
1. Which Features Matter Most?
Many consumers seek out specific solutions (e.g., remotely turning on lights), which can lead to a number of gadgets that do not communicate. Choosing them on an individual basis could leave a homeowner with a dozen different apps and ways to control their home.
There are two general types of home automation options: service provider solutions, which may come with monthly fees, and individual smart products, such as smart TVs and thermostats. Individual devices can be connected by a smart home automation hub, but it is important to select a hub that supports all of the devices that you wish to control.
2. Smart Sensors Protect the Home
Smart home devices can help homeowners manage their risk by enabling remote monitoring, alerts and control of a home's systems that, if they were to fail and go unnoticed, could result in costly consequences.
Smart thermostats can provide alerts if a home loses power or if the temperature in the home falls below or rises above a set threshold.
Water sensors can detect unwanted water in the home, alerting the owner to potential leaks near washing machines, dishwashers, water heaters and other areas.

Smoke, heat and carbon monoxide detectors that can interface with a central hub or mobile apps are available. This provides remote monitoring and control capabilities beyond the classic alarm system.
3. Smart Security Systems
Smart locks remotely control and monitor home entry.
Smart light bulbs remotely control or program lights when you are away, in order to make a home appear occupied.
Smart motion lights and exterior lighting allow for remote programming and monitoring.
Connected security cameras monitor a home, while connected motion sensors can provide alerts.
Smart doorbell alerts monitor activity at the front door and allows homeowners to remotely view and/or photograph visitors.

Smart garage door delivers alerts when the door is left open and allows a homeowner to close it remotely.
4. Understand Privacy Policies
With the Internet of Things monitoring, sharing and potentially selling consumer data, some smart coffee makers, dishwashers and thermostats now come with privacy policies. Without strong privacy laws, it is up to the consumer to read agreements for each individual device. It is important to be comfortable with how data from smart home devices are used and shared.
5. Secure Your Network
It is also important to secure devices to help protect against hackers and other intrusions.
Safety and security features can vary widely by manufacturer and by individual product. Before buying, evaluate each smart device for potential safety and security issues.
Devices that are hard-wired to the Internet rather than those that rely on a Wi-Fi connection tend to be more secure. If a device is linked through a wireless network, activate all security features to protect against interception of signals and make sure the device issues an alert if it loses the connection.
Remember that

 

passwords are the first line of defense

 

and be sure to create a strong password for each smart device. Be aware that many devices ship with the same default passwords, or none at all.
More Prepare & Prevent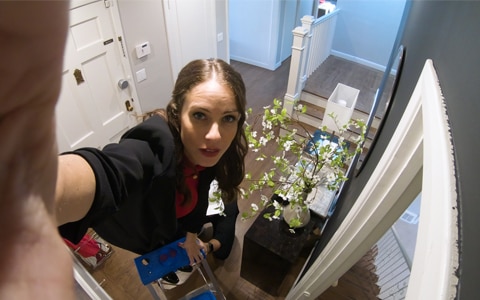 Join tech expert, Stephanie Duchaine, at the CNET Smart Home® in San Francisco to see how we used smart tech to meet one family's high-traffic, front door challenge.
Paid content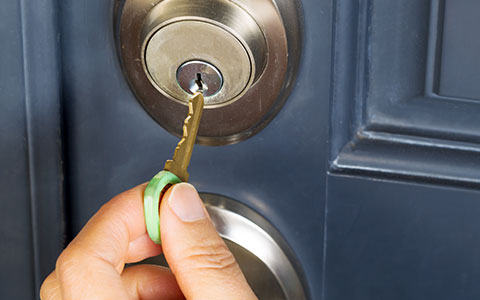 Protect your home from theft and damage while you are away on vacation.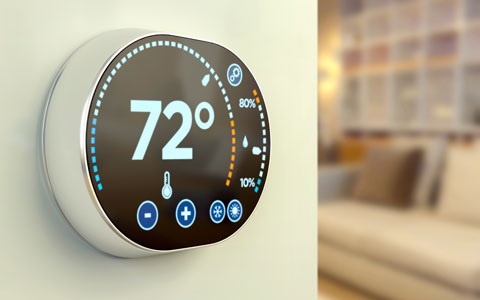 A smart thermostat can help you heat and cool your home more efficiently, monitor your energy consumption and let you control your home's heating and AC systems from your smartphone.