Umbrella Insurance 101
Umbrella insurance is an insurance policy that provides additional coverage after primary liability coverage limits are exhausted. It helps protect your business against extremely large losses from covered accidents. It is sometimes referred to as excess liability insurance, since that's exactly what it is – it protects your assets if you're sued for damages in excess of your primary policies' liability limits.1
What Does Umbrella Insurance Cover?
Umbrella insurance is extra liability coverage beyond the limits of your other liability policies. Businesses may have a higher liability risk because they offer products or services to customers – so protecting yourself and your business is essential to keeping things running smoothly in the event of an unforeseen circumstance. In addition to the standard insurance coverages by business owners, like property insurance, workers compensation, auto insurance and more, Umbrella insurance can offer extra protection above and beyond the limits of these standard policies to keep your assets safe.
Do I Need Umbrella Insurance?
Umbrella insurance is recommended for business owners because businesses face risks of being sued, whether by employees, customers or even by other businesses. Generally speaking, anyone who owns property, has significant assets or engages in any type of behavior that generates risk (i.e., running a business) should strongly consider Umbrella insurance. Just one hefty lawsuit can impact your current assets and your future earning potential. If you're sued for a significant amount of money and found liable, and you don't have enough liability insurance coverage to cover the cost, you may be responsible for the amount over and above your liability policy.
How Do I Buy Umbrella Insurance?
You can usually purchase an Umbrella policy from the same insurance company that your other business policy(s) were purchased through. Insurance companies often require you to hold your primary insurance coverage with them in order to add an Umbrella insurance policy. You should also expect to maintain certain limits of liability for your primary liability coverage in order to add the extra coverage provided with an Umbrella policy.
What Determines My Umbrella Insurance Cost?
The cost is largely determined by the policy limit you select and the specific risks facing your type of business. Coverage levels typically start at $1 million and can go well beyond, depending on your needs.
How Much Coverage Do I Need?
Deciding how much extra liability coverage you need will depend on several factors, and an experienced independent insurance agent can help you decide what you need.
How Risky Is Your Business? A business that produces a controversial product, engages in advice or consultation or one that has a hazardous work environment for employees (think manufacturing, or a business in which employees frequently operate motor vehicles) is likely at a higher risk of being sued for claims of liability. These types of activities provide good reason for purchasing an Umbrella policy.
How Valuable Is Your Business Property? Take a look at all that your business owns – including real property, equipment, furniture and other possessions. Generally, the higher the value, the higher the Umbrella policy limits you need in order to protect your finances, and you should at least have enough insurance to replace your net worth.
How Would Loss of Future Income Impact You? It's important to consider that a significant lawsuit could cost you more than your current assets. It could threaten your potential future income, too. Factor this in when deciding how much coverage you need on your Umbrella policy.
Does It Cover All of My Legal Risks?
While an Umbrella insurance policy can protect you in case a liability claim exceeds your primary policies coverage, it does not exempt you from all legal risk. Umbrella policies generally cover liability that stems from business activities and business property that are covered by your primary policies. Things like uninsured motorists, flood damage and certain instances of property damage may not be covered, so it's important to discuss what is and isn't covered with your insurance agent when deciding on Umbrella policy coverage.
More Insights & Expertise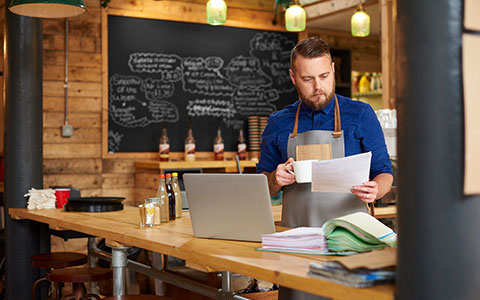 Having trouble understanding your small business insurance policy? Here is a list of terms to help.
Does your business have employees? You might be required to have workers comp insurance. See how this coverage protects you and your employees.
There are many factors to consider when operating your own business, including the importance of having property insurance. Here's what you need to know.