Golf Courses & Golf Facilities Property and Safety Trends
Approximately 13,000 golf cart-related accidents send people to the emergency room annually.1 In addition, 33% of accidents at golf courses are related to slips, trips and falls.2 With amenities and activities extending beyond the greens, golf courses face a wide variety of risks. 
Preparation and keeping an eye on emerging threats and an ever changing environment is key to success on and off the course. Travelers engages the PGA TOUR® to explore golf courses & golf facilities emerging risks and trends.

Preparing for the Travelers Championship
When you're building a large city in a place where nothing existed before, you really need to evaluate the experience from when people come in through the front gate to the time they leave.  From logistics, to coordination, to infrastructure, we explore what it takes to prepare for a successful Travelers Championship event.

Shell Houston Open
PGA TOUR® employees talk about Golf Club of Houston's preparation for the Shell Houston Open. From getting the cut right and the greens to speed to monitoring high pressure systems and northern winds – being prepared is foundational to a successful tournament.

Travelers offers coverage for golf shops, range operations, par 3's and executive courses. Our Eagle 3SM program, endorsed by the PGA TOUR® offers specific coverages for public golf courses, semi-private and private golf facilities.

Who is this right for?
Golf shops
Golf range operations
Par 3's
Executive courses
Public Golf Courses
Semi-private and private golf facilities 
Lighting and staging companies

Insights & Expertise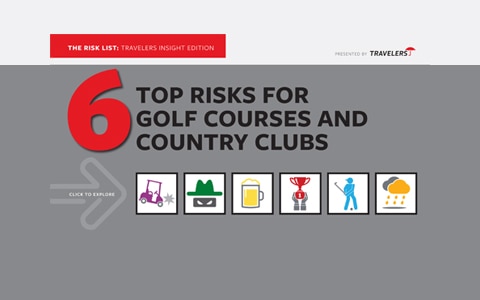 We explore Top Risks for Golf Courses and Country Clubs and offer Quick Tips and things to consider to help navigate these risks.
In an effort to continue to provide the safest and most enjoyable environment for our spectators and guests, the link above is a new golf cart safety video that the PGA TOUR has made for its events.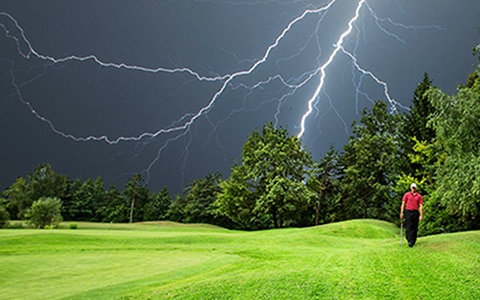 As many golfers and other outdoors enthusiasts can attest, thunderstorms can often strike with little to no warning, especially during the warmer months of the year.
1 2010 Insurance Journal
2 2016 Travelers Risk Control Report