How to Help Avoid Water Damage in Your Kitchen
(MUSIC)
(DESCRIPTION)
Dishwasher running in kitchen. Woman grabs her purse and car keys off the counter and leaves.
TEXT: 70% of home owners report leaving home with the dishwasher on*
*Source: Nov. 2022 Travelers Independent Survey of US Homeowners
(DESCRIPTION)
Close up of water seeping out of bottom of dishwasher.
TEXT: A lot can go wrong when you're out
(DESCRIPTION)
Travelers logo
TEXT: Leave it off. Go have fun.
COME HOME HAPPY.
Find more ways to protect your home at travelers.com/water
The Travelers Indemnity Company and its property casualty affiliates. One Tower Square, Hartford, CT 06183
© 2022 The Travelers Indemnity Company. All rights reserved. Travelers and the Travelers Umbrella logo are registered trademarks of The Travelers Indemnity Company in the U.S. and other countries.
The kitchen is known as the heart of the home. It's often where we gather with family and friends to cook, eat, talk and spend time together. It can also be a frequent source of home water damage. And if your kitchen is out of commission due to necessary repairs, it could put life on hold.
Unfortunately, water disasters originating within the home happen more than you may think. According to Travelers claim data, 23% of home damages are caused by non-weather water incidents.** These claims can be expensive too, potentially reaching $10,000 or more.1
This means water damage in your kitchen may significantly impact your day-to-day life and your finances. But you can help avoid it by understanding where kitchen leaks come from, the types of water damage that can happen and the extent of loss it may cause. 
Common Sources of Kitchen Water Damage
The main sources of water damage in the kitchen are your sink, refrigerator and dishwasher.  Each of these have water supply lines that can leak, crack or corrode. In addition, dishwashers and sinks have drain lines that could fail, potentially leading to water damage under cabinets, in the floors below or in adjacent rooms.
This is why consistent checkups and any necessary repairs or replacement of your kitchen appliances and plumbing is key. Your homeowners insurance is typically designed to cover water damage situations that were unforeseen and fast-moving. It may not cover some damages that resulted from lack of maintenance or those that were known but not promptly addressed. Speak with your insurance agent to learn more.
Types of Water Damage That Can Happen in Your Kitchen
Large-scale water events in the kitchen can be caused by minor unchecked plumbing issues that turned into major problems. A kitchen leak may also spread in multiple directions and destroy other house components, areas and items such as:
Flooring and furnishings.
Cabinets and cabinet items.
Kitchen island.
Appliances and electrical outlets.
Molding and trim.
Walls and ceilings.
Adjacent rooms.
Lower floors (including a finished basement).
Kitchen Water Damage Can Be Extensive and Expensive
Water in the home doesn't typically have the same life-threatening impact of a fire, but it can cause similar devastation to your house. And there may be large costs associated with the restoration. Though the cost of repairs can easily reach over $10,000, it could be even higher depending on how much damage occurred.
Beyond the water damage itself, you may also experience a significant disruption to your home life. It's possible your home could be made uninhabitable, in which case you and your family would need to relocate until the house is repaired and restored.
One thing to remember is that all of this can transpire while simply doing normal daily activities. Here's an example:
When Running Errands Leads to Running Water
Before going out to run some errands, you start your dishwasher and leave the house. You'll only be gone a little while, so you feel it's ok. Unfortunately, the water supply line fails and begins to leak at a high pressure. The water spreads across the kitchen floor—which is hardwood—then it migrates to other rooms and soaks the carpeting. Eventually, it flows down into your finished basement as well.
Even though you've only been away a few hours, you come home to a mess. You now need to replace destroyed flooring, furniture, basement ceilings, personal belongings and more. On top of this, you'll need to hire a restoration company to make sure your house dries completely to help prevent additional complications. What started as a short trip has become a long, expensive home repair journey. 
While these types of events take place in many homes, they don't have to. The good news is scenarios like this can potentially be averted with some basic knowledge, actions and preparation.
Ways to Help Avoid Water Damage in Your Kitchen
Here are some ways you and the members of your household can help avoid water-related incidents before they occur.
Regular inspections. Inspect (or ask your plumber to inspect) all water supply lines in your kitchen for cracks or leaks on a regular basis. Additionally, make sure supply lines aren't crimped and that there are no signs of current or past leaking under kitchen appliances. You can also ask your plumber to pull your dishwasher or fridge out in order to inspect their supply lines.

In the area surrounding pipes and plumbing, pay attention to signs of corrosion, cracking, hazing, discoloration, mineral deposits, and dripping or flowing water. And, check supply lines and fittings around areas with plumbing.


Shut-off valve. To help mitigate further damage when a leak has already happened, make sure everyone in the household knows where the main water shut-off valve is located. Having a plan in place can help your family know what to do during a water-related emergency and act quickly.

If everyone in the household will be away for a long time, consider turning off the water supply with the shut-off valve. You may want to consult with a heating professional first to help ensure this won't compromise other systems in your home. For houses protected by a fire sprinkler system, keep the water supply to this system on.


Water sensors. Water sensors are designed to alert you—via a loud alarm or smartphone alert—to the presence of water in areas where it shouldn't be. Good locations to place water sensors include areas near your sink, dishwasher and refrigerator (especially those with ice makers and water dispensers).

A "smart" Wi-Fi-enabled water sensor can notify you through your smartphone, which may be handy when you're away. Some smart sensors can even send alerts to relatives or friends, letting them know there's a leak.

You can find water sensors and their control modules in home improvement stores or online. Some of these devices work multiple times, while others need to be replaced after one use. If you're not comfortable installing these devices yourself, you can contact a plumber or contractor for proper installation.
Additional Steps to Help Protect Your Home
If the kitchen is the heart of the home, then water damage prevention is essential to your home's health. Being prepared is a great way to help protect against a disaster or stop it from getting worse.
But even with the most proactive steps, water accidents in the home may still occur. That's why it's important to have homeowners insurance, which is designed to help cover the costs of water-related losses.
To discover more about safeguarding your house with homeowners insurance, contact your local independent agent, get a quote, or speak with a Travelers representative today.
More Prepare & Prevent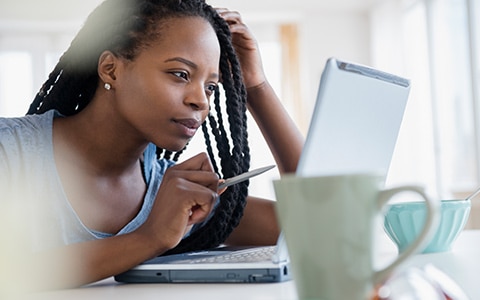 Here's an overview of what's typically included in a homeowners policy, and other things to consider based on where you live and what you own.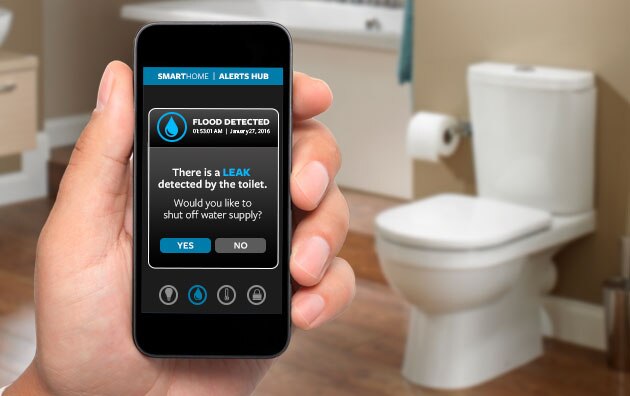 Learn how water sensors work and where to place them in your home with these tips.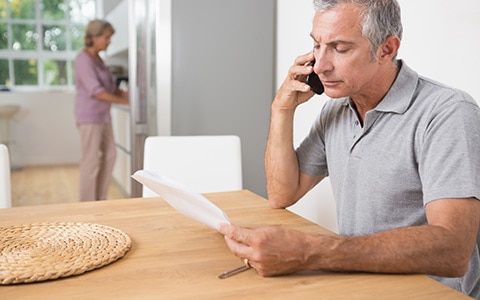 Owning a home can mean dealing with the unexpected. Knowing how the home insurance claim process works can help give you peace of mind.