Ocean Marine Cargo Insurance
Damage to cargo is a common occurrence and can halt business operations. Annual worldwide ocean cargo losses have exceeded $2.4 billion each year from 2007 to 2014.1 Damage can be due to rough handling, weather, improper loading or even atmospheric conditions. In 2014, 68% of the ocean cargo claims we saw were due to physical and water damage.2
If you are buying or selling goods overseas, it's important to have the right insurance company helping to protect your interests. Travelers provides insurance solutions for importers, exporters, manufacturers, commodities traders and freight forwarders. We aim to simplify the process and help guide business owners through the complex and often confusing process of importing and exporting.
Cargo Elite®
Provides automatic, all-risk* coverage for international shipments of new merchandise transported by sea. Additional coverages automatically provided include concealed damage, shortage from container, control of damaged goods and consolidation.
Cargo Elite Express®
Available for businesses with up to $20 million of annual international shipments.  Like Cargo Elite, Cargo Elite Express offers all risk* coverage. Cargo Elite Express also offers flat annual premiums and no reporting of shipments or sales.
Custom Cargo Coverage
Coverage tailored for cargo with unique shipping requirements such as chemicals, food products and pharmaceuticals.
*subject to certain exclusions and limitation
Who is this right for?
Importers
Exporters
Manufacturers
Commodities Traders
Freight Forwarders

Find an Agent
Need an Agent?
Get the personal service and attention that an agent provides.
Find a local agent in your area:
Related Products & Solutions
For marine contractors who perform a wide variety of jobs when engaging in commercial and residential construction on and around the waterfront.
For companies that provide marine services on or around the waterfront, such as ship repairers, terminal operators, boat manufacturers, marinas and more.
For maritime transportation businesses operating tugs and barges, crew/supply boats, excursion vessels, ferries and more.
Travelers understands the challenges and nuances of the waterfront and has a portfolio of insurance solutions to meet your needs.
Travelers Inland Marine provides protection for a business' property that is mobile in nature or requires unique valuation.
Insights & Expertise
Help protect your business with this 5-minute test to identify weaknesses in your supply chain.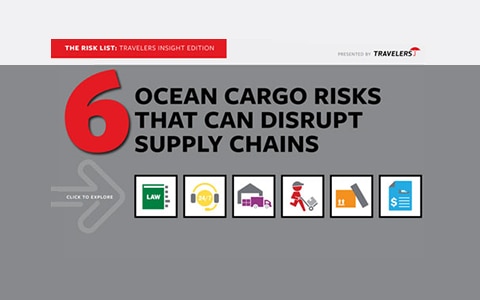 Understanding the risks that could threaten a supply chain is critical for a business that ships internationally.
Related Services
Our skillfully trained investigators help deliver optimal claim outcomes for our customers by actively pursuing avenues of recovery 24 hours a day, 365 days a year for all cargo and other specialty losses.
Our knowledgeable Claim professionals will respond to your needs with speed, compassion, integrity and professionalism. It's our business to help keep you in business.
We have one of the largest Risk Control departments in the industry, and our scale allows us to apply the right resource at the right time to meet customer needs.