5 Opportunities for U.S. Offshore Wind Development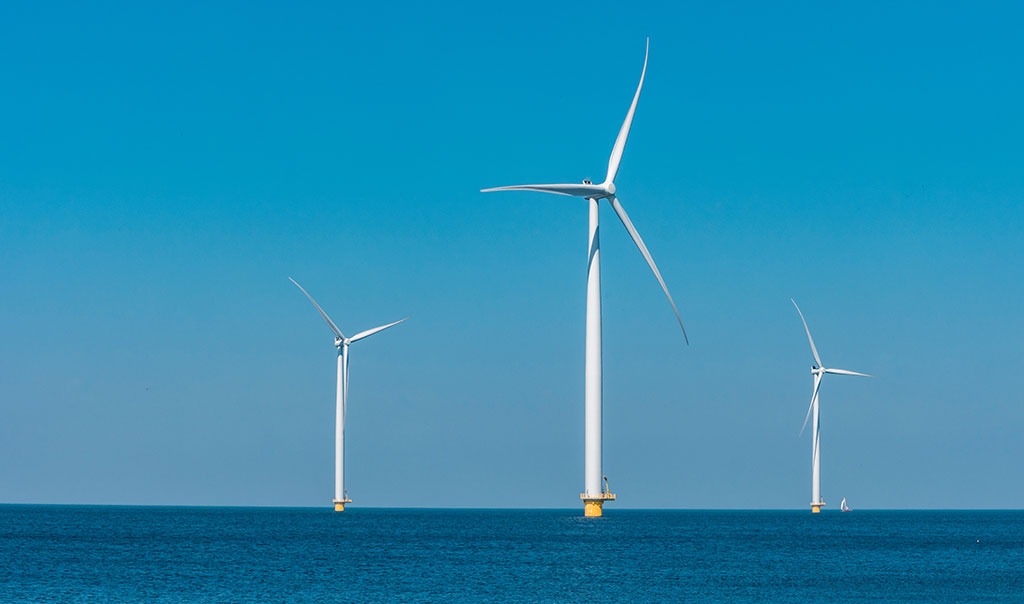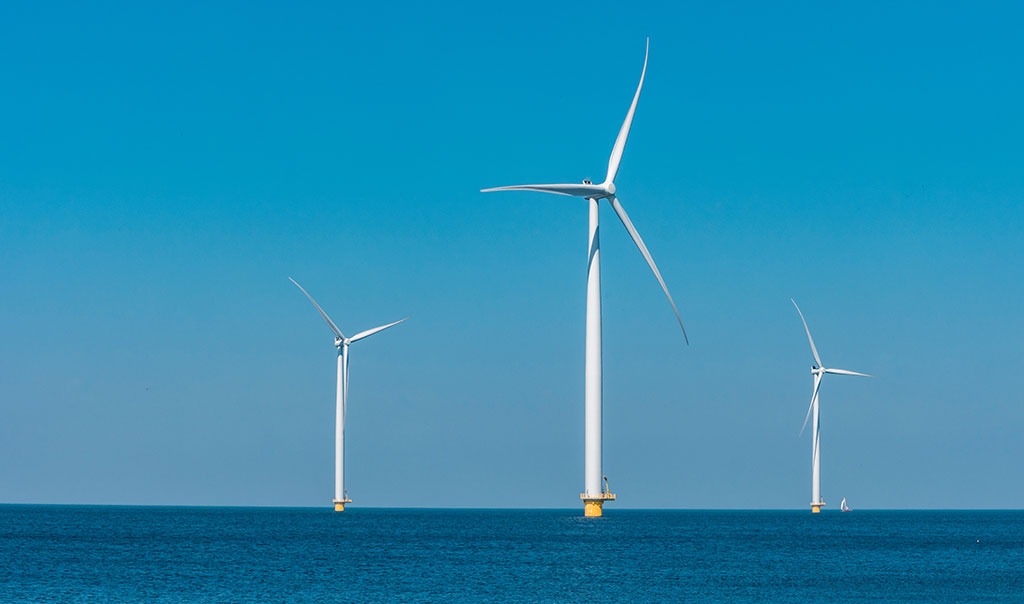 Increasingly affordable wind energy, rising demand and promising development sites along Atlantic sea beds are all driving growth for offshore wind in the United States. An estimated $7.4 trillion will be invested in new renewable energy plants between now and 2040.1
"The eastern seaboard of the United States is the next frontier for development and investment," said Jonny Allen, a Travelers Offshore Renewable Energy underwriting professional who worked with wind farm developers, investors, owners and operators during the renewables boom in Europe and the North Sea. While Europe is focused on expanding existing wind operations across the continent and moving them further out to sea, the U.S. is in the "first-in-country" stage of development.
That stage of a renewable energy pipeline can bring challenges, including a learning curve with new technology and distinct geographic risks. But, rather than seeking to repeat European processes, it also presents U.S. developers with opportunities for upstream cross-skilling, leveraging supply chains from related industries and innovation, according to Allen.
That drive to innovate is one of the things that Allen enjoys most, as he shifts his focus to domestic developments. "That's why the renewable industry is so exciting and my job is so interesting," Allen said. "We're evolving to mirror the industry as it grows." Customers will want an insurer who understands the technology innovations, efficiency changes and how to best insure them.
Offshore Wind Opportunities for the U.S. Market
Here are five opportunities for offshore wind development in the U.S.:
Leverage Existing Skills in Local Labor Force. Finding access to skilled labor can be a challenge for developers ramping up offshore wind development in a new location. Local developers tend to lack technical experience in offshore wind construction in the United States, while international developers may lack knowledge of local working practices. Cross-skilling, or tapping into talent in a related industry such as upstream oil and gas, which is known for staffing up and down during various market cycles, can be a way to leverage existing skills.

"The U.S. has a long history of power-generating industries," Allen said. "Rather than replicating European processes, developers in the U.S. can focus on improving work practices here."
   
Tap into Adjacent Industries to Build Supply Chains. Offshore wind developers will be looking for suppliers and building a supply chain, including exploring how assets will be transported to build and maintain offshore wind installations. As they work to bring the first projects online, developers are laying the foundation for an essentially new industry in the U.S., and just as talent can be found in adjacent industries, so can potential suppliers.

"There's already a well-established onshore wind turbine industry in the U.S.," Allen said. "Upstream suppliers, fabricators and designers are well-suited to offshore wind." Turbine foundation technology and supply present opportunities for potential crossover. Developers can work with suppliers in ocean marine and manufacturing to modify materials for offshore wind applications based on unique site considerations.
    
Reduce Interface Risk with Dedicated, Local Vessels. Wind developers will need to navigate local regulatory and geographic considerations. Certain vessels in Europe might not be allowed in the U.S., for example. There may be companies looking for alternative revenue streams that make offshore wind an attractive industry. "That provides massive opportunities for the construction and maintenance of U.S. vessels," Allen said, adding that other players, including shipbuilders and port authorities, will invest in the industry as it develops.

"Successful projects typically involve the least amount of interface risk," Allen said. "They take a robust but simple approach to vessel provision." In other words, they have a straightforward charter that specifies which vessel will be used, within weather windows, with a backup vessel identified. "That's better than multiple vessels in different campaigns, where you need to do a lot of interface management and manage weather windows," Allen said. That adds a layer of complexity that also adds a lot more risk."
   
Adapt to Emerging Technology and Equipment. The sheer size of energy-generating assets is accelerating. Turbine manufacturers are significantly increasing the size of their turbines, for example, which has many implications for wind farms. "Developers need to build stronger foundations, construct towers, source long-enough blades and transport them to project sites," Allen said. "Once installed, they need to be equipped to operate and repair a fleet where the average turbine size has doubled from just a few years ago."

While the industry is growing increasingly complex, Allen advocates for straightforward solutions to manage it. "If you can find a way to move tons of steel offshore more efficiently and safely, you can also lower risk," Allen said. Developers can also manage risks by putting strong contractual risk transfer programs in place, similar to the oil and gas industry, to protect them from exposures from work performed by other parties. "By de-risking the way you build and operate, often you will reduce cost at the same time."
    
Understand Co-Insured Renewable Energy Insurance Considerations. The market for renewable energy has shifted, according to Allen. "Insurance policies have had to change and be updated exponentially to meet customers' needs," Allen said. "Developers have fewer options and that can mean that some choices are unproved, untried and untested," Allen said. "Developers will want to work with underwriters who welcome that change and enjoy the challenge of meeting customers' needs through different products and solutions."

As the size of renewable projects has increased, some installations represent billions of dollars in value with hundreds of millions of dollars of revenue. As a result, most offshore wind policies will be co-insured, Allen said, so companies will need to ensure that their coverage is complete. Only a small number of insurers have the track records, expertise and risk engineering in place to be recommended by customers and brokers as having what it takes to lead a project.
Working with Travelers on Renewable Energy
Travelers has a long history in the energy industry, deep experience with technology, and a thorough understanding of the risks of the market. Our constant presence in the industry and expertise can provide important continuity for renewable energy companies, year over year, as they develop and grow their business. "We're actively trying to help customers manage risks," Allen said. "Carriers who don't understand risks, and that experience a lot of losses might not be in the space for long."
A customer is typically looking for two things in their lead insurer when purchasing a co-insured renewables policy, according to Allen. "First, do they have the ability to lead projects and attract quality follow markets? And second, are they skilled at resolving offshore wind losses?" These can be complicated claims involving lots of different parties, and Travelers has a high quality and fair claims process that helps customers resolve issues quickly. "To have a leader that can not only provide good service but who has experience with claims, and the ability to make that process go smoothly – that's probably what customers care about the most."
With a background in power generation, construction and offshore wind, Travelers has experience delivering solutions for a broad variety of applications. Customers get access to insights gathered from diverse types of developers, projects, technology, layouts, different financing structures, contracting parties and a range of insurance types. "We can translate that experience and help customers avoid some of the common mistakes we have seen in the industry," Allen said.
Having the proper coverage can help protect developers during the construction and operation of their renewable energy projects. Working with Travelers and your insurance agent can help developers, investors, owners and distributors understand and manage their global renewable energy business from these and other offshore wind risks.
Learn more about protecting your business with Energy & Renewable Insurance.
More Prepare & Prevent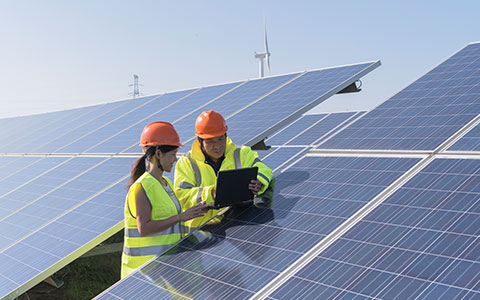 As the power grid grows and becomes more integrated, it has become a bigger target for cybercrime. Here are some ways to protect solar and wind installations from cyber risks.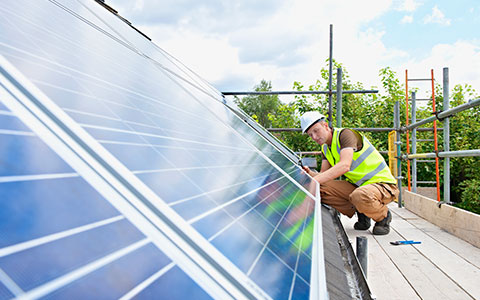 As rooftop solar installations age, operations and maintenance is increasingly important. Here are some ways to protect your solar installation investment.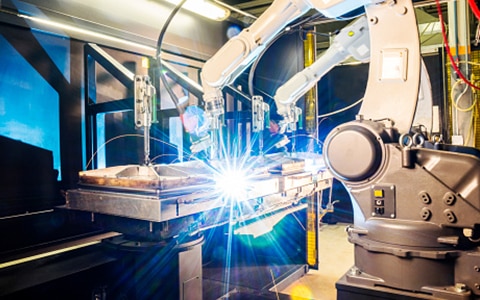 Learn how emerging technology is impacting equipment breakdown, and five ways companies can prepare to be more resilient.