How to Prevent Leaks and Water Damage in the Bathroom [Video]
This video was produced by This Old House and sponsored by Travelers.
(SPEECH)
[MUSIC PLAYING]

(DESCRIPTION)
Text, This Old House, Helping Prevent Leaks and Losses, sponsored by Travelers

(SPEECH)
RICHARD TRETHEWEY: Hello all. I am Richard Trethewey from Ask This Old House and This Old House. I've been the plumbing and heating expert since the beginning. And that's a fairly long time. It is my pleasure today to speak with Kevin Arpin. He Is a forensic engineer with the Travelers Insurance Company. Hello, Kevin. How are you today?

KEVIN ARPIN: Good, Richard. How are you?

RICHARD TRETHEWEY: Good. Where are we talking to you today? Where are you?

KEVIN ARPIN: I am at the Travelers Forensic Lab in Windsor, Connecticut. And here we've got a bunch of smart engineers and scientists who investigate the root cause of failures that result in insurance claims. So essentially what we're doing is we're trying to figure out why things fail, how things fail. And we try to use that knowledge and that insight to help our customers prevent future failures.

RICHARD TRETHEWEY: So I imagine a lot of the damage is going to be from water. And let's start with the bathroom as it's got to be a source of plenty of loss.

KEVIN ARPIN: Yeah. In the homes, there's a lot of things going on in the bathroom that can cause water damage.

RICHARD TRETHEWEY: But where would you start?

KEVIN ARPIN: I would start with all your supply lines. So these are going to be found underneath your sink. They connect your home plumbing system to your faucet, to your toilet, and--

RICHARD TRETHEWEY: And they always used to be chrome-plated brass and it was flexible. And more and more it's being used with a stainless steel flexible stuff is what you find now in the home center everywhere.

KEVIN ARPIN: Yeah. It's going to look like this. It's these braided stainless steel supply lines. They're easy to install. And they have very good abrasion resistance. So that means they're very hard to cut or puncture. That's why they're popular. But even though it's stainless steel, they can actually corrode. And we do see that a lot.

RICHARD TRETHEWEY: People don't realize inside it's actually a rubber or a plastic liner. It's stainless only on the outside to protect the outer side.

KEVIN ARPIN: That's right. So when these do corrode, you'll see some brown spots and rust on the outside. Then you'll see these braids. They'll start to actually break. And after a while, that inner hose that you were talking about, it can't support the water pressure, and it bursts and your home turns into Niagara Falls.

RICHARD TRETHEWEY: What else should you be thinking about?

KEVIN ARPIN: I think we've got to talk about toilets, Richard.

RICHARD TRETHEWEY: OK.

KEVIN ARPIN: You got one behind you?

RICHARD TRETHEWEY: I do. This is not our friend. People don't realize that the toilet-- this is the inner workings of it. But it's made out of china. China is a delicate material that can crack and break. So this china bowl mounts down to a flange like this that sits at the floor level. So now there are bolts. And if these bolts are loose and the toilet can rock, or the floor has been broken. Well, I don't have to tell you, Kevin. Listen to me telling you. You can snap that corner of that toilet off. And then you've got the bowl leaking down onto the back. And the tank itself is actually made out of china, too. You got to be careful there.

KEVIN ARPIN: Inside the toilet too, there's the flush mechanism. These are made of different plastics, different polymers, and they don't last forever, Richard. You've got to keep your eye on these things, be proactive about replacing them.

RICHARD TRETHEWEY: So what's the overriding advice you would give to a homeowner? Here's all this stuff, what action steps should they take?

KEVIN ARPIN: You're in the bathroom all the time. Just take a quick peek at these lines. Take a quick peek at your toilet. If anything doesn't look right, maybe investigate a little bit further or consult with a licensed plumber to help you out. And then two, be proactive. If you see something it doesn't look right, try to address it, try to fix it, try to work with the plumber to get it fixed before it causes major damage to your home.

RICHARD TRETHEWEY: Kevin, are you suggesting that people shouldn't procrastinate?

KEVIN ARPIN: Yeah. No procrastination on plumbing systems and components. That's right.

RICHARD TRETHEWEY: Thanks for your good work. We'll catch you again.

KEVIN ARPIN: Thank you.

[MUSIC PLAYING]

(DESCRIPTION)
Travelers, Learn more at Travelers.com slash water
From toilets and tubs to faucets and your plumbing system, bathrooms can be a big source of potential water damage in your home. Watch Travelers Forensic Engineer Kevin Arpin with This Old House plumbing and HVAC expert Richard Trethewey to learn how you can be proactive in helping prevent bathroom water damage.


The views and opinions expressed in this video regarding products featured or other information are not necessarily Travelers' views. Third-party names and trademarks referenced in this video are the property of their respective owners. Neither Travelers' sponsorship of the video nor reference to third-party names, trademarks or products is intended as, and does not imply, sponsorship, approval or endorsement of the products, statements or other information contained in the video.
More Prepare & Prevent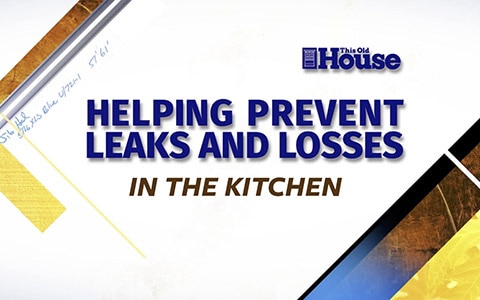 Appliances, sinks & plumbing systems can be potential sources of water damage in your kitchen. Learn how to be proactive in preventing kitchen water damage.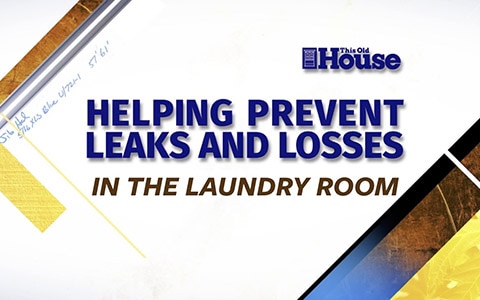 Your washing machine and water lines are also potential sources of water damage at home. Travelers forensic engineer Kevin Arpin helps explain how to help prevent such incidents.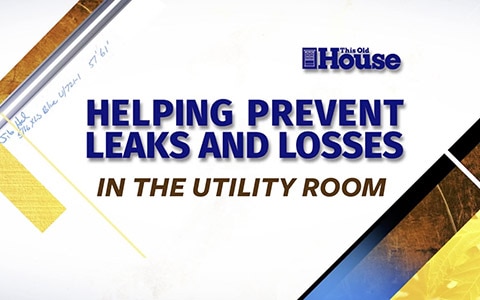 Learn how to turn off your main water valve and other proactive steps that can help prevent water damage in your utility room.