How Do I Help Keep My Employees Safe in the Workplace?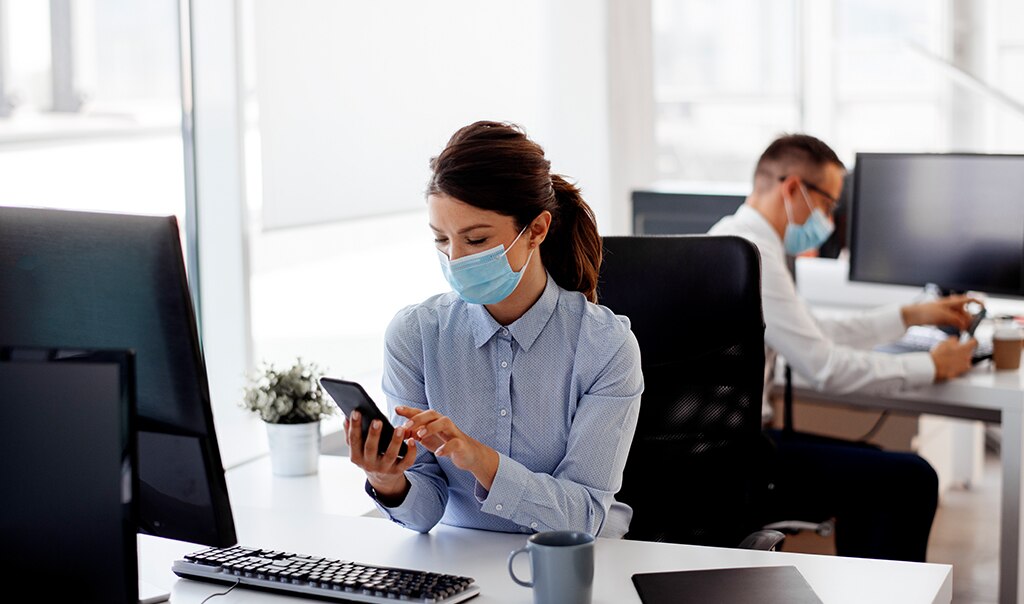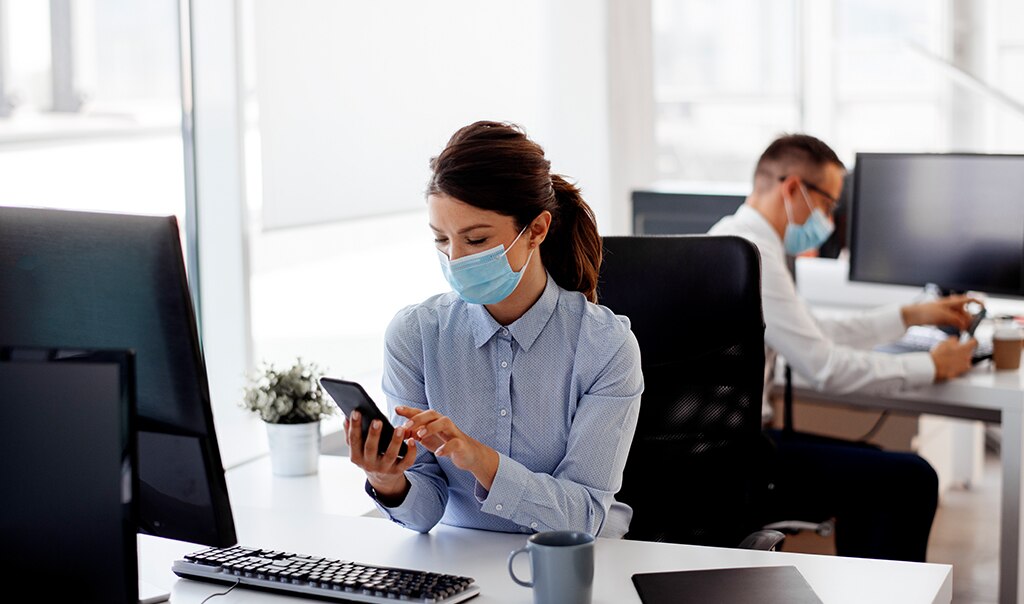 The COVID-19 pandemic is presenting business owners and managers with unique challenges to helping to keep workers safe and healthy.
While continuing to follow regular business, industry and government guidelines and regulations, businesses have to add another level of protection during the pandemic crisis.
Tip: Stay up to date on the additional requirements by following the COVID-19 safety information on:
Both the CDC and OSHA stress the importance of providing employees with a safe workplace by working to limit their risk of exposure to the SARS-CoV-2 virus, commonly known as coronavirus, which causes COVID-19.
Here's what you need to know to help keep the people who work for you safe and healthy:
Returning to Work After COVID-19 Exposure
Employees who are sick should not be allowed in the workplace. But when should you allow employees suspected or confirmed to have COVID-19 to come back to work?
The CDC provides guidance on this issue and outlines two approaches that businesses can take to determine when workers can return to work after either they (1) exhibited symptoms related to COVID-19 but cannot be tested, or (2) have been tested and have been diagnosed with COVID-19. However, businesses should review state and local guidelines and requirements, which may have more stringent criteria. Develop your employee return-to-work plan in accordance with applicable jurisdictional requirements.
The CDC provides that if an employee cannot be tested for COVID-19, they may be permitted to return to the workplace if:
They've had no fever for at least 72 hours. The employee must be free of fever for three full days without using any fever-reducing medicines.
Respiratory symptoms have significantly improved. Symptoms such as a cough, lung congestion or shortness of breath must be reduced or eliminated.
At least 14 days have passed since symptoms first appeared. A 14-day self-isolation period may be helpful in limiting the spread of the virus.
If an employee has been tested for COVID-19, they should confirm they are able to meet the following requirements before they are permitted to return to the workplace:
The employee has received two negative tests in a row, at least 24 hours apart. The tests must be administered by a medical professional following CDC guidelines.
The employee no longer has a fever. They should not have a fever without using medicines that reduce fevers.
Respiratory symptoms have significantly improved. Symptoms such as a cough, lung congestion or shortness of breath must be reduced or eliminated.
Ensuring that employees who have been ill or exhibited COVID-19 symptoms meet the recommended CDC criteria may help in limiting the spread of the virus to co-workers or customers.
Note: Certain industries, especially healthcare, may have additional requirements before people can return to the workplace. Be sure to confirm with CDC or state health guidance.
Use Cleaners and Disinfectants for COVID-19
The CDC advises that using the right type of cleaning and disinfecting products can help kill and reduce the risk of transmission of the SARS-CoV-2 virus.                                     
The CDC Recommends a Two-Step Cleaning Process:
Start by wiping down surfaces with soap and water.
This should be followed by the use of cleaners and disinfectants recommended by the EPA to more thoroughly disinfect workplace surfaces.
Note that new cleaning products should be used as instructed, with appropriate personal protective equipment (PPE), such as gloves. When cleaning personnel are using gloves, make sure they are properly educated on how to safely remove and dispose of PPE in a manner to reduce exposure to the coronavirus. 
Check this list of EPA-registered disinfectants to find ones that may help keep your employees and customers safe.
Tip: Remember to communicate all you're doing to help protect the health of employees and customers, including additional cleaning and disinfecting procedures you have in place.
Regularly Clean and Disinfect Work Areas
When reopening or resuming operations, it is critical to review and update polices for disinfecting your facility, equipment and vehicles. They should include what things and areas must be cleaned, how often and what products to use.
The CDC recommends that you increase the frequency of cleaning and disinfecting high-touch surfaces, such as door pushes/handles, touchpads and other electronic devices, elevator buttons and faucets, as well as common areas, such as entryways, lobbies and restrooms. Your final plan should be specific to your company's operations and premises.
Tip: Check out the CDC website for specific recommendations for cleaning different types of surfaces. OSHA offers tips for specific industries. This gives employees and visitors more comfort in returning to your place of business. 
Some manufacturers have released cleaning and disinfecting guidelines for their specific tools, equipment and electronics due to the COVID-19 pandemic. If applicable, remember to follow cleaning and disinfecting in accordance with manufacturer instructions.
If common areas, such as lunch and break rooms, will remain in use, thoroughly several times each day.
Policies and procedures for helping keep employees safe during the pandemic.
Here is a list of PATH principles (Plan, Act, Train, Health) that may help keep your employees healthy during the pandemic:
Plan:
Create a COVID-19 response team. Identify key employees who will be responsible for implementing COVID-related safety plans. Establish responsibilities for each individual and set recurring virtual meetings to ensure team members are up to date on the COVID-19 news and guidance.
Implement work-from-home accommodations when possible. Introduce flexibility into your work-from-home policies and work schedules to help reduce both asymptomatic carriers of the coronavirus and symptomatic individuals from coming to work. Also consider accommodating employees who need time off to care for children or other family members at home. For those employees critical for on-site operations, consider staggered start, stop and break times to help reduce density in the workplace.
Establish requirements for visitors and third parties. Communicate these requirements in advance to third parties who may make routine visits to the establishment. Visitors not critical to operations should be prohibited. If visitors need to be on site, require their adherence to the company's COVID-19-related safety protocols.
Act:
Promote social distancing. Have employees maintain at least six feet distance from each other and customers when possible. Reconfigure work spaces to accommodate social distancing requirements. Consider establishing one-way paths of travel through congested areas such as hallways.
Set up barriers. Install safety glass barriers in areas where person-to-person interactions frequently occur, such as employee-customer, employee-employee and employee-vendor interactions. Consider checkout aisles, customer service desks, reception areas, workstations, and shipping and receiving areas.
Limit in-person meetings. Switch to virtual platforms for workplace meetings. Most meeting rooms don't allow enough space for adequate social distancing in view of current guidelines.
Minimize physical contact. Identify ways to limit person-to-person contact. This may require owners to adjust workflow processes and reorganize workspaces.
Promote wearing face coverings and personal protective equipment (PPE) as appropriate. Use face coverings when social distancing is unavailable to help minimize the spread of respiratory secretions. Make sure to check state and local guidelines on the use of face coverings to make sure you are complying with those guidelines. Evaluate the need for employees to wear PPE, like gloves or gowns, based on the work tasks, settings and hazards. Make sure that employees are properly trained on the use, care, and maintenance of face coverings and PPE.
Promote frequent hand washing. Employees should wash hands using soap and warm water for at least 20 seconds several times a day. Ensure proper hand-washing and sanitizing facilities are made available and located in areas throughout the workspace. Consider installing no-touch faucets and placing no-touch trash receptacles in key areas Use hand sanitizer with an alcohol-based hand sanitizer made of at least 60 percent alcohol.
Train:
Health:
Identify and control employee transportation exposures. Evaluate the types of transportation taken by your workforce. This may include carpools to and from work, use of company-owned pool vehicles for errands or use of assigned company-owned vehicles. Implement policies to improve worker safety while in transit. This may include limiting the amount of travel, as well as limiting the number of personnel allowed in vehicles at one time to help maintain social distancing protocols. Develop cleaning and disinfecting procedures to follow before and after use of company vehicles.
Control the number of people in lunch and break rooms. Identify "hot spots," such as timeclocks, water fountains, lunch and break rooms, and consider eliminating these hot spots or staggering employee access to maintain safe spacing.
Ensure employees stay at home when sick. Encourage employees to self-monitor for symptoms and to report known exposures to COVID-19-positive persons. Consider implementing daily employee wellness and temperature checks. Be sure to include reporting instructions and temporary isolation requirements. Promote and, when possible, assist with obtaining COVID-19 testing. Identify and communicate return-to-work requirements. Ensure compliance with ADA/HIPAA procedures for handling employees who have tested positive and employees displaying symptoms common to COVID-19 infection.
Conduct employee health screenings. Consider using temperature screening and self-administered screening questionnaires where the employee confirms they do not have COVID-19 symptoms, have not recently traveled, and/or or had known exposure to COVID-positive individuals. If pre-work temperature screenings will be conducted, ensure screening personnel are properly trained on device use, employee privacy considerations and the procedures for handling a high temperature reading. Confirm these policies and procedures comply with laws and regulations related to employee health and privacy.
Develop illness response procedures. Outline the steps that will be taken if a COVID-19 case is suspected or identified at work. Be sure to address the different situations that may occur. For example, an employee may show symptoms during the course of a shift or state that they had recent contact during the daily health screening. The illness response procedure should include employee isolation and notification procedures and align with all jurisdictional or regulatory requirements.
Consider aspects of employee stress and their readiness to return to work. Use pre-work meetings to check in with employees and ensure they are comfortable and ready to return to work. Ensure managers understand symptoms of worker stress and fatigue so they can support employees as they prepare to and return to work.
Respond to employee concerns. Clearly communicate any new policies and procedures to supervisors, employees and business partners. When employees return to work, discuss the information and confirm that they understand the new policies and procedures and what is expected. Be sure to provide a method for them to raise questions and receive answers ahead of their return to work or new policy implementation.
Learn more about how to safely reopen your business and keep your employees safe and healthy during COVID-19 in our Business Reopening Playbook.
Prepare & Prevent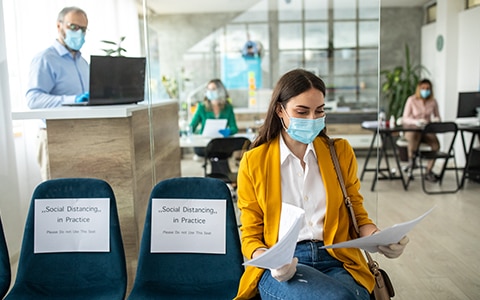 Looking for some tangible steps to improve employee health, wellness and well-being? Learn more about wellness initiatives and how to engage employees.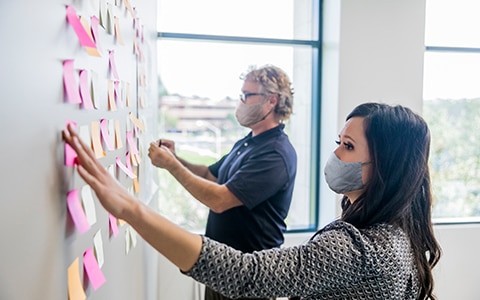 As you rethink your business model during this pandemic, it may be valuable to consider new roles in a post-pandemic workplace. Learn more today.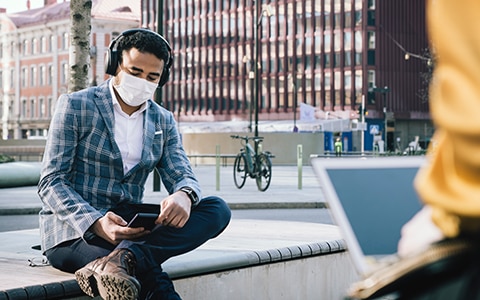 Employers need to protect the physical safety of employees returning to work, as well as their emotional and social health. Read the full white paper.