13 Risks Facing Professional Services Companies and How to Help Protect Your Business [Tool]
See how Travelers can help professional services firms manage 13 risks facing the industry, from cyber risks to severe weather events. Having the proper coverage from a trusted carrier can help businesses prepare for the unexpected, so they can focus on the future.
The exposure to risk for professional services businesses continues to grow as the world becomes more and more dependent on technology and as the industry faces other emerging risks. Here are 13 professional services risks to look out for and the types of insurance coverage that can help protect your business:
1. Cyber Risks
Highly-sensitive personal or business information stored, for example, on an accounting firm's computers, can be a top target for hackers with malicious intent. The financial consequences of a data breach can be debilitating to a company.
Travelers Cyber Coverage* helps cover attorney costs after a cyber attack, as well as penalties and fines handed down by regulatory agencies. And protection doesn't end after a breach, as Betterment coverage provides for hardware or software costs to improve a computer system after a security breach.
2. Employee Injuries
Work-related accidents are an unfortunate reality in any industry. For example, musculoskeletal injuries can occur in slippery walkways on your property, or as a result of prolonged hours at workstations that may not facilitate optimal employee efficiency and comfort.
Significant medical bills may result from workplace accidents or injuries. Travelers' Workers Compensation insurance can provide resources aimed at helping employees make a timely recovery and smooth transition when they return to work.
3. Employment Practices
The dynamics and intricacies of workplace relationships can make for a challenging human resources environment. Despite your best efforts to maintain best practices in promoting, terminating or accommodating employees, legal actions related to your employment practices may arise.
Travelers' Employment Practices Liability insurance can help contain both the tangible costs of employee lawsuits and the intangible effects of reputational harm to your business. In addition, Travelers provides access to skilled on-staff attorneys and analysts who help customers firm up HR policies and procedures in order to mitigate employment practices risks.
4. Equipment Failures
Equipment breakdown of heating, cooling or electrical components can disrupt operations and result in increased costs and lost profits. Often armed with digital sensors and microprocessors, much of this equipment's sophisticated nature may render it more susceptible to failure and downtime.
Repair or replacement costs to get your operations back up and running can be covered through policies that insure equipment failures. Travelers' Equipment Breakdown insurance can help cover costs and expedite a return to normal operations, and a comprehensive package like EnergyMax21SM can help cover your lost income caused by a shutdown.
5. Errors & Omissions
Professional services consultants may be held responsible for their contractual obligations to clients. If, for example, deadlines for marketing deliverables are not met for any number of reasons, and the result is lost revenue to a customer, your firm may be held liable for the shortfall.
When mistakes are made in delivering your professional services, Errors & Omissions insurance can help you cover the damages. Miscellaneous Professional Liability insurance from Travelers can help cover costs incurred through negligence or oversight by recruiters, architects and a host of other service businesses.
6. Evolving Workforce Dynamics
Adopting a culture of safety starts with recruiting and hiring, and continues through to onboarding and day-to-day employee engagement.
To build and maintain a safe and healthy workforce, start by leveraging preventive programs designed by insurers. For instance, as a customer, you could take advantage of the Travelers Workforce Advantage® platform, which can help you analyze working conditions in offices and facilities, as well as implement changes that emphasize ergonomic techniques to ensure people and equipment are interacting efficiently and safely.
7. Going Global
For companies with international operations, a vehicle accident or workplace injury could have costly ramifications if the occurrence isn't adequately covered by domestic policies. Your insurance representative may help you conduct a quick check of covered risks and policy limits in foreign countries where you may operate to help you identify any potential gaps.
Insurance programs for international exposures seek to equate foreign coverages to U.S. standards. Extending to more than 100 countries, Travelers Global Companion℠ coverage is an effective solution for international exposures and includes Property, General Liability, Commercial Auto and Workers Compensation policies, and more.
8. Large Losses
There are routine claims and then there are incidents with the potential to generate catastrophic losses that exceed the limits of a primary liability policy. Consider the case of a sales rep who causes an at-fault accident with a company vehicle, resulting in severe injuries and extensive property damage.
Consider adding excess liability coverage that works with your primary insurance policies. Helping to insulate your organization from potentially crippling losses, Travelers' Umbrella and Excess Casualty coverage can provide additional financial protection when a loss exceeds the limits of your primary general liability policy and other qualifying coverages.
9. Mobile Equipment
State-of-the-art surveying equipment that moves from job to job may hold value beyond prescribed policy limits. It's not unreasonable to think that theft of or damage to that job-critical property may result in substantial costs for replacement or repair.
To appropriately cover property that is transported to different locations, the ability to schedule specific items and cover them for a stated or appraised value is important. With Inland Marine coverage from Travelers, that coverage can extend to unique works of art or antiques displayed in offices or common areas.
10. Third-Party Risks
Hiring subcontractors can help expand your business's capacity, but what happens if they make a mistake?
Transferring risk to the appropriate party is an important aspect of your insurance strategy. While Travelers' General Liability insurance could help cover you for the negligence of a subcontractor, you should require these parties to carry their own insurance. In addition to securing Business Insurance from Travelers, consider discussing risk transfer strategies with your agent.
11. Vehicle Accidents
From company cars to vans and heavy trucks, your fleet can be both an asset and a liability. Serious vehicle accidents not only pose a threat to the value of your vehicles, but can also involve serious injury to pedestrians or occupants of other vehicles. And the risk is ever-present.
Commercial auto insurance lets you select liability and property damage amounts that cover minor fender benders on accidents of a more complex nature. In addition, Travelers' Commercial Automobile insurance coverage may extend to rented vehicles and medical expenses incurred by third parties.
12. Visitor Injuries
As clients and other visitors come and go, the odds of an on-site injury to those parties increase. Nowadays, litigation over these types of incidents is all too common and can lead to significant legal expenses as well as the possibility of verdicts that can carry devastatingly high damage awards.
In light of these possibilities, general liability coverage is critical. It can help protect your business from the costs of a legal defense and payments for damages when someone claims your business has caused them bodily injury or property damage.
13. Weather and Unexpected Events
Hurricanes along the Atlantic coast, California wildfires and powerful storms just about anywhere typify the perils that businesses face. Damages to buildings and computer systems can upend operations and constrict cash flow.
Consider the right insurance that provides financial protection to enable your business to get back up and running as soon as possible after weather damage occurs. For offices and business equipment that are the backbone of your operations and comprise the bulk of your physical assets, commercial property insurance can provide coverage for your business's physical assets, and coverage helps keep revenue flowing when the unexpected happens.
Solutions for All Risks
For service-oriented companies, insurance needs can be complex. Find a trusted partner who understands the unique risks facing your business and offers comprehensive solutions to help you prevent losses and mitigate claims costs. With Travelers, you get an insurer that has your back. Contact an agent for all your business insurance needs.
*Available through Travelers Bond & Specialty Insurance
More Prepare & Prevent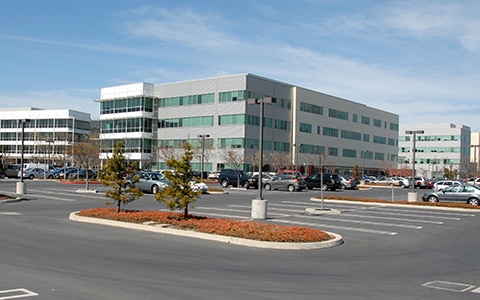 Slippery conditions, uneven surfaces and poor lighting can make parking lots and garages hazardous for employees and visitors. Explore tips to help keep your parking lots safe.
Slips, trips and falls are a major cause of workplace injuries. Protect your business.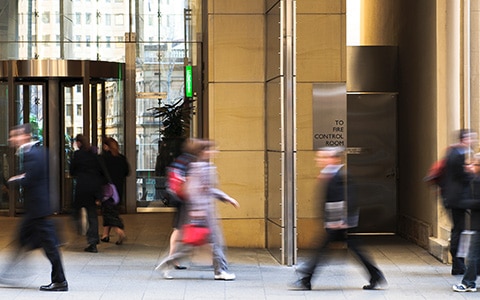 Help prevent premises liability issues like slips, trips and falls, as well as safety risks like fires and assaults, with premises security tips.