Travelers History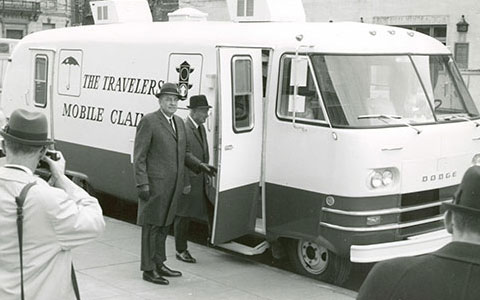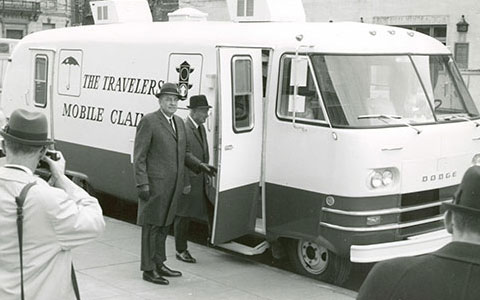 160+ Years of History
We have been around for more than 160 years and have earned a reputation as one of the best property casualty insurers in the industry because we take care of our customers.
The Founding of Travelers
In 1864, Hartford businessman James G. Batterson met a local banker, James E. Bolter, in the post office. Bolter had heard that Batterson and several fellow townsmen were organizing a company to introduce accident insurance to the United States. He asked Batterson how much he would charge to insure him for his four-block walk home. "Two cents," Batterson said.
Today, that two-cent "premium" is a souvenir treasured by Travelers. Batterson served as president of Travelers from our founding on April 1, 1864, until his death in 1901.
The Founding of The St. Paul Fire and Marine Insurance Company
After recognizing the need for a local insurance company to deal with the increasing threat of fire, Alexander Wilkin, secretary of the Minnesota Territory, and 16 other St. Paul businessmen established the St. Paul Fire and Marine Insurance Company. The company paid its first claim in 1855 after a fire spread from a bakery to an adjacent row of offices.
In 1968, St. Paul Fire and Marine Insurance Company formed The St. Paul Companies, Inc.
Our Joint History
The St. Paul and Travelers merged on April 1, 2004, to form one of the largest property casualty insurers and financial services firms: The St. Paul Travelers Companies, Inc.
In February 2007, we changed our name to The Travelers Companies, Inc.
Company Firsts and Other Milestones
We have a history of "firsts" – demonstrating our ability to adapt to changing times while maintaining a steadfast commitment to our customers. We are often one or two steps ahead of the industry, consistently offering innovative products and ideas.
1864: *Introduced accident insurance.
1897: *Issued an automobile insurance policy.
1889: Offered liability insurance to employers, known today as workers compensation.
1903: *Opened an insurance school.
1904: *Organized a corps of safety engineers.
1919: *Offered aircraft liability insurance, with a full aviation program.
1956: *Established a weather research center.
1958: *Offered life insurance to women at lower rates than men.
1961: *Introduced a new coverage option for electronic data processing.
1968: *Pioneered the "CAT Van," a specially modified RV used as a mobile claim office to assist policyholders after disasters.
1969: *Issued accident policies for space flight and lunar exploration.
1971: *Established the Office of Consumer Information, providing all consumers, not just Travelers customers, with a toll-free number, to call and comment on insurance issues or ask insurance-related questions.
1980: *Installed an interactive company/insurance agency computer system.
1997: *Launched an insurance policy to protect individuals who use personal computers for online banking.
1999: *Offered Identity Fraud Expense Reimbursement coverage.
2006: *Offered a discount nationally to drivers of hybrid vehicles.
2007: Became the title sponsor of the Travelers Championship.
2009: Added to the Dow Jones Industrial Average, making Travelers the only property casualty insurance company and one of only a few financial services companies in the Dow.
2016: *Created the Early Severity Predictor, the first predictive model to help injured employees avoid chronic pain and opioid use.
2017: *Introduced ZoneCheckSM, a first-of-its-kind online tool to help customers identify areas surrounding a job site that could be affected by vibrations from heavy equipment.
*A first for our industry.